The case for a second defensive midfielder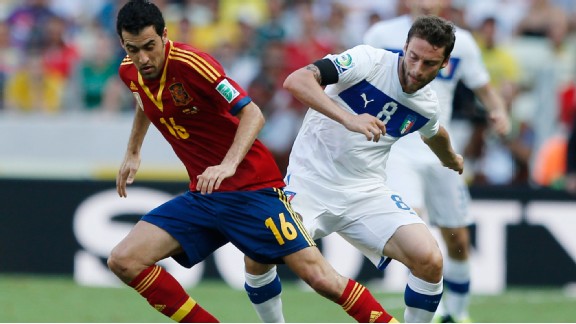 GettyImagesSergio Busquets has played as a lone defensive midfielder throughout the Confederations Cup
RIO DE JANEIRO -- On 16 June 2010, Spain lost their opening World Cup match against Switzerland in Durban, South Africa. The Spanish Armada dominated the proceedings and the most relevant stats -- 73 percent ball possession and 23 shots to 8* -- except, of course, the one that really matters: goals scored.

After the 1-0 defeat, some players blamed their poor luck during the match. "The ball did not want to go in," said David Villa. Others privately expressed that the tactical formation with two defensive midfielders -- Sergio Busquets and Xabi Alonso -- which Vicente del Bosque had been using since he took over the national team, limited the offensive potential of the squad. They wanted to play more offensively.

Thriving in the usual crisis atmosphere after an early defeat, the Spanish media immediately jumped in. 'Get rid of Busquets!' demanded the Madrid press. 'Bench Alonso!' retorted journalists from Barcelona. No matter whom the chosen player was, most outsiders agreed: The side needed to play with more freedom, a bit less under control -- something closer to Pep Guardiola's Barcelona.

At that point, Del Bosque, who had been very successful coaching Real Madrid, still had to build his own reputation with the national team. He had inherited the side from Luis Aragones, the Euro 2008 hero who won the competition, making the most of a quite vertical 4-1-3-2 system. Compared to Spain's former coach, Del Bosque's perceived tactical conservatism hadn't won him many friends, especially after Spain unexpectedly lost to the USA in the semifinals of his first tournament, the 2009 Confederations Cup.

In the four days between the loss to Switzerland and Spain's ensuing match, Del Bosque patiently listened to plenty of suggestions for how to fix his troubled side. When the day to face Honduras arrived, the Marquis-to-be ignored every single one of them and stuck to his beliefs. He replaced a subdued David Silva with Jesus Navas in the starting XI and kept the rest of the side intact. Busquets and Alonso were non-negotiable.

Spain defeated Honduras and improved with each passing match to end up winning the tournament. Their offensive stats, somehow disappointing -- a meagre eight goals in seven matches -- shouldn't hide the solid defensive structure this squad mastered -- two goals conceded in the tournament, none during the four knockout matches.

A World Cup winner can do no wrong, especially when he's taken perennial underachievers like Spain to global glory. After victory in South Africa, Del Bosque kept his winning formula intact at the back, adding only the offensive Jordi Alba to his already synchronised back four and keeping the pair of defensive midfielders. Together with Casillas, these seven players featured in every single official match until this tournament.

He tinkered with the offensive half more often due to the lack of an intimidating, in-shape striker since David Villa got injured in 2011. At Euro 2012, his false striker formation made the already high possession numbers reach dizzying heights (over 65 percent vs. Croatia and Ireland), while Spain maintained their impeccable defensive performance, only conceding one goal in six matches, and once again none during the knockout stage.

The titles seemed to progressively bury the two defensive midfielder controversy, as del Bosque's reputation grew exponentially. However, Xavi Hernandez wasn't happy. This tactical formation kept him away from the ball and made him work in longer defensive runs pressing the opposition's build-up play -- not exactly ideal for his aching body.

He spoke with Del Bosque and assistant coach Toni Grande, and hinted that he was ready to finish his national team career, although he subsequently decided to come back and stay until the 2014 World Cup after listening to the coaches, his family and several teammates.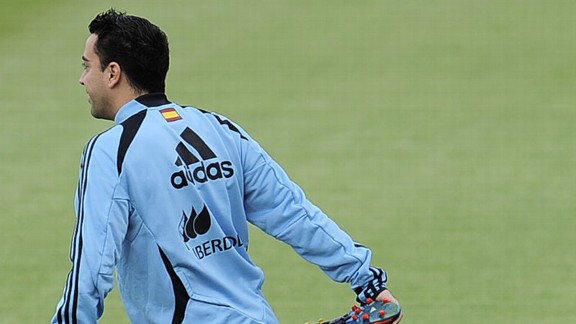 APXavi would prefer to play in a formation with just one defensive midfielder


Before the 2013 Confederations Cup started, most media believed that Javi Martinez, in splendid form after an impressive debut campaign with Bayern Munich, would replace the injured Xabi Alonso in the lineup. However, Del Bosque has surprised everyone by starting Busquets alone in every single match of the competition so far, thus applying Xavi's preferred tactical disposition.

The reason behind Del Bosque's change of heart is of no importance. He might be testing options for the World Cup in a less prestigious but indeed competitive tournament; he might want to keep his most influential and hardest-to-replace player happy until next summer; he might want to do both. But what we have seen in the past four competitive matches hardly builds a case for a single defensive midfielder. Rather the opposite.

The Busquets-only configuration indeed has advantages: Xavi gets more involved, which is always good for the build-up play. He also has more passing options going forward, as the eliminated defensive midfielder becomes Cesc Fabregas or David Silva rotating positions with Andrés Iniesta or Pedro. This also makes the ball flow faster and keeps the 'boring' accusations from certain media under control.

However, by getting rid of that passing alternative backward, the risk to lose the ball increases. Spain's decreasing possession numbers during this tournament (71 percent vs. Uruguay, 62 percent vs. Tahiti, 58 percent vs. Nigeria and 53 percent vs. Italy according to fifa.com)** show a telling story. This approach also demands a more physically fit side for the lines to stick together and to press higher up the pitch. But at this point of the season, top-level fitness is rare.

Spain's best match so far happened to be the first against Uruguay, when the Spaniards were fresh. As the tournament went on the cracks started to appear. Nigeria first and especially Italy on Thursday showed how to exploit Spain's current high line with diagonal balls, how to make them suffer in midfield with physical play, and how to keep their full-backs at bay by working the flanks with at least two players.

In those two matches, Spain saw their rivals shoot more times (Nigeria with 13 and Italy with 10)** than in any other match of a final stage of a tournament since Del Bosque and his two defensive midfielders took over, except for the classic "injustice, injustice" game -- Portugal shot 10 times as well in Euro 12.

Physical strength is also a factor in favour of the second defensive midfielder. The fact that Del Bosque replaces a 180-cm tall, relatively strong Xabi Alonso with a tinier Fabregas or Silva does not contribute in terms of defensive aggressiveness. The inclusion of Javi Martinez would make this argument even stronger. And back to Alonso, the absence of the best long-range passer in the side allows the opposition to press closer to Spain's goal, reducing their space to play.

Some may argue that Barcelona very often won like this. This comparison would ignore the fact that, despite a large number of shared players, both are different teams. More importantly, the competitions they play in happen at different moments of the season, so Del Bosque can't count on players at the peak of their form or use a couple of months to get them in shape.

And when Guardiola took over Barcelona, the Azulgranas always had a physically intimidating enforcer (Toure Yaya or Seydou Keita, for instance) to strengthen the team in specific matches, such as the knockout stages of the Champions League. The lack of such a player this season cost the Azulgranas dear, as Alexander Song couldn't fill that gap.

Indeed, the best generation of Spanish players to ever play the game can defeat any team in a suboptimal formation. Both their talent and resilience have broken several records and spells that seemed unassailable. But in such a competitive game, Del Bosque should apply the configuration that gives them the best chance to win, even if it is at the expense of living with the 'boring' tag.

He knows well that winning will never get boring.