Time for new owners at Newcastle?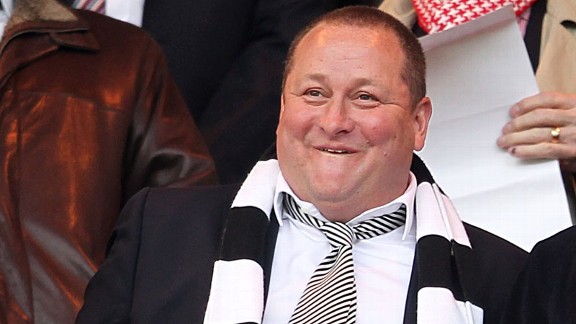 PA PhotosMike Ashley has split opinion during his tenure as Newcastle owner
It appears that in life there are few certainties. Death, taxes and controversy at Newcastle being three of them. Just as the club appeared on a steady footing under Alan Pardew, it flirted with relegation before narrowly avoiding the drop for a second time inside five years.

Followed by the decision to appoint Joe Kinnear as director of football, Mike Ashley has once again riled fans and placed their relationship with the club on the precipice, leaving some to question just what are the benefits of his reign on Tyneside.

Financial stability

Stood side by side, the differences in approach between Ashley and previous owner Freddy Shepherd are stark. Shepherd was oft driven by his fandom of the club and desire to please his patrons. It led to the regular arrival of marquee names but ultimately failed to deliver the silverware fans craved. Under Mike Ashley that kind of lavish misuse of funds is not accepted. Each acquisition is considered with a sell-on figure in mind should it fail to meet expectations.

Newcastle were in considerable debt when Ashley decided to purchase the club. Had he performed due diligence on their accounts he would likely have opted against making the purchase. Following that potential trajectory, the future of Newcastle looks fairly bleak as Shepherd's methods begin to take their toll on the club.

It's important to note Ashley's frugality does not cease at the playing staff. Every facet of the club's operations was evaluated right down to how to reduce the stadium electricity bill, a mentality that was previously absent.

Cut-throat business practice

Mike Ashley is primarily motivated by business and the cultivation of his assets. His objectivity can be beneficial when sat at the negotiating table. As Andy Carroll boarded Ashley's helicopter bound for Merseyside on the final day of the January transfer window in 2011, St James' Park was a hub for disappointed Newcastle fans regretting the "CARROLL 9" which adorned their replica shirts.

Hindsight applied, Carroll has yet to recapture his blistering Newcastle form; meanwhile the club was able to fund a number of purchases with the money they received from it. Ashley's ability to see past the cloudy romance of keeping Carroll at the club, while painful at the time, ultimately allowed Newcastle to benefit and continue to grow into a better side all round.

Lack of ambition

If you're not moving forward, you're falling behind, and that's how it has felt at Newcastle recently. Their best players are constantly linked with moves away, continuity is destroyed and thus progression becomes difficult to achieve. When they were successful and secured Europa League football, it promptly became the excuse for every bad result this season.

Ashley's determination to stick to budgets has already begun to cost the club. Unwilling to pay the extra £1 million Lille wanted for Mathieu Debuchy, it was yet another example of the hierarchy not bending to fit the squad's needs. That became the precursor to a tough season that ultimately lost the club money it would have gained from finishing higher in the league. Had Newcastle shown more ambition in the summer they could have easily avoided much of last season's heartache.

Commercial revenue

While money may be saved at Newcastle, growth is not as prevalent. Ashley's decision to plaster Sports Direct logos and advertising all over the club has angered fans on a number of levels.

Critics rightly question how much he is paying the club for the privilege, from a financial standpoint the club could be losing revenue by taking up the adverts over other offers. Cosmetically, the association with a discount sporting goods store has also angered fans who would prefer a brand association with more prestige and less of a tacky feel to it, thus why many objected to an association with payday lender Wonga.

Recent figures also showed that near rivals Sunderland had actually surpassed Newcastle in terms of commercial revenue earned last season, further highlighting the club's lack of work on the matter and failure to capitalise on a vital stream of potential revenue.

Lack of contact

As John Brewin explained recently, Mike Ashley's public appearances are rare. A fan-shot video in which he denotes his admiration for former defender Habib Beye shot some time ago is one of the few times he has commented publicly on the football club.

Explanations are simply not afforded to Newcastle fans, with a strong barrier kept between Ashley and the fan base. While club officials will routinely attend fan meetings to listen to the public discourse, an open and honest line of communication simply doesn't exist.

It means that when decisions like the appointment of Kinnear occur, fans are left guessing as to why their owner believes it is a prudent move. Feeling protests are their only avenue with which to be heard, their perception of Newcastle as a rocking chair of instability (lots of movement without anything changing) could be rectified if transparency was provided. The friction between ownership and fans is also likely to be a factor that has dissuaded many potential suitors from taking Ashley up on his asking price of just over £250 million.

Ultimately the guarantee remains that with Ashley at the helm, Newcastle will never be boring. A magnet for headlines and controversy, his talk of "stability" when handing Alan Pardew an eight-year contract seems somewhat hypocritical given the consistent off-field issues. Having provided the club with financial stability and rectified the errors of the previous ownership, now would seem the perfect juncture for him to end his difficult relationship with the fans and sell the club, even if it means incurring a small loss.