Del Bosque faces delicate juggling act at Maracana
RIO DE JANEIRO -- The more options you have, the more there is to get wrong. If you're the sort of person whose glass is usually half-empty, that's probably how you see things. And you likely don't envy Spain boss Vicente Del Bosque.

Sure, he may have the best team in the tournament. Probably the best in the world, in fact. But now he has decisions to make going into Sunday's Confederations Cup final against Brazil at Maracana Stadium (5:30 p.m. ET, ESPN/Watch ESPN).

CONFED FINAL COVERAGE:
- Brewin: Spain to prevail again?
- Cox: Scolari's Hulk conundrum
- Marcotti: Legends of Sao Cristovao
- Duarte: Finally, a rematch

It starts with Roberto Soldado and Cesc Fabregas, who both sat out Thursday's semifinal win against Italy. Officially, they weren't fully fit, though they trained Wednesday; unofficially, the Brazilian tabloids have their own theories as to why they didn't play.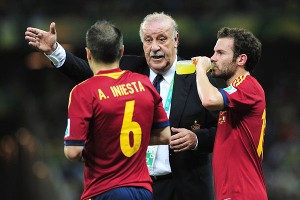 Shaun Botterill - FIFA/FIFA via Getty ImageSpain coach Vicente del Bosque, talking to Andres Iniesta and Juan Mata during Thursday's Confederations Cup semifinal win over Italy, faces several tough selection decisions for Sunday's final against Brazil.
Against the Azzurri, they were replaced by Fernando Torres and David Silva. You could see the logic with the former, given Italy's high line and attempt to play possession in midfield. But Fabregas was sorely missed, Silva had a stinker and it can't be a coincidence that Spain had 54 percent of the ball which, by their standards, is atrocious. (Possession stats don't tell you who played better, but juxtaposed with how a team tries to play, they can tell you a lot. And in Spain's case, not having the ball means something isn't working.)

Who to bring back, if anyone?

Logic would suggest Soldado more than Fabregas. He's more of a penalty-box guy, more suited to tying up the two centre backs than Torres. And given that Brazil are unlikely to play a high line, you don't have the space behind for Torres' pace to exploit. If the plan is straight, deliberate, slow-build tiki-taka, then Soldado is your man -- Torres can come in handy as a change-of-pace guy off the bench.

Fabregas can give you an extra passer in midfield starting from a wide position, of course. But that may not really be a priority for Del Bosque. Given that nobody in Brazil's front four tends to track back much, the standard three-man midfield should be more than enough to outnumber the Luiz Gustavo-Paulinho axis in front of the Selecao defence.

On the other hand, someone like Jesus Navas -- a game-changer against Italy -- might be just what the doctor ordered. If you look at the devastating job Luis Suarez and especially Edinson Cavani did against Brazil -- pinning Dani Alves and Marcelo back into their own half and denying the Selecao width -- you may be tempted to go with Navas and Pedro as your wide men. Neutralize Brazil's flanks and you're halfway there, because the front four have to work that much harder to find usable space.

Of course, Spain could also opt for a pure ball-control side, with Fabregas and Juan Mata on the wings. Heck, they could even go strikerless by finding room for Santi Cazorla as well. That's the call Del Bosque has to make.

Indeed, he has a range of other schemes he could throw at Brazil coach Luiz Felipe Scolari, such as locking down the defence by inserting Javi Martinez in midfield and bringing back the "double pivot" alongside Sergio Busquets. Or even, as he did late in Thursday's game, using Martinez as a center forward, offering Spain the "back-to-goal" option they haven't had since Fernando Llorente was getting playing time.

These are all variations we may see at some point from Spain. And indeed, Del Bosque's options "on the fly" are part of what makes La Roja so dangerous.


Alex Livesey/Getty ImagesBrazil manager Luiz Felipe Scolari faces fewer decisions than his Spanish counterpart, including how to deploy Bernard.
On the other hand, if you're Scolari, you have less to worry about. The lineup is pretty much settled; you might be tempted by Bernard on the right wing, but in fact, Hulk seems the more logical version. For a start, he matches up very well with Jordi Alba. If the Barca fullback struggled with Christian Maggio's athleticism, just imagine what he'll do when faced with Hulk's muscle and directness. For all his trickery, you feel that Bernard, on the other hand, is a more natural matchup for Alba's quickness.

The key is the other flank, though, the playmaking point of attack for Oscar and Neymar's favored area from which to launch themselves into space. Brazil have scored 11 goals in this Confederations Cup. Two came from set pieces, one was a set piece, two were from attacks down the right flank. The other six? Yep, down the left -- Neymar, Oscar and Marcelo territory.

Brazil will also have a considerable edge on set pieces. Assuming Martinez doesn't start, apart from the two centre backs and Busquets, Spain are a small team. Torres and Alvaro Arbeloa are both 6 feet tall, but neither is particularly good in the air. Everyone else is 5-9 or smaller.

Contrast this with Brazil, who can call upon Thiago Silva, David Luiz, Hulk, Paulinho and Gustavo, who all offer a credible aerial threat. It's an age-old thing with Spain -- everyone knows they're small, yet exploiting free kicks against them is often tricky, partly because they give away very few in dangerous areas and also tend to concede few corners. Yet it's something Brazil can -- and must -- take advantage of.

In terms of game-changers, just as with his starting selection, Del Bosque has a ridiculous range of choices. Scolari is far more limited. Jo is another body you can throw on if you're chasing the game. Bernard offers a change of pace, but little, quick creative guys aren't ideally suited to bust open the Spanish lines.

Hernanes -- "The Prophet" -- is the more intriguing option. Should Brazil take the lead, he'd be the logical guy to send on to help maintain possession and find teammates on the counterattack. And if Spain concede the flanks and crowd the middle, he has the passing skills and creativity to find a way through the bodies. Given that he has featured in every game thus far -- three times off the bench and, against Italy, as a starter in place of Paulinho -- expect to see him at some point.