The growing trend of directors of football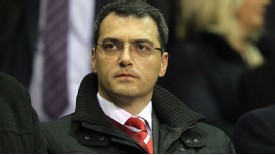 PA PhotosComolli oversaw 26 transfer deals during his time at Anfield.
"If I was a director of football and the manager was struggling and got the old tin-tack, I would tell them that I'd take over," said Joe Kinnear, revealing just why the role of director of football is so feared in English football. Football men know what football men want, and it is often someone else's job.

Of course, Kinnear was speaking in 2012, and has now completely changed his approach. He is only at Newcastle United to help Alan Pardew, who has absolutely nothing to worry about. Kinnear will be a most diplomatic of envoys, ferrying communication between owner Mike Ashley and the manager. As ever, Kinnear is at the cutting edge. He has become the public face of the growing trend of directors of football.

When it doesn't work

The cuckoo tendencies Kinnear described strike at the all-important concept of managerial control.

"The most important man is the manager, without question; the minute that ever changed it would mean massive free-fall in the club," Sir Alex Ferguson definitively told Sir David Frost in 2008.

Football managers do not like interference. Unless it is them doing the interfering. Many bosses of Ferguson's vintage have become directors of football only to return to management when they miss day-to-day involvement. Sitting in the stands rather than the dugout is not for them.

One of the most vocal haters of the role is Harry Redknapp. He quit Portsmouth for the first time in November 2004 when Velimir Zajec was brought in as director of football. Zajec soon took the manager's job, as Harry had suspected he had always wanted to.

Why so suspicious? Why, Redknapp had spent seven months as Portsmouth's director of football only to unseat manager Graham Rix in March 2002.

A reverse situation can occur when a veteran manager is moved upstairs. Big beasts often do not take well to this. Ron Atkinson figuratively worked above Gordon Strachan at Coventry from November 1996 but in his own mind had been sidelined. Ron eventually sought a management job elsewhere.

Kenny Dalglish has twice taken part in such an arrangement and neither were positive experiences. Having won the Premier League with Blackburn Rovers in 1995, he swiftly moved upstairs. Assistant Ray Harford took the manager's job, and Dalglish became a distant presence as Rovers slipped badly. Kenny was soon back in management at Newcastle, but reprised the director of football role at Celtic in 1999 with John Barnes brought in as head coach. It was disastrous, and Dalglish had to step in for Barnes the following February, only to have his contract severed in the summer.

When it can work

Dalglish's more recent Liverpool partnership with Damien Comolli was a nail in the coffin of the credibility of a director of football, but it was an attempt to work the arrangement that works elsewhere. It failed for footballing rather than structural reasons. Dalglish's time at the top had long passed; Comolli was not the technocratic guru he purported to be. Making bad signings and getting poor results will get you the sack whatever the management structure.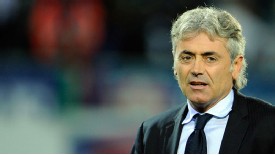 GettyImagesFranco Baldini has been appointed Tottenham's technical director.
However, a businesslike type working with a man happy to concentrate on coaching can work well. Dan Ashworth and Nick Hammond are not household names. Both have carried out their roles without the wider recognition of the public, but they are regarded as the best English exponents of the role. West Bromwich Albion have become England's establishment club, and it was little surprise that Ashworth joined Roy Hodgson at the Football Association. Hammond has been at Reading for over a decade, with the club playing at the highest levels in its history, despite several different coaches being in charge of the team.

This is a far cry from dominant figures on the continent like Leonardo at PSG or, most famously of all, Uli Hoeness at Bayern Munich, but English football is yet to find having a bigger ego than the coach at a club pays off.

Why so popular now?

The continental influence that first arrived through playing imports in the mid-1990s has eventually stretched to management structures. Clubs are also far slicker financial operations, so managers' grasp on the transfer kitty has been reduced as time has gone on.

Now, the Premier League has a group of managers used to working within the football/sporting director structure. One of the reasons Roberto Mancini is no longer at Manchester City was an inability to yield to Txiki Begiristain. The Italian's desire to spend the Abu Dhabi money as he wished was not holistic enough for the Basque powerbroker.

Andre Villas-Boas offered something of a first in English football when he actually asked to work with a director of football. On the night he won the Europa League in Dublin in 2011, AVB lavished praise on Antero Henrique, the conduit between coach and president at FC Porto. Now, Tottenham have brought in Franco Baldini to work between Villas-Boas and chairman Daniel Levy. The Italian was much the more loved of a partnership with Fabio Capello with the England team, a prime diplomat and facilitator within the game's elites.

"The most important thing is the relationship between the person that bridges the gap between manager and board, and that he is able to be focused on the technical side of things," said Villas-Boas last month.

Baldini's understated style fits such a bill. At Chelsea, Michael Emenalo is now the quiet power behind the dugout. He probably shops untroubled in the Cobham branch of Waitrose but Chelsea have won two European trophies and the FA Cup despite what looks like turmoil in the dugout. How Emenalo will fit in with Jose Mourinho remains to be seen. Mourinho's return to England was partly down to his appreciation of the greater self-determination a manager receives here.

No club with a continental-style director of football has yet won the Premier League title. The coming season may see that change, and if that happens, every aspiring club will have to have one.