Brazil pounce as Uruguay stumble

A converted penalty can change a match. So can a missed one. Thirteen minutes into the Confederations Cup semifinal between Brazil and Uruguay, we witnessed such a moment. Five men, two Uruguayans, two Brazilians and the Chilean referee came together to change the course of a game.

Diego Lugano, the captain of La Celeste, did what he always does on set pieces -- create havoc. He fakes one way, goes another and stakes out his spot in penalty box traffic, weaving through bodies like a guy playing the classic video game Frogger.

"There was a lot of movement, guys going in different directions," he said. "I saw the chance to lose my marker and went for it. He yanked my shirt and I went down."

The man who grabbed him was David Luiz.

"I was marking Lugano. I knew what he was going to do, and I also knew he'd try to get a teammate to block my path," Luiz said. "That's exactly what happened. When the block came, I realized I couldn't get around it, so I tugged his shirt. In traffic, I thought maybe the referee wouldn't spot it."

But he did. And, make no mistake about it, it took guts for Enrique Osses to take the decision he did. It was early in the game. Some level of shirt-pulling goes unpunished. He was officiating in front of 55,000 Brazilians. And none other than Lugano himself -- the "victim" -- had questioned Osses' ability to control the game the day before.

Marcotti: Uruguay brings the fight but Brazil finds a way
Blog: Men's match decided by boys

Osses blew his whistle and, shortly thereafter, Diego Forlan stepped up to the spot. He was the picture of calm -- a cool, confident smile breaking over his face. He turned 34 in May but had carried this Uruguay side of late. He was the difference-maker, the safe pair of hands, trusted more than his highly rated attacking colleagues, Edinson Cavani and Luis Suarez.

Except maybe Forlan was too lose. It wasn't a badly taken penalty, but Julio Cesar, in the Brazil goal, collapsed to his left and snuffed out the ball. How did he do it?

"Well, I know Forlan. We played together for a year at Inter [Milan]," he said afterwards. "Did I guess? Did I wait for him to shoot? Did I use mind games? I'd rather not talk about it. I never talk about how I make save. Never. It's just a private superstition I have with myself."

Each of these five men played a part in the penalty. What happened next was down to the crowd and the adrenaline rush that flows when a bullet is dodged.

"The missed penalty gave them a huge boost," Oscar Tabarez, the Uruguay boss, said. "Their morale soared after that. We were playing better, we were attacking more. Everything changed. That's football."

Luiz, perhaps the one who most benefited from the miss, agrees.

"There is no question that gave us more motivation," he said. "All of a sudden, the crowd roared as if we had scored a goal. It lifted all of us. Instead of having to come back into it, it was a level playing field. We were starting over from scratch."

And then there's the flipside.

"Would we have won the game if that penalty had gone in? Who knows?" Lugano says. "I mean, we were playing better. We had the momentum. We have three of the best counterattacking strikers in the world … but, hey, who knows?"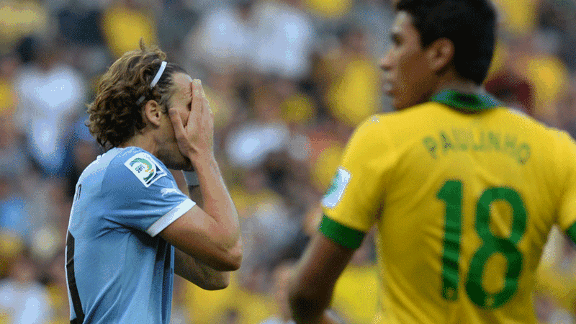 GettyImagesDiego Forlan covers his eyes after seeing his penalty saved by Julio Cesar


Uruguay is left with regret but also pride. They took the game to heavily favored Brazil, a team that has not lost a competitive match at home since the mid-1970s, a team that Tabarez has never beaten.

They followed the usual script -- aggression, passion, intensity -- and added a tactical game plan which befuddled Brazil. Suarez and Cavani, the superstars who this summer could, between them, fetch close to $150 million in transfers, became blue-collar grunts, tirelessly working up and down the flanks, pinning back the Selecao's attacking full backs, Dani Alves and Marcelo.

"Brazil usually have the initiative. That has certainly been the case in recent games," Tabarez said. "So we tried to push them back, especially on the flanks. It was exhausting for my players, but they did everything that was asked of them.

"We left everything on the pitch," an exhausted Cavani said afterward. "Everything."

Indeed they did. And they took Brazil to the brink of elimination.

"They made us suffer," Thiago Silva said afterward. "I know our fans enjoyed it. I hope the neutral enjoyed. We are enjoying it now, but during the game, believe me, there were times when we really suffered."

The question then becomes why they can't do this on a regular basis. Why it feels as if Uruguay are a side for the big occasions -- like the 2011 Copa America, which they won, or the 2010 World Cup, in which they reached the semifinals -- but struggle in the day-to-day, like qualification for the 2014 World Cup.

"I don't know," Cavani said. "I really don't know. It's not a question of motivation, I can tell you that. But if we could only play like this all the time."

That's the thing; they can't. You can only reach certain levels of emotion and intensity every so often, which might be why Wednesday night hurt so much.

"I hate to lose," Lugano said. "I especially hate to lose to Brazil. We had an opportunity to make history. Only the pride in my teammates and my country is what stops me from being really, really angry."