Uruguay brings the fight, but Brazil finds a way


This was old-school. Battle of attrition. Age-old qualities -- some crossing the line, few of them for the faint-hearted, all of them of the "by any means necessary" variety -- that have accompanied Uruguay through their footballing history.

The critics focus on the mind games, the cynicism, the occasional nastiness. All of which may be true, just as it's true though that they are accompanied by a rarely equalled fighting spirit, a footballing know-how that dates more than a century and an ability to scrap and take the fight to every blade of grass on the pitch.

That's how a nation of 3 million souls manages to compete -- time after time -- with giants like Brazil, more than 60 times larger.

That's how Alcides Ghiggia silenced the Maracana 63 years ago. (As he likes to say, "I was only the third person to do it, after the Pope and Frank Sinatra.")

And that's how Oscar Washington Tabarez chose to play this game.

To win.

Adjustments suit Brazil

On the day, Uruguay found an opponent who was willing to play on their level. And who would try to beat them at their own game. The fact that Brazil were able to do that is a credit to the players but also to Luiz Felipe Scolari, whose changes on the fly helped turn the game.

Twenty minutes into the second half, he replaced Hulk with Bernard, a classic "change-of-pace" substitution. After more than an hour of dealing with directness, size and muscle, suddenly Uruguay's left flank had to cope with the tiny hometown hero and his blend of creativity and invention.

Eight minutes later, another switch. Oscar, perhaps the Brazil player who ended up most suffering the physicality of the game, made way for Hernanes. "O Profeta" stiffened up the midfield -- no longer were the Selecao outnumbered -- while offering a central playmaking alternative which freed Paulinho to push on further.

Ultimately, Brazil won the game because of Diego Forlan's missed penalty and Paulinho's set-piece goal. But if they stayed in the game and matched Uruguay in terms of mental toughness, give credit to Scolari as well.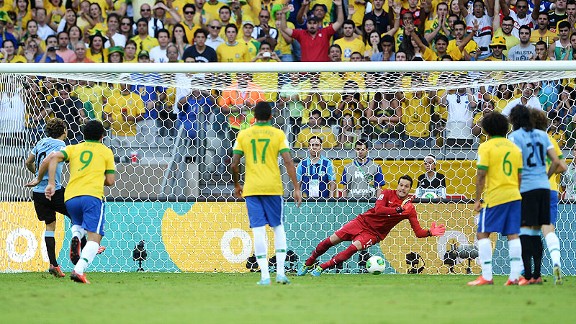 Michael Regan/Getty ImagesDiego Forlan's missed penalty kick ultimately decided the match, but give Brazil credit.
Man in Black shows restraint

This was not an easy game to referee and the man in black, Chile's Enrique Osses, had a monumental task. One which began even before the game, when Diego Lugano, the Uruguayan captain, talked about Neymar and his penchant for diving and whether Osses would spot it.

How appropriate then, that it should be Lugano to win the penalty which should have put Uruguay ahead. Osses spotted David Luiz pulling his shirt and pointed to the spot. Diego Forlan, appearing maybe even a little too relaxed, had his shot saved by an excellent Julio Cesar. And the game, which could have taken a different turn, did not.

Osses erred on the side of leniency; he could have shown at least two red cards in the first half, one for each team (Edinson Cavani and Luiz Gustavo spring to mind). When he didn't, you feared the game might get out of hand. Instead, it remained close to boiling point throughout, without ever spilling over.

Stars unexpectedly stumble

This match was also a reminder of the humanity and fallibility of several footballing icons and how it's still a game where you can deviate from the script at any time.

Given Forlan's recent heroics for Uruguay, few would have expected him to squander the penalty.

Given Thiago Silva's immensity, few would have expected him to serve up such a poor pass in his own penalty area that led to Edinson Cavani's goal.

And yet this type of stuff happens. Which is why we keep watching.

Neymar is the catalyst

Final thought on Neymar. He's the most fouled player in the tournament and while a portion of those may be flops, you get the sense that, with the ball at his feet, anything can happen. We saw it in the buildup to Fred's goal. In the backheel he conjured up out of nothing in the first half. And in the way he won a free kick late in the game from Alvaro Gonzalez -- probably by exaggerating contact -- and then, when his opponent complained, blew him a kiss.

The word electric is sometimes overused to describe footballers. This guy is a whole freaking power station.