Carlos Tevez has pulled on a Juventus shirt before. Just not on official business. A year ago, he was playing in a charity game in Fuerte Apache, the tough neighbourhood of Buenos Aires where he grew up. The players on his team, himself included, were all wearing the black and white jersey of Juventus.

Was it a sign of destiny? That depends on your beliefs.

Only six months earlier, Tevez, who was then on strike at Manchester City, had been very close to signing with Milan. He had been pictured with his agent, Kia Joorabchian, enjoying lunch with the Rossoneri's chief executive Adriano Galliani in Rio de Janeiro. The deal hinged on whether Alexandre Pato joined Paris Saint-Germain. Alas, he did not and decided to stay at Milan for another year. So the Tevez transfer collapsed.

- Rzouki: Will Tevez fit in at Juve?
- Jolly: Time right for City to let Tevez go

Yet Galliani's interest in him did not. At least that's what he wanted us to believe. When reports began to emerge at the beginning of June that Juventus were seriously considering a bid for Tevez, he summoned journalists over to show them a text message. It was supposedly from Joorabchian. "Tevez is loyal," Galliani said. "He won't betray me."

His actions led some to wonder what Galliani's intentions were? Did this mean Milan were about to join Juventus in competition for Tevez's signature or was that precisely what Galliani wanted City to think? Was he simply trying to make the cost of the signing more expensive for a rival? It seemed like the latter, and if that really were the case, he doesn't appear to have been all that successful.

Why?

Because Juventus has done a great piece of business for Tevez. Much like Galliani in negotiations with City for Mario Balotelli, Juve general manager Beppe Marotta has reportedly gotten the price to drop, from €18 million to €15 million before an agreement was finally reached at €12 million -- €9 million up front with €3 million to come in performance-related add-ons.

How much Tevez will earn is the matter of conjecture at the moment. Juventus can't match his wages at City. The feeling is that he will have to take a pay cut. A three-year contract worth €5.5 million a season after tax is supposedly the deal on the table. Since goalkeeper Gigi Buffon renewed for less money in the spring, this would make Tevez Juventus' highest paid player and the second highest in Serie A after Roma midfielder Daniele De Rossi. But is he worth it?

Judging by how the move has been received, the answer is "yes." It has been hailed as a personal triumph for Marotta. How so? Well, since he left Sampdoria to take the general manager position at Juventus in 2010, he has earned much praise, but also some criticism. In particular, Marotta has made a few expensive mistakes. The €12 million he paid Catania for Jorge Martinez springs to mind, as does the €9 million for Eljero Elia and, to a lesser extent, the €15 million splurged on Milos Krasic.

Precious money was wasted, but those mistakes can be forgiven, considering his ability to complete low cost deals that we'll get to later.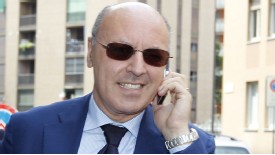 AssociatedJuventus general manager Beppe Marotta looks to have secured his 'top player'.
No, the biggest gripe with Marotta is another one. It is his use of the buzz term "top player," someone capable of scoring 20 goals a season and taking a team to the next level. Marotta claimed that Juventus were going to sign one in each of the last three summers. Those promises would come back to haunt him.

Juventus were strongly linked with the likes of Sergio Aguero, Luis Suarez and Robin van Persie. Supporters got their hopes up accordingly, and as you can imagine, they were disappointed when none of them arrived. Instead, Nicklas Bendtner did.

While Juventus could point to Andrea Pirlo and Arturo Vidal as top player-like signings, this inability to land a top striker became a source of ridicule.

That's why the Tevez transfer has taken on greater significance. Marotta has finally got his top player. And without making a huge outlay too. It's the latest smart acquisition on his behalf. Think about it: the most important components of this Juventus team have been additions either done on the cheap or for nothing.

Take for instance, center back Andrea Barzagli. He cost €600k. Pirlo and Paul Pogba were free. Vidal only set them back €12 million. Fernando Llorente, the World Cup winning striker, is another freebie, and Tevez is worth a punt at €12 million. In total, that comes to €24.6 million, the same amount Marotta's predecessor Alessio Secco threw away on single individuals like Felipe Melo and Diego.

However, an asterisk or two should be placed beside the Tevez deal. By signing him and Llorente before they have sold some of their other strikers, it might make those players harder to offload at a good price. Interested parties will surely argue that they are surplus. Unless of course, Juventus use them as bargaining chips.

Since Tevez hasn't burned a hole in their pockets (at least in terms of his fee), Juventus still has room to maneuver in the transfer market. That has led to speculation that Tevez's arrival doesn't necessarily preclude that of Gonzalo Higuain or Stevan Jovetic. But would they need either of them now? It would certainly be an impressive statement of intent, though Juventus' next move is likely to be the completion of center back Angelo Ogbonna's signing from Torino.

That's enough Fantacalcio. Let's talk Tevez. He certainly seems to be an excellent fit for Juventus.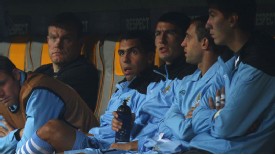 GettyImagesCarlos Tevez went on strike following bench-gate away at Bayern Munich
Some have raised the point that he's already 29-years-old. The counter here is that Samuel Eto'o wasn't too much younger -- he was 28 -- when he joined Inter in 2009. This isn't a direct comparison. They're both strikers, but very different players. Many would put Eto'o above Tevez and rightly so. But the similarity is that they're both proven and thought of as guarantees, in terms of their experience, goal-scoring pedigree and achievements on the pitch -- from domestic titles to Champions League trophies.

Admittedly Eto'o arrived at Inter after a season in which he scored 36 goals, including the opener in the Champions League final against Manchester United. Tevez isn't heading to Turin after a year like that. Some have questioned whether he's in his decline. In his first two years at City, he scored 52 times in 84 matches, a rate of 0.6 goals per games. In his last two, he struck 21 in 54, a rate of 0.3 goals per game.

However, perhaps that decline can be attributed to his peculiar circumstances. Tevez's time at City can be divided into two phases: before and after the strike. His status within the club changed after the events in Munich. He went from the No. 1 center forward to a persona non grata. He was brought back in, but everyone's attitude towards him had changed. That had to have a psychological impact.

It's also worth remembering, though, that his return kick-started and reinvigorated City's title push, which ended in improbable glory on the final day of the 2011-12 campaign. That shouldn't be forgotten. And as for last season, if Tevez looked stale, so did everyone else at City apart from Pablo Zabaleta and Matija Nastasic. Few players had a good year as things deteriorated under Roberto Mancini.

A fresh start and a new challenge, in new surroundings and a league played at a slower tempo -- although not as slow as some would have you believe -- should provide Tevez with ample motivation to rediscover his best form. He surely still has a few good years ahead of him. It's hard to think of a player in his position better suited to Antonio Conte's hard-running and lung-bursting philosophy than Tevez.

The Juventus coach got married earlier this month and is currently on his honeymoon in French Polynesia. He probably couldn't have wished for a better wedding present from his club.