Distracted Cavani, Suarez must inspire vs. Brazil
BELO HORIZONTE, Brazil -- It's being painted as some kind of "unstoppable force versus immovable object" showdown. And if you choose your numbers carefully, that's what you end up with.

Uruguay's front pair of Edinson Cavani (38) and Luis Suarez (28) combined for a whopping 66 goals at club level in the past 12 months. That's more than Brazil's entire front four of Fred (22), Neymar (13), Hulk (13) and Oscar (13) put together.

Equally, you have a Brazil side that have kept clean sheets in three of their past four games, the one exception being the two goals they conceded to Italy. Its defence is well marshaled by Thiago Silva and has two useful shields (Luiz Gustavo and Paulinho) sitting in front. Again, the numbers bear this out. Only Spain (and they had the benefit of facing Tahiti) have conceded fewer shots on goal (18) than Brazil's 32. Contrast this with the other two semifinalists as Italy have given up 48 shots on goal and Uruguay -- even with the "Tahitian bonus" -- 41.

Want something even more telling? Try shots on target. Brazil have given up 10, the same as Spain. (Uruguay are at 16, Italy 20.)

It's an imperfect metric, of course, because the numbers don't distinguish between outstanding build-up play that generates a clear-cut chance and a "hit-and-hope" long-range boot. But they aren't meaningless either, especially when it comes to Wednesday's semifinal.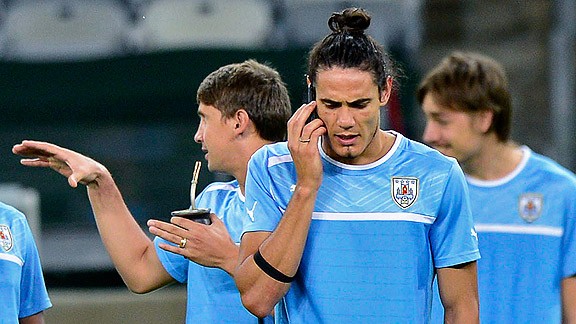 Daniel Garcia/AFP/Getty ImagesEdinson Cavani's off-field uncertainty must not prevent him from finding goal-scoring form versus Brazil.

Luiz Felipe Scolari's Brazil team is built on a stingy, expert back four that minimizes opportunities for their opponents. Uruguay's Oscar Washington Tabarez places his faith in his remarkable strike force that -- on paper -- is as good as any in the world.

Asked about the Brazilian defence, Tabarez said Tuesday: "They're very good, but they have yet to face strikers as good as ours."

It may well have been a way of talking up his two front men, Suarez and Cavani, both of whom -- truth be told -- need a bit of a pick-me-up. You wouldn't blame either one for not quite being in the best frame of mind given that both are here in Brazil while also somewhat mentally ready to pack their bags back in Europe.

Suarez has said -- and one more than one occasion -- that he would like to leave Liverpool. He's grateful to the club and to the supporters but simply doesn't feel appreciated or understood in England. In fact, he feels persecuted by the media. While some of his problems (the Patrice Evra affair or, more precisely, the way he handled it after it happened and, obviously, biting Branislav Ivanovic's arm) are of his own making, you sense a certain cultural disconnect dividing him from the Premier League and English football culture.

After three stellar seasons in Naples, Cavani too is ready to move on even though he has been less forthright in stating his will to leave. The problem is the $82 million release clause in his contract. It's a huge amount of money and his club's owner, the feisty Aurelio De Laurentiis, is neither the type of guy to offer discounts nor a guy who needs to sell (Napoli have been running a profit for the past four years).

Cavani's clause expires after Aug. 10 and De Laurentiis minced no words in that regard. "If he wants to leave, he needs to find someone who'll pay the full amount and he needs to find them before Aug. 10. After that, if he tries to go somewhere else, I'll break his face."

Cavani, a man who goes out of his way to avoid conflict and who redefines the term "understatement," did say that De Laurentiis' face-breaking suggestion might have been "a bit too much."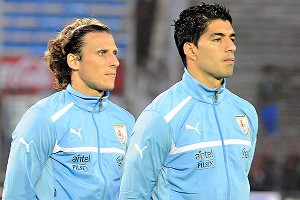 Dante Fernandez/Getty ImagesIn Uruguay's pivotal Confed Cup game, Diego Forlan, left, made the difference. This time around, Luis Suarez must do his part.

Furthermore, it's fair to say neither has impressed in this Confederations Cup. Cavani was scoreless and somewhat listless in 180 minutes against Spain and Nigeria. Suarez came out of nowhere to score a gem of a goal against La Roja after doing very little in the previous 87 minutes and was largely anonymous against Nigeria. Against Tahiti he came on in garbage time -- the last 20 minutes -- and scored two, but nobody's going to read too much into that.

Against Nigeria in the group's "make-or-break" game, it was another Uruguayan striker, 34-year-old Diego Forlan, who came up big, notching the goal that effectively sealed La Celeste's place in the semifinal. Abel Hernandez, yet another fish in the ridiculously deep Celeste striking pool, popped up with four in the Tahiti game.

Whatever the opponent, it seems that Uruguay lives and dies by their front men. It's time for their two most heralded guys, Cavani and Suarez, to step up. Because, frankly, at the other end of the pitch, Uruguay seem entirely overmatched. The prospect of Neymar running full-tilt at Diego Lugano is a scary one and it's probably not a coincidence that he himself reminded the world that he was worried by Neymar's "great knack for taking dives."

Not that this game needed any further spicing up given the near centuries-old rivalry. But just in case, Lugano chucked it out there and ratcheted things up several notches with the oldest trick in the book and basically putting the referee -- and Neymar -- on notice.

Lugano knew exactly what he was doing when he said that and he knows he'll attract boos. He knows the Brazilian public very well: After all, he made his name at Sao Paulo. In three years with the club he won a Copa Libertadores, a Brazilian championship and the 2005 FIFA Club World Cup. He's still a hero among Paulistas but after the Neymar comment, he knows he'll get zero love at the Mineirao.

In times like these, if you're Uruguay, everyone needs to do his bit to the best of his ability. Lugano, the baby-faced but uncompromising defender who knows every trick in the book, has started his work early. Suarez and Cavani now need to do theirs. If we're to witness a minor "Maracanazo" in Belo Horizonte on Wednesday, it will only happen if the unstoppable force really is unstoppable and road grades the immovable object.