Edinson Cavani: An exception to the rule
There is nothing like a torturous transfer saga to make you look bad. It is almost impossible for a player to emerge from one of those unending, unedifying will-they-won't-they epics that coil through the summer and keep his dignity intact.

At best, players come out of it cast as somewhat disloyal. At worst, they seem grasping, false, arrogant, their reputations ruined and their souls as black and charred as the gates of hell.

Edinson Cavani might just be the exception. Everything the Napoli striker has done, while Chelsea and Real Madrid vie for his signature, has come with a frisson of decency. He has praised all his suitors but acknowledged the debt of gratitude he feels toward his current club. He has not hidden from the issue while on international duty but has admitted he needs time to make a decision.

He has even benefitted from the unexpected garrulousness of his parents. Ordinarily, in the midst of a frenzy of speculation, there is a suspicion that relatives are deployed as tactical agitators by nefarious agents desperate to turn the screw, to increase the pressure, to keep the pot boiling.

Not so with Cavani. He just has that sort of family. The sort of family who tell your friends you breastfed until the age of 8 or who keep a VHS player in the house at all times in case a prospective partner asks to see the footage of you playing with your imaginary friend, Barry the Angry Panda. The sort of family who kiss you on the lips, not on the cheek.*

Best of all, Cavani is modest. He is not, in his own estimation, worth the £58 million release fee stipulated in his contract at Napoli.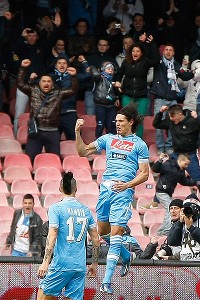 Carlo Hermann/AFP/Getty ImagesEdinson Cavani has become one of the hottest strikers in Europe and seems destined to leave Napoli.
Nobody agrees with him, obviously. Why would you? Look at his numbers. Three years in Serie A. Twenty-six, 23 and 29 goals.

English football continues to nurse a deep-seated inferiority complex when it comes to Italian football, dating to the 1990s, when Serie A was first broadcast on U.K. screens, a window into a world of Alice bands and diving, of olive skin and burning flares, of technical ability and something called "tactics." That is why the British are at pains to point out, at all times, how irrelevant Serie A has become.

Even now, though, there is one thing Brits will admit: The Italian league is pretty good at defending. No wonder, then, Cavani is seen as a guarantee of goals. If he can thrive in Italy, he will be an undoubted success in the Premier League, in which one of the best defenders continues to be his putative team-mate Gary Cahill, a man with all the positional sense of a donkey on a spaceship.

There is, though, a caveat, a warning from an inglorious history. We know, beyond all doubt, that goals in Italy do not necessarily equal goals in England.

Chelsea do not need to cast their minds back too long to work that out. Andriy Shevchenko, signed for £30 million in 2006, had twice won the title of capocannoniere in Serie A before moving to Stamford Bridge. In the course of seven seasons at AC Milan, he scored 24, 24, 14, (an injury hit) five, 24, 17 and 19. He produced just nine in England.

The same could be said of Hernan Crespo, another former capocannoniere. He, too, had a fine goal-scoring record in Italy -- 16 and 22 in his last two seasons at Parma, 26 in his first at Lazio, 13 in his second -- before a short, unhappy spell at Internazionale. Chelsea paid £26 million for him. They saw little return.

Perhaps these were exceptions. Maybe Shevchenko was on the slide when he came to England. Maybe Crespo had long since peaked. Possibly. Except that in Shevchenko's last season in Italy, he scored 19 goals. It is only with hindsight that he looks to have been past his best. Crespo? Watch AC Milan's third goal in the 2005 Champions League final. That is not a striker with no more to offer.

Besides, the weight of the evidence is compelling. Andrea Silenzi, Massimo Maccarone, Rolando Bianchi, Adrian Mutu and, most recently, Mario Balotelli. Strikers who come from Italy struggle ordinarily in England.

Indeed, there is a reasonable degree of proof that anyone who comes from Italy struggles in England. According to transfermarkt.de, some 319 players have left Serie A for England. Of those, very few could be deemed unmitigated successes. Those who were -- Fabrizio Ravanelli, Gianfranco Zola, Gianluca Vialli, Nwankwo Kanu -- were part of the first wave, coming from a superior league to a developing one. Of the newer breed, only Matija Nastasic has settled in well.

This phenomenon is most often linked to the apparent absence of "physicality" in Serie A -- in which football is famously played in bedroom slippers, to avoid injury, and in which nobody has made a tackle since 1956 -- and to England's higher "tempo;" in Italy, of course, it is illegal to run at anything faster than a gentle trot. Players who break into a sweat are banned for three games.

With many of the strikers who have come to England in the past 20 years, though, there is something else at play: Morientes syndrome.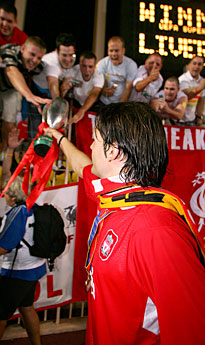 EmpicsFernando Morientes won a Super Cup and FA Cup with Liverpool, but struggled individually.
Fernando Morientes was signed by Liverpool from Real Madrid in January 2005. His arrival was quite a coup -- a Champions League winner, once one-half of one of the most feared strike partnerships in Europe, playing at Anfield, alongside Igor Biscan. When he touched down, very few in England would have questioned the idea that Morientes was an intelligent capture.

It did not work out like that. He was too slow, the theory went. He could not keep up with the pace of the English game. He struggled with the rough treatment meted out by defenders, too. He was, in other words, just too foreign to cope.

In reality, there was always a chance Morientes would struggle, for one very simple reason. His main weapon, the element that set him apart, had always been his aerial prowess. In England, that was negated. In an alien environment, in a land of giants, he lost his natural advantage.

Look at the list of failed imports from Italy, and a substantial number could sympathise with Morientes. Bianchi, Silenzi, Maccarone; Bernardo Corradi, too, signed by Manchester City from Valencia, but on the basis of his form before he moved to Spain. All excelled in the air; all failed in the Premier League.

That should not apply to Cavani. Almost as impressive as his numbers is his variety; the 26-year-old can score every single sort of goal. He is in a different league than Bianchi, Maccarone and the rest, by some distance. Whatever he says, if anyone is worth £58 million, it is probably him.

The fates of Crespo and Shevchenko should concern him and Chelsea, in equal measure. He is as close a thing as there is to a guarantee of goals. But that is not the same thing as being an actual guarantee of goals. Perhaps here, too, he can be the exception.

*Side note: This is not acceptable, under any circumstances, and the rest of the world finds it weird. Please desist immediately.