Moyes must make a statement of attacking intent at United

David Moyes may have made a point but, watching from the side, the Tottenham Hotspur official had made up his mind.

It was mid-March 2012 and the White Hart Lane club were by now deeply considering potential replacements for Harry Redknapp. Moyes had long been a candidate as Spurs travelled to Everton for a game that could have gone a long way toward deciding both teams' seasons. It indirectly decided Moyes' future.

Everton duly won 1-0, with a performance that had all the hallmarks of his time at Goodison Park: resilience, doggedness, opportunism and no little tactical intelligence. It didn't, however, have one hallmark that Spurs were specifically concerned with: an element of bravado.

The Tottenham official couldn't countenance the idea of appointing a coach who would play so defensively at home and walked away from Goodison Park certain that Moyes would not get his vote.

Funny how football works out. Over a year on, the 50-year-old has been granted a bigger job with far greater requirements. One of those requirements, though, remains as rooted in Manchester United's history as Tottenham Hotspur's. There is a principled expectation that any manager should play "the right way" - a phrase Alex Ferguson himself has frequently used.

Beyond the absence of major trophies on his CV, it has been the one undercurrent to Moyes' appointment at Old Trafford, with the name of Dave Sexton regularly brought up. The manager appointed at United in 1977 stripped the football down to a staler fear. There is now an understandable feeling that Moyes will enforce that minimalism at a club supposedly obsessed with the maximum.

As with every other club on the planet, including Tottenham, there is always an element of exaggeration about adherence to fundamental values. It was as far back as 1966 that Matt Busby was telling United to keep it tight at Benfica in the European Cup quarterfinal, only for George Best to completely ignore his manager's instructions and blow the Portuguese side away. It's not like Ferguson has always been so adventurous either. The vast majority of his recent games against any of the top four or Europe's elite sides have also been built on two deep defensive backs and then attacking on the break - exactly like Moyes.

Everton's 0-0 draw at Arsenal in April was almost the perfect case study. The combative manner of the performance almost completely mirrored Ferguson's approach to Arsene Wenger's team over the past four years. The only difference was the absence of three points, and it is there that the question swings.
As pragmatic as even Ferguson occasionally proved, that occasional compromise was offset by success and the proactive manner in which United mainly played. At Old Trafford, there is an understandable expectation that they take the game to virtually every other team, and is something that is reflected in consistently high possession and scoring statistics. On the whole, United dictate the play.

This is simply not something Moyes is accustomed to. By contrast, he has become noted for undercutting teams rather than overwhelming them. Few managers scout as rigorously, with the 50-year-old admired for the way in which he can pick out that one flaw his team can exploit. Again though, it's primarily based on opposition weakness rather than his own strengths.

Similarly, the passing figures at Everton were always around mid-table and there was often a discrepancy between where they finished in the league and where they finished in the scoring charts. Moyes' finest season of 2004-05 was the foremost example of this. Although Everton ended in fourth, their return of just 45 strikes was 11th in terms of the goals scored column.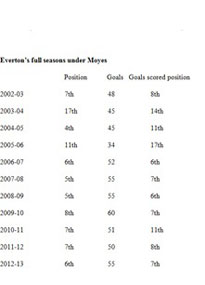 Other
At face value, both the figures and the actual football would appear to support that Spurs official's view. There is also a telling quote from centre half David Weir, who otherwise speaks glowingly of Moyes, about that "defender's perspective."

"The manager had obviously been a defender when he played and when it was him and [coach] Alan Irvine together [at training], he would always take the defenders and Alan would take the forwards. It was as if that wasn't his forte. He had his ideas on what he wanted and how he would like to play and he would go through that in detail but probably come at it from a defender's perspective."

The key question, then, is what United and Ferguson have seen that Spurs missed with this approach to football; whether there is something deeper than that evident durability.

Former Everton physio Mike Rathbone certainly thinks so. Much like with Moyes' lack of trophies, he believes it is impossible to separate the football from the stark frugality.

"Unless you were there during that period, you could never truly appreciate what that man has done for the club," Rathbone wrote in his autobiography.

"David took the club by the scruff of the neck and, with very little money but lots of grit and determination, dragged them back up to the top end of the table."

Perhaps the most important point regards the apparent absence of overall evolution over that decade. Unlike managers such as Paul Lambert and even Roberto Martinez, Moyes has never quite moved beyond that kind of compromised football.

The response to that, of course, is that it may represent the greater managerial flexibility required at such a level. It would also be wrong, after all, to say that there has been no evolution within elements of the team's game.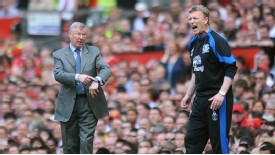 PA PhotosDavid Moyes has big shoes to fill at Old Trafford
Even if Moyes has always retained that resolute backline in order to anchor Everton to their general level in the table, their attacking play has witnessed greater fluidity depending on the players involved, and was often based around overloading opposition sides in specific areas of the pitch - a scaled-down version of going toe-to-toe. Signings such as Kevin Mirallas, Nikica Jelavic and Steven Pienaar have intermittently given the side a spark that is at odds with their robust perception.

Even Weir mentioned how Moyes' overall template could have been transformed by better players performing the roles, rather than any changes to the manager's style.

"You have got to be an exceptional player to play up front on your own, and the way our system was you had to work really hard," Weir said. "We needed a Didier Drogba or somebody like that, but those players are few and far between."

Given that Moyes has favoured that 4-4-1-1 often used by Ferguson over the last few years, it will also be significant to see whether the second striker will be a forceful midfielder in the mould of Tim Cahill or Marouane Fellaini, or someone more sophisticated such as Wayne Rooney or Shinji Kagawa.

This, after all, is the other aspect to it. It may not quite be a case of a manager as forceful as Moyes imposing his approach on a given club, but the conditions of the club influencing a coach as open as Moyes. Just as the football at Everton so often reflected the manner in which he has grittily had to make do, the rarefied air of an institution like United may bring out something else in him. Not only will he have a better level of player, but also a better level of coach - especially in attack.

It is something that Moyes himself has touched upon.

"I was brought up on the best attacking team ever - Glasgow Celtic - so that is in my blood, because of what was demanded and expected there. I want my teams to play that sort of attacking football, but sometimes you have to find a way of winning even when you're not playing well. You can only do the job with the tools you've got.

"If we get a few injuries to our important players, then we may not have the depth, and so we will have to find another way to win. That's where the challenge comes in."

At Old Trafford, it's generally the opposite. Moyes must now make a statement.