The legends of Sao Cristovao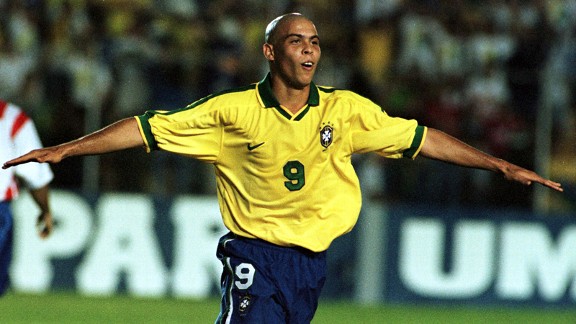 GettyImagesFrom Sao Cristovao to the Selecao: Ronaldo in action for Brazil in 1997
RIO DE JANEIRO -- Aqui Nasceu O Fenomeno. Here was born the Phenomenon.

You see the sign from the highway -- the Linea Vermelha or "red line" -- leading from the Maracana out to Rio's international airport and immediately you're curious.

Phenomenon?

In these parts, it can only mean one man: Ronaldo Luis Nazario de Lima. The original Ronaldo, before the boy from Madeira showed there could be two icons with the same name.

You feel you have to check it out.


---

You turn off the highway and into the neighborhood of Sao Cristovao. Low-rise apartment blocks. Folks drinking beer on plastic chairs on the sidewalk. An oil-stained guy in a garage peering out from under the truck he's working on.

Two hundred years ago, when Brazil was still a very faraway part of Portugal, King Joao VI decided to build his residence here. Mansions for dignitaries followed and the area became one of the first in Rio de Janeiro to get electricity.

Some of those mansions are now museums. Some are faded shells of their former selves. Most are gone, replaced by ordinary working-class people leading ordinary working-class lives.

The entrance to the Estadio Figueira de Melo sits on a street under the elevated train line. Were it not for the surprisingly well-preserved writing on a white-washed but peeling wall and the man guarding an impressive wrought iron gate, you would not know it's there.

Sao Cristovao de Futebol e Regatas. Football and regattas ... as in rowing. The ultimate working man's sport and the pursuit of those who can afford to keep boats.

Actually, in Rio it's common. Flamengo, just up the road, is also a regata club. So, too, is Botafogo. At Sao Cristovao, the boats are long gone. Soon, the football might be, too.


---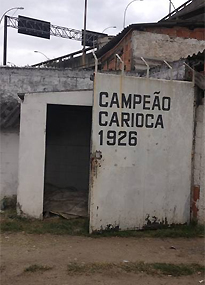 Other / Gab MarcottiThe Estadio Figueira de Melo has seen better days
"One-hundred and fifty-thousand reals. Do you want to help out?"

The man in the suit laughs. He is the club's director and has just told you how much money Sao Cristovao needs to finish the season. Seventy-thousand dollars.

You ask what happens if they don't find the money. A wry smile breaks across his face and his hands leave his side, palms up. A universal gesture. They'll be in the hands of a higher power.


---


You want to know about O Fenomeno, Ronaldo. You get the sense they've been asked the question many times before.

Ronaldo is from Bento Ribeiro, a neighborhood some miles away, in the northern part of Rio. It's a working-class area, not a favela, but somewhat off the beaten track in terms of the city's football hierarchy. With no local club, Ronaldo played Futbal de Salao or futsal until he was 14.

You stop and think about it for a minute. The greatest Brazilian player of your lifetime grew up in a city teeming with football and yet nobody thought to pick him up until he was 14? A freak of an athlete who combined pace and sheer strength like few players before or since played futsal on a tiny, congested pitch?

You hear the story. Young Ronaldo finally gets scouted by the local giants Flamengo. Yes, right around the time Zico -- the king of the Maracana -- retired, in fact: 1990. They'll take Ronaldo, sure, but they won't pay his bus fare. And, simply put, he can't afford it himself. So, instead, he joins Sao Cristovao, because he can take the train there.

"What about the train fare?" you ask.

A knowing smile. "There were no barriers back then and no ticket collectors on the train."

You realize that if the Estadio Figueira da Melo had not been built next to the train tracks (or if the train tracks hadn't been built next to the Estadio Figueira da Melo, you're not sure which came first) the Phenomenon would have been born somewhere else.

Or not at all.


---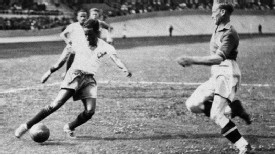 GettyImagesBrazilian forward Leonidas in action at the 1938 World Cup
Here's the thing. Ronaldo may be O Fenomeno. But, before him, Sao Cristovao gave birth to another Phenomenon, one whose importance to the game may well be as great, if not greater.

In 1923 a skinny black kid named Leonidas da Silva rocked up to Sao Cristovao. He was 10 years old. You may think of Brazil as some kind of multiracial footballing utopia, with the game cutting across all classes and colours. Back then, it was different.

At the time, many clubs were wary of black or mixed-race players. In 1914, a mixed-race footballer named Carlos Alberto lined up for Fluminense wearing makeup, so as to appear white, the color negative of blackface. The same year that Leonidas walked through the doors at Sao Cristovao, Vasco da Gama won the Rio championship with a team of predominantly black players, shocking the Brazilian elite who figured it could never happen.

But back to Leonidas. He made his first-team debut for Sao Cristovao in 1929, at the age of 15. One season, 31 goals in 29 games, and he was off again, launching a stellar career for club and country. He played in the 1934 and 1938 World Cups, winning the Golden Boot at the latter with eight goals and being crowned Player of the Tournament.

They called him "Rubber Man" for the elasticity and trickery in his legs and "Black Diamond" for the majesty and elegance of his movement. For the Europeans who saw him in Italy in 1934 and France in 1938, he became an instant legend.

Many of them had never seen black people, let alone ones who could beat them at their own game. And, for most, after Leonidas rolled out of town, they wouldn't see any until black U.S. servicemen would liberate their countries after the war, nearly a decade later.

Simply put, while few remember him today, Leonidas was football's first black superstar. And, on a global scale, Brazilian football's first superstar.

He is also credited with inventing the bicycle kick, a feat so unfamiliar when he performed it at the 1938 World Cup that newspaper accounts talk of women fainting and Parisians injuring themselves the following day trying to emulate it.

(Think about it. Without Leonidas, there would be no Pele. And no winning goal in "Escape to Victory," either. Stallone might still be a prisoner of war.)


---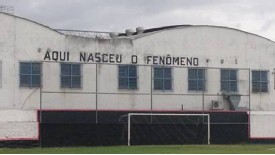 Other / Gab MarcottiO Fenomeno lives on at the Estadio Figueira de Melo
You close your eyes and try to imagine Ronaldo thundering across the threadbare pitch. Leonidas rising into the air, twisting his body like the elastic on a slingshot and unleashing his trademark overhead kick. It was more than six decades apart, but it happened right here, where you're standing. You think about the thread of football, linking generations and how the concrete white walls of this stadium have had the privilege of seeing them both.

Wikipedia tells you the Figueira de Melo has a capacity of 8,000. Wikipedia lies.

You reopen your eyes and realize you can actually count the plastic seats which run along two sides of the pitch. One end is a wall with the inscription to O Fenomeno; one side is a rubbly car park. The other two, the ones with seats, hold maybe 500 people. Most games Sao Cristovao, who now play in the lowest professional tier of the Rio pyramid, get one-fifth as many.

And most of them are friends or relatives of the players, they tell you.


---


Seventy-thousand dollars. Is that really all it would take to save a piece of Brazil's footballing past?

Some local media blame Ronaldo. What would $70,000 be to him? One of the cars his housekeeper drives to the supermarket for the weekly shop? Why doesn't he show some gratitude to the club that formed him?

You ask the club and they tell you they have had no contact with Ronaldo in a long time. They would be honored if he would help out, but they don't want him to cut a cheque. They want him to simply talk about them, to use his bully pulpit to let the world know they exist. And maybe that will generate interest and fans and enthusiasm and all the things a club needs to stay alive.

If they're alive, who knows who will walk through their doors? Maybe a shy, young kid with a toothy grin or the agility of an acrobat who may one day match the feats of O Fenomeno and the Black Diamond.