Confederations Cup: Group Stage Standouts
The group stage is over, what better time to recognize the players who have stood out. Yes, it's all subjective, so feel free to disagree. And, yes, I grade on the curve, so bullying Tahiti counts less than turning in a performance against Spain.

Goalkeeper: Vincent Enyeama (Nigeria). Honorable mention: Fernando Muslera (Uruguay).

OK, so he suffered the indignity of conceding to Tahiti, but beyond that Enyeama proved again why he's one of the more consistent keepers around. Also came up with some big saves against Spain. Muslera played the first two games -- the tough ones -- without making any mistakes.

Right-back: Alvaro Arbeloa (Spain). Honorable mention: Dani Alves (Brazil).

Slim pickings in this position. Arbeloa may be unspectacular but he scarcely put a foot wrong in the two games he played. Dani Alves was very good against Mexico, less so in the other two games.

Centre-backs: Thiago Silva (Brazil), Sergio Ramos (Spain). Honorable mentions: David Luiz (Brazil), Giorgio Chiellini (Italy).

Thiago Silva is so far ahead of anyone else, he may as well be playing a different sport. Ramos earned his bacon as the only Spaniard to play all three games. Giorgio Chiellini played well against Mexico and Brazil, less so against Japan, while David Luiz has been solid.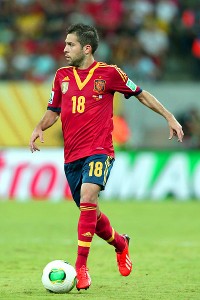 Miguel Tovar/Getty ImagesJordi Alba's up-tempo game adds a different wrinkle to Spain's attack.
Left-back: Jordi Alba (Spain). Honorable mention: Uwa Echiejile (AKA Elderson).

Alba is totally in his element in this tournament. Played a stellar first half against Uruguay and scored a peach of an individual goal against Nigeria. All without breaking a sweat. Echiejile was not only a fixture down the Super Eagles left flank, he also chipped in with a neat goal in the opener.

Midfield: Paulinho (Brazil), Andres Iniesta (Spain), John Obi Mikel (Nigeria). Honorable mentions: Xavi (Spain), Sergio Busquets (Spain) and Daniele De Rossi (Italy).

Iniesta has been outstanding thus far, reprising his form from Euro 2012. Luis Felipe Scolari's instructions have somewhat curtailed Paulinho, but he showed his ability as a two-way midfielder. Mikel was Nigeria's midfield leader, both in a more defensive role, similar to the one he plays at Chelsea and, in the final game, further up the park. Xavi and Busquets were their usual selves (read: very good) in their time on the pitch and De Rossi provided hard work, organization and a critical goal against Japan.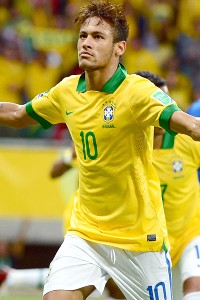 Christophe Simon/Getty ImagesNeymar has given the Confed Cup moments of sublime skill
Strikers: Neymar (Brazil), Mario Balotelli (Italy), Keisuke Honda (Japan).

Neymar has thus far lived up to the hype and seems to be getting better as the tournament progresses. When he is on, he's not just breath-taking, he's concrete and effective too. Balotelli, stupid booking aside, has also stepped up, scoring in the first two games and delivering an outrageous assist against Brazil. Honda may be a more controversial choice, but he was Japan's most consistent threat over their three games.

Torres is the tournament's top goalscorer, but his honorable mention is for the goal against Nigeria which, effectively sealed the group stage. Gio dos Santos combined quality and quantity for Mexico, while Emanuele Giaccherini not only scored two important goals for the Azzurri, he also worked as hard as anyone in the tournament.