Four steps to restoring Mark Hughes' reputation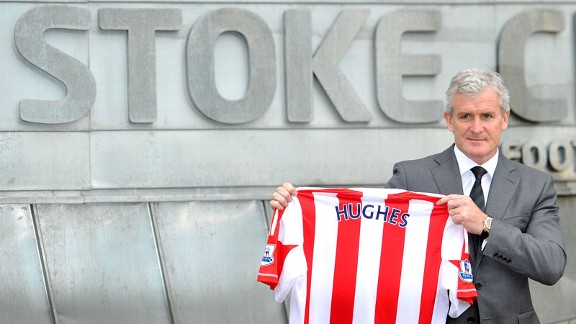 GettyImagesMark Hughes has the potential to instigate significant change at Stoke after a period of lull under Tony Pulis


With Mark Hughes back in the Premier League at Stoke, here are four things he must do at Stoke to rebuild his reputation.

1. Shed the rugby team tag

During the sergeant major stewardship of Tony Pulis, it was a badge of honour to be called the rugby team by Arsenal fans and it became currency throughout the Premier League. Under the siege mentality, Stoke fans circled the wagons and "one-nil to the rugby team" was a natty, if predictable, line in irony, complete with antagonising hand gestures to Arsene Wenger. Even some neutrals laughed, probably more at the ridiculing of the Frenchman than the wit of the famously vociferous Stokies. For a good five seasons, in true "no one likes us and we don't care" style, it added extra yardage to Rory Delap's throw-ins and served as red meat to the likes of Ryan Shawcross and Robert "Huuuuuuuuuth!".

It was the lifeblood of the club. It fed Pulis, the players. It nourished everyone, until last season. Not even the Stoke fans could self-deprecate. That joke isn't funny anymore. It has worn as depressingly thin as the entertainment levels at the Britannia. So Hughes is lucky. The time is perfect to drag Stoke out of the Pulis dark ages. Neanderthal hoof-ball is no longer an option: supporters want to be entertained. In such austere times, they have every right to seek value for their season ticket.

Hughes was one of many Premier League managers who accused Stoke of being over-physical during Pulis' reign and refused to shake hands with his fellow Welshman when he was in charge of Fulham, following what he thought was an unnecessarily aggressive challenge by Andy Wilkinson on Mousa Dembele. Anything more than four successive passes, brushing along the turf, would constitute a seismic shift. It does not have to be Barcelona. Something a la Bournemouth would represent progress.

2. Harness the talents of Charlie Adam

Adam was supposed to be the missing link last season, the conduit to link midfield and attack. But he spent most of his time playing out of position or not playing at all. His maverick talents, superfluous to requirements at Liverpool 12 months earlier, were viewed with suspicion by Pulis. Adam cannot play with a neck brace on, craning his eyes skyward trying to locate another clubbed Huth long ball. He has to be trusted. He has to be given responsibility. He has to be used in an advanced midfield role and trusted to get on the ball and utilise his obvious vision and passing range to create angles that have previously been dismissed by Stoke supporters with all zeal of an anti-Darwinist movement.

Adam's first-year statistics of 27 appearances, admittedly fewer because of a three-month absence following the death of his father, and only three goals are not representative of the talents of the Scotland international or the £4 million transfer fee Stoke paid for him. He has so much more to offer to a manager who is willing to embrace his abilities. There will be squandered possession and over-ambition, but it is risk and reward.

3. Keep Steven Nzonzi

The holding midfielder would provide the perfect insurance policy against Adam's attacking instincts. Holding on to the Frenchman may prove tricky, after Nzonzi submitted a transfer request within 48 hours of Pulis being sacked. There is a school of thought that Nzonzi is a difficult character -- after all, this is his second request to leave a club in the space of a year. He cites broken promises over an improved contract, and his representatives have stated the appointment of Hughes has done nothing to change Nzonzi's mind on wanting to move on. He was Stoke's best player by some distance over the first half of last season; his ability to police the space in front of his back four and his incredible athletic ability are assets many Premier League clubs would be happy to have at their disposal.

One of Hughes' first jobs is to broker a peace deal, clear up the contract argument and get Nzonzi to withdraw his transfer request. The request was rejected at the time by Stoke chairman Peter Coates, but it cannot be allowed to fester. Nzonzi is a significant upgrade on all the other central midfielders -- Palacios, Whelan, etc. -- currently at the club. The signing from Blackburn Rovers is only 24 and, given the correct environment, can flourish and his value can significantly increase above the £3 million Stoke paid for his services.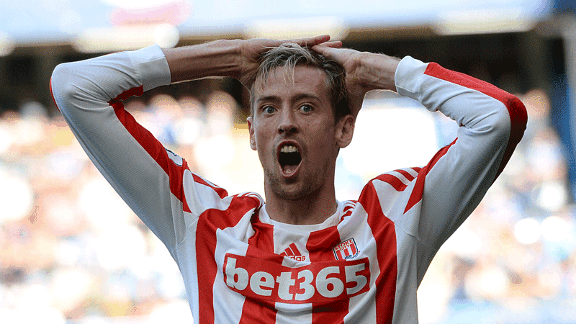 EmpicsIt was a disappointing season for Stoke's strikers, with the quality up front not reflected in a dismal goal tally
4. Goals, goals and more goals

Hughes thrived on scoring goals for Manchester United and Chelsea, many of them of the spectacular variety. He would have been at risk of expiring due to a lack of opportunities had he been forced to play as a Stoke striker last season. Robin van Persie came close to scoring more goals on his own at Manchester United than the paltry 34 that Stoke managed during the entire Premier League season.

Only relegated QPR managed fewer, and that for a squad that includes Kenwyne Jones, Peter Crouch, Jon Walters and Cameron Jerome is unacceptable. Pulis' determination to shut up shop, rather than embrace the currency of scoring, was the prime reason for Stoke's relegation struggles last season.

Hughes claims to be a more progressive, attacking coach by nature. It will not be difficult to improve on the efforts of last season. If Crouch wants to leave and return to QPR that may be a blessing as the former England man's Premier League powers have waned alarmingly in a year. There are dynamic younger strikers around -- Matej Vydra, Jordan Rhodes, Charlie Austin would certainly improve the club's goal threat. Roque Santa Cruz, however, should not be an option.