Uruguay's mauling of Tahiti doesn't solve much
Three quick thoughts on Uruguay's 8-0 evisceration of Tahiti that secured a semifinal spot for Oscar Tabarez' side:

Uruguay through, but not convincing

The scoreline and stats tell an obvious story -- Uruguay scored eight times, enjoyed 70 percent of the ball and outshot the Iron Warriors by more than a 4:1 ratio -- but they also provide a lack of insight as to where La Celeste really is in its progress toward the World Cup. After all, what does it mean to maul a minnow?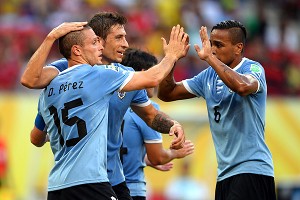 Laurence Griffiths/Getty ImagesIt's difficult to gauge Uruguay's World Cup progress based on its 8-0 rout of Tahiti.
The high Tahitian backline and expectedly lackluster man-marking could give any forward an inflated sense of self-worth; here, Abel Hernandez nodded home a flicked-on set piece inside the opening 80 seconds to begin an impressive individual haul. Uruguay would keep scoring until the death, too, with Luis Suarez scoring twice in the final eight minutes after coming on as a surprising sub with 20 minutes to play. (In doing so, the Liverpool forward passed Diego Forlan as Uruguay's all-time top goal scorer.)

But all the goals and a successful booking of a semifinal date with Brazil don't hide the fact that Uruguay is still figuring things out. Gaston Ramirez is not the playmaker for country yet that he is for club. The defense, rotated in full from the first two games, belies a lack of meaningful depth. (Andres Scotti in particular had a day to forget, missing a penalty and getting sent off for two yellow cards.) That the opponent was helpless Tahiti rendered it all irrelevant though the same won't be true against a better team. Did I mention they'll face Brazil on Wednesday with a spot in the final at stake?

Tahiti's dream ends as expected

Was it a dream? There was never any delusion about shock wins or scoring several goals. Coach Eddy Etaeta reiterated his side's sense of wonder and pride prior to the tournament and things played out as many cold-hearted realists felt they might: three games, three crushing defeats, one goal scored and 24 conceded.

Their amateur status was heart-warming and inspiring to us armchair artisans but also became an object of patronizing commentary as the Confed Cup wore on. In the end, their three opponents did what was expected of them. Mercy rules are not necessary. That's what the final whistle is for.

Now the Iron Warriors head home with a slew of stories, memorabilia and national pride. It was fun while it lasted.

Abel Hernandez has a rare field day

Games like this are fun for the individual as good teams prevail in the end. To wit, the efforts of Hernandez on Sunday.

Despite getting zero minutes in the first two group games, his four-goal haul is an impressive feat on any day. Scoring Uruguay's first hat trick since Luis Suarez did it versus Chile in November 2011 and the nation's first at a FIFA tournament since Carlos Borges in 1954 (thanks, Paul "PaulBOT" Carr) was the end product of an effective poacher's display. It could have been five had he swept home a right-flank cross with Tahiti's goalie, Gilbert Meriel, all at sea, but no one will pay much mind.

Hernandez' biggest weakness is that he's Uruguayan in that he's been forced to sit behind three potent strikers -- Luis Suarez, Diego Forlan and Edinson Cavani -- since his senior call-up in 2010. That said, the tall forward is just 22 years old, meaning that his time will eventually come at the international level. First up, he might do well to leave relegated Palermo in search of a grander stage. Do rumors of a switch to Sunderland count?