A Premier League ticket price revolution is underway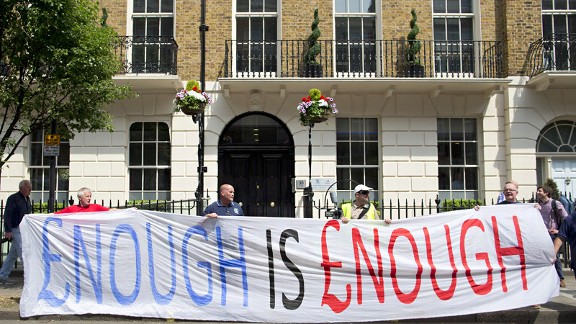 Jusrin Tallis/Getty ImagesSupporters from clubs all over England convened in London's Regent's Park last Wednesday to protest high ticket prices.
In London's Regent's Park on Wednesday, it was the afternoon after the morning before. While millions of football fans perused through next season's fixture list hot off the Premier League press, a tiny fraction -- tiny, no more than 750, significant -- congregated near Baker Street Station.

The Premier League was firmly on their agenda and the target of their fledging voices, but this had nothing to do with whom would play whom and on what date. That was not the worry of those who represented Arsenal, Liverpool, Manchester United and Tottenham, among others. It was not whom they would meet, but how: How can football fans continue to afford ticket prices which keep rising despite a new television deal worth £5.5billion?

The expertly crafted banners that were unfurled marked the first time the question had been asked so publicly, so emphatically. The patchwork of football shirts heralded the end of tribalism, if only for one day.

As those who held the banners marched towards the Premier League's headquarters in Gloucester Place, unity was achieved. Unity from those who sang, shouted, played music through gigantic speakers in the name of disruption; unity from members of the public -- supporters and detractors alike -- who couldn't fail to hear their message, written in black lettering on a large, white sheet: Football without fans is nothing.

But before glimpsing into the dystopian future of a desolate, barren sport, a nod to the not-so-utopian here and now.
The fans who walked and talked together on Wednesday in protest did not want to do so; they have jobs, families and other things more important than football to contend with in their everyday lives. But, as one banner proclaimed, enough is enough. Enough was enough for Liverpool supporters union Spirit of Shankly, which coordinated the demonstration in the aftermath of meetings in both the northwest of England and London.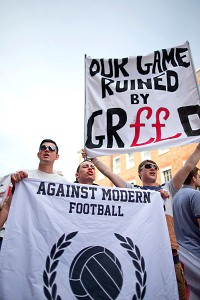 Justin Tallis/AFP/Getty ImagesFans from 40 different clubs have voiced their displeasure with the current state of Premier League ticket prices.
This is not a Liverpool thing, although ticket prices have risen 1108 percent at Anfield since 1989. They, and many others, regard it far more seriously than that, with support coming from other groups and organisations including Manchester United Supporters' Trust, the Blue Union of Everton, Tottenham Hotspur Supporters' Trust and Arsenal's Black Scarf Movement.

Football was always supposed to be an affordable form of escapism; its supporters were always supposed to be treated as the lifeblood of the club. No longer is it affordable for many, the blood supply quelled by a tourniquet of money.

Ticket prices have increased -- and with them, the disconnect between clubs and fans -- by an average of 716 percent since 1989; in the same period, supporters' wages have only risen by an average of 186 percent, while the Bank of England's inflation is at 77 percent.

Such razor-blade figures would cut the throat a little less deep if not for the income generated by television deals alone, by which the latest three-year package, worth £5.5billion, would allow clubs to lower every ticket by £51.30 and still enjoy the same revenue as last year. But there is also the expenditure on transfer fees and player wages, the latter of which has increased over 1500 percent in 15 years.

It is that expenditure on players' fees and wages that see clubs hang supporters by the purse strings. This, some say, is the extortionate price of success. If there was no extraordinary television deal, then English clubs could not attract the players they do. Because they attract these players, prices can be justified more. It is a vicious, dizzying circle for supporters -- one few are reluctant to break.

It is an audience not just captive, but bound and shackled by the routines of their ancestors and memories of their childhoods. Try to escape escapism.

Only Norwich City have reduced last year's prices of both their cheapest and most expensive season ticket, while a further eight others have frozen them. It becomes clearer that fans are regarded as a commodity, a collective tool for brazen marketing, a consumer -- and there's little they can do about it. Indeed, there were few people wanted to do about it.
Until now, it seems. James McKenna, chairperson of SOS, believes it is just the beginning of a wider movement that will look to gather momentum.

"There is a captive audience. That's because they have monetised loyalty," McKenna said. "In football, you don't just pick and choose your football club, so free market rules shouldn't apply. They only do because the football cartel is greedy."

He added: "The intention of the demonstration was the show that supporters aren't happy and use it as a catalyst for future action and a bigger campaign. That has happened, and the coverage in the media was not only large but favourable.

"The message is out there -- supporters are not happy, and understandably so."

The message that is now out there began, in part, when Manchester City returned over 900 tickets back to Arsenal before their visit to the Emirates, a response to the £62 price set by the north London club. The coverage the gesture received was unprecedented in the British media.

But that was just one club and, although others followed, there was no cohesion. That is partly due to the pricing band of many Premier League clubs: The more successful the team has been, the more the support suffers, with clubs like Liverpool and Manchester United paying £19 more to watch their team away at Fulham than Wigan Athletic do.

The scattergun of support at Wednesday's protest, however, including some championship representation, demonstrates that cohesion now exists.

"Supporters standing together on such a large scale is a first, and it's only the beginning," McKenna said. "At the meetings we had, I kept saying to people that what unites us is much bigger than what divides us all. It would seem people agree.

"The reports are that there were over 40 different clubs represented, which shows that the campaign isn't just about "big" clubs, or Premier League clubs, or a north and south thing -- it's all supporters of all clubs, angry and wanting change."

These supporters stood together behind the banner, and belief, that football without fans is nothing, a chilling threat to those who think the game will continue without them. Of all the artwork, this was the one emblazoned across the minds of everybody who saw it, a juggernaut of realism to the sternum.

Nobody anticipates empty stadiums, of course. The Premier League will never play to a gallery of stewards and pitch-side announcers alone. But the operative word is fan; not consumer or customer, but a supporter, somebody who reflects the culture of what the club used to believe in and the city it is based in; a person who will still support their team irrespective of form or league position.

The seats might not be empty, but they might as well be. Football would be nothing if stadiums were filled with people who have no real attachment to what was being played before them, thoughts more concentrated on the postmatch traffic that awaits them rather than the game itself. Football would be nothing if the only investment those watching truly cared about was financial rather than emotional, the concept of entertainment and value for money far greater than anything else.

It has already begun. And while clubs might still receive revenue from these football consumers, the Premier League's major selling point -- the passionate, unwavering support -- will eventually dwindle; with it, revenue from television companies and overseas audience viewing figures.

Still, the sight of some stadiums still packed full will dishearten those so steadfast, especially while those priced out watch it at home or in a pub near the stadium, their capacity ever increasing. But if this is to lead to change, it will not be instantaneous. Borussia Dortmund's Kein Zwanni für nen Steher campaign -- translated as 20 euros for standing, no way -- will frequently be cited after the Bundesliga club returned 1500 tickets in 2010 following a ticket price increase for their trip to local rivals Schalke.

Their English counterparts would no doubt acknowledge how far from reality it is for them. Manchester City's trip to Arsenal is one thing, but a local derby a more gruesome beast to cross. Sport often reflects society -- British society is divided and immersed in selfishness. Derbies from the Northeast to the South Coast are still tickets hotly sought after; few tickets would remain unsold.

Yet the first step is the most significant, and here were several hundred of them. The march to Premier League headquarters was only a 30-minute walk and just over a mile and a half in distance, but it was far more meaningful given who were side by side. In a football world consumed by the banal and the banter, in which club loyalty blinds all and nothing but oneupmanship matters, to find common ground over this should deliver the message loudly.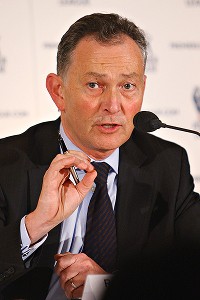 Tom Shaw/Getty ImagesSupporters are looking for more than just lip service out of Premier League Chief Executive Richard Scudamore.
It would be in the Premier League's best interests to listen it seems. Richard Scudamore, Premier League CEO, arranged an impromptu meeting with some of the groups' members; the organisation also released a statement, heralding the protest, though suspicion abounds over whether they are words of conviction.

"We knew what they would say -- the talk about average attendances, it being for clubs to decide pricing, expressing sympathy," McKenna added. "What they will have had to listen to, and would be wise to take heed of, is that supporters are angry; we won't be patted on the head and ignored, and we won't play by the Premier League rules of divide and conquer.

"They are all in it together -- the Premier League, the clubs, the players, agents, sponsors. All of them are responsible. All of them are targets."

As the sun began to take solace behind the clouds and the music faded into the summer smog, the banners were rolled back into their canvas bags. They will be rolled out again. One lingered a little bit longer than the others, a play on a Manic Street Preachers song: If you tolerate this, then your children will be next. It is a reminder that these supporters' actions are also with the intention of safeguarding the future. And what of the immediate future, what of those who congregated in central London with no real idea of what lay ahead?

"We need all supporters at all clubs to be out talking to fellow supporters about it, getting together, making sure they speak to their clubs about it, making sure they plan actions and demonstrations," McKenna said.

"This is just the start. The hard work starts now. Football, one way or another, will look very different in the next few seasons."

If football is to look different in the next few seasons, decades, generations, then history will dictate it started at Regent's Park. The writing might have been solely reserved for banners on Wednesday, but these supporters hope the writing will be on the wall soon enough for those who dictate ticket prices. It is hard to shake the feeling that the battle has just begun.