Striker splurge: Value for money or overpriced gamble?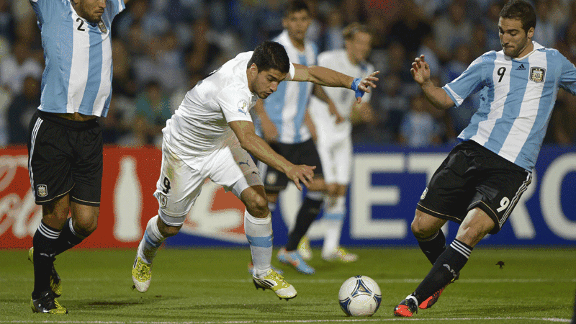 GettyImagesLuis Suarez and Gonzalo Higuain are among a host of European striking talent likely to make a move this summer
Prices invariably skyrocket when a commodity is in short in supply, and that looks certain to be the scenario as the world's richest clubs fight it out to secure the precious and elusive mineral that is a goal scorer this summer.

Cristiano Ronaldo is the highest-profile scoring machine with a 'For Sale' sign seemingly hoisted above his well-preened forehead, but the Real Madrid superstar is not the only goal-getter set to shatter transfer records ahead of the new season.

The heroes who blast the match-winning goals tend to be the icons who cost more than the rest, yet, as Andriy Shevchenko and Fernando Torres have confirmed after less-than-glorious, big-money moves to Chelsea, transporting penalty box success from one club to another can never be guaranteed.

As much as £200 million could be spent by Premier League clubs on fresh scoring talent in the next couple of months, so here is our guide to the best value for money options in an overinflated financial market.


Gonzalo Higuain
Current club: Real Madrid
Price: £22 million
Possible destination: Arsenal, Juventus, Chelsea
Value for money rating: 8 out of 10

Arsenal are reportedly ready to shatter their transfer record and wage structure to sign Higuain, but many cynics will reserve judgment on the signing until notoriously prudent spender Arsene Wenger sanctions the deal and attends a news conference alongside his new star player.

Juventus' interest in the player is strong, and it might be that the French-born Argentina striker needs to pick between a Premier League club with modest ambitions or an Italian side challenging for major domestic honours each year. That is, unless Chelsea offer him an alternative career path.

Our verdict: At the age of 25, Higuain would be a fantastic buy, and with his price tag a fraction of the figures being quoted for Bale, Ronaldo and Cavani, he might be the snatch of the summer.


Cristiano Ronaldo
Current club: Real Madrid
Price: £70m
Possible destinations: Manchester United, PSG, Monaco
Value for money: 7 out of 10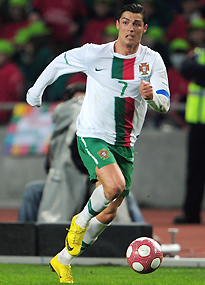 GettyImagesCristiano Ronaldo: Currently the world's most-expensive footballer at £80m
It's hard to put up a reasoned argument to suggest any footballer is suitably priced at £70 million, but Ronaldo is one of only two players in the game who could be viewed worthy of such extravagance.

Yes, he might often appear arrogant. Yes, he might infuriate at times with his selfishness on the field, but his football ability cannot be questioned. The 28-year-old has scored 199 goals in 201 appearances for Real Madrid. They are truly astonishing numbers.

Our verdict: A player of this calibre should not be playing in the mediocre French league for PSG or Monaco, so he has to re-sign with Machester United if he leaves Real Madrid.


Luis Suarez
Current club: Liverpool
Price: £35 million
Possible destination: Real Madrid, Bayern Munich, Napoli
Value for money: 7 out of 10

Suarez has made it clear that he intends to walk out on Liverpool, and if he can be prized away from Anfield for a figure a little above £30 million, all involved in the deal will be doing good business.

New Napoli boss Rafael Benitez is said to be interested in signing Suarez as a possible replacement for international teammate Edinson Cavani should he depart, but it is the lure of Real Madrid that appeals most to the Liverpool No. 7.

Our verdict: He might come with a 'high maintenance' tag, but Suarez is a wonderful footballer, and in a summer when players not as good as him are being sold for extravagant sums of cash, he represents a decent option for any top club.


Wayne Rooney
Current club: Manchester United
Price: £28m
Possible destination: Chelsea, PSG, Arsenal
Value for money rating: 6 out of 10

Rooney appears to have used up his last life at Manchester United, and unless his old courtroom adversary David Moyes changes the script and insists on him staying, the 27-year-old will be changing his employer in the coming weeks.

PSG's interest in Rooney is long standing, and they believe they can entice him to Paris once they resolve the mess surrounding their managerial vacancy. If United are desperate to offload their trouble maker, Chelsea might well be an option.

Our verdict: PSG are favourites to snap up Rooney, and he would be a good signing for the French club as they look to expand their global brand. A move to Real Madrid would seem likely only as part of a deal that sees Ronaldo head back to Manchester. However, Rooney's resale value will be minimal in three years' time.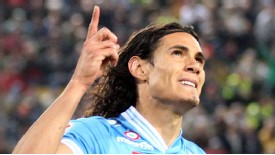 GettyImagesEdinson Cavani is a target for Chelsea and Real Madrid
Edinson Cavani
Current club: Napoli
Price: £55 million
Possible destinations: Real Madrid, Chelsea, and Manchester City
Value for money: 6 out of 10

Of all the strikers being touted for sale right now, Cavani has been hailed as the prize catch as he is just 26 years old, hungry for a move to a top club and seemingly ready to shine on the game's biggest stage.

Yet his price tag is so inflated that he is a signing who would now come with a huge risk factor in this era of Financial Fair Play restrictions. When you pay in excess of £53 million for a player, a guarantee of success needs to come in unison, and while he seems to be a top striker, Cavani will have much to prove if he moves to England.

Our verdict: He might boast quality in abundance, but Cavani is not value for money at his current value. Manchester City have already refused to meet his release clause, and it remains to be seen whether Chelsea or Real Madrid will bow to Napoli's demands.


Christian Benteke
Current club: Aston Villa
Price: £20 million
Possible destinations: Tottenham, Arsenal
Value for money rating: 6 out of 10

Aston Villa's powerhouse Belgian striker was a sensation in the Premier League last season, and Tottenham are eager to bring him to White Hart Lane, but there is always a danger in signing a player on the back of one good season.

At this moment, most observers would hail Benteke as the real deal with his finishing ability and first touch as impressive as his physical presence, yet shining on a team for which expectations are diminished and performing consistently at the top end of the table are different propositions.

Our verdict: You would be buying a player whose value is at its maximum, and that means his value for money might be lacking. Is he that much better than his Belgium teammate Romelu Lukaku, who might be available for half the price?


Gareth Bale
Current club: Tottenham
Price: £85 million
Possible destination: Real Madrid
Value for money: 5 out of 10

Real Madrid seem intent on paying whatever it takes to lure Bale out of Tottenham, and even if that is because they fear Ronaldo might leave, the move is laced with uncertainty.

Bale is a world-class performer, and he has proved as much over the past three seasons with Spurs, but this quiet Welshman is not an attention seeker, and there is no guarantee he would warm to the bright lights and expectations at Real Madrid. He would be far better suited to Manchester United, but Tottenham will not sell him to a domestic rival.

Our verdict: Tottenham would have to accept a bid of £85 million if Real Madrid are serious about paying that much for Bale. Whether he would be a success in Spain is another question, and at that price, it has to be a risky purchase.


David Villa
Current club: Barcelona
Price: £15 million
Possible destinations: Tottenham, Arsenal, Manchester City
Value for money rating: 6 out of 10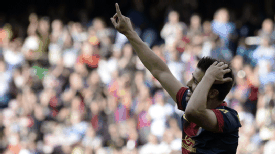 GettyImagesDavid Villa may be forced to make way at Camp Nou after Neymar's arrival
A decorated World Cup winner with Spain and proven marksman at the highest level, Villa still offers so much to any employer even if his very best days are now behind him.

His wages might be an issue, however, as at 31 years of age Villa will not make a move unless the financial package is attractive, and there is always an inherent risk of fitness issues when signing a player of more mature years. Villa's quality is enduring, but he might not be a shrewd financial purchase as he offers limited resale value.

Our verdict: Villa would be an instant hit in the Premier League, and if a club like Tottenham were to get him, it could propel them from outsiders into contenders in an instant.


Leandro Damiao
Current club: Internacional
Price: £25 million
Possible destination: Tottenham
Value for money rating: 5 out of 10

The gifted 23-year-old has been on Tottenham's radar for some time, but the North London club seem reluctant to seal a deal, and the price tag appears to be the stumbling block for Spurs chief Daniel Levy.

Whether Levy was serious in his last-gasp bid to snare Leandro in the final hours of the January transfer window is open to debate, but the signing would come with plenty of uncertainty as there is no guarantee the Brazilian would be suited to the Premier League or settle in London.

Our verdict: Investing in youthful South American talent is a risky business for top European clubs. Leandro looks the part, but will he really cut it in the Premier League?


Carlos Tevez
Current Club: Manchester City
Price: £15 million
Possible destination: AC Milan, Napoli, Chelsea
Value for money rating: 5 out of 10

Manchester City are looking to shake up their attacking line and with just one year left on his contract, they will look to move Tevez on ahead of the new season.

Italy is a probable destination if reports are to be believed, yet the vast wages the Argentine striker commands means any deal would stretch the salary structures at Serie A clubs. Could a Premier League rival nip in to snare the one-time homesick striker? Money talks when Tevez and his advisers are involved.

Our verdict: Tevez is a quality footballer, but his reputation has been somewhat tarnished since he refused to to warm up against Bayern Munich in the 2011-12 season. He will get another big move in the next 12 months, but the cash-hungry forward would be quite happy to hang around at City and secure a free transfer a year from now.


Hulk
Current club: Zenit St Petersburg
Price: £30 million
Possible destination: Chelsea, PSG
Value for money: 3 out of 10

Hulk might be powerful, muscular and Brazilian, but any club signing him are likely to discover he is also painfully overrated.

While he did a decent job in a dominant Porto side that trampled all over their second-rate rivals in Portugal, he has not set the world alight in Russia following a huge €40 million move last year, and now Zenit are looking to get some of their money back on him.

Our verdict: Hulk misses too many chances to be considered a top-class marksman, and he is not worth the price tag that hangs around his neck.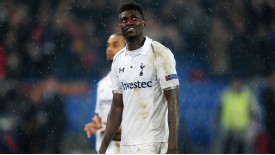 GettyImagesEmmanuel Adebayor did little to inspire confidence in his abilities last season
Emmanuel Adebayor
Current club: Tottenham
Price: £8m
Possible destinations: Who would take him??
Value for money rating: 1 out of 10

The Togolese striker is damaged goods after indifferent spells with Arsenal and Manchester City, so Tottenham might struggle to offload him after his often woeful efforts last season.

After a reasonably impressive spell on loan at Tottenham the season before last, Adebayor appeared to be less than interested for much of the recent campaign even though Spurs were relying on him as their only striker for long periods. Whoever takes this enigma under their wing cannot complain if it goes wrong again.

Our verdict: You know what you are getting if you sign Adebayor, and any manager who does so is putting his own future on the line.

VALUE FOR MONEY BUYS
1. Gonzalo Higuain
2. Luiz Suarez
3. Cristiano Ronaldo

OVERPRICED GAMBLES
1. Edinson Cavani
2. Hulk
3. Gareth Bale