El Tri ends Confed run on winning note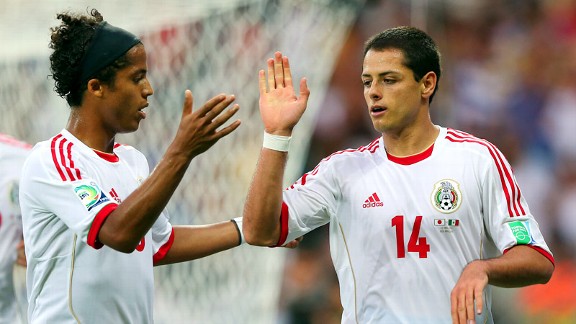 Alex Livesey/FIFA/Getty ImagesChicharito showed his class vs. Japan, drifting from the game at times yet delivering two decisive finishes.
BELO HORIZONTE, BRAZIL -- Some quick thoughts from Mexico's 2-1 win over Japan...

Chicharito's class: Clinical doesn't begin to describe him. There are long periods where you don't notice Javier Hernandez, only for him to suddenly appear and exact maximum damage. Chepo's revamped Mexico played better against Japan than it did in the first two matches, and there were more occasions where they had possession in the final third. And yet "Chicharito" seemed to flicker at the top of the Tri, disappearing and then uncloaking like a Klingon bird of prey.

Case in point: the opening goal. Andres Guardado sent in a searching ball and Chicharito materialized between Yasuyuki Konno and Yuzo Kurihara, surprising both defenders and the goalkeeper, Eiji Kawashima, before heading it home. Or, indeed, his second goal, when he appears in just the right space to bury Hiram Mier's flick-on, holding off Atsuto Uchida in the process.

He now has 35 goals in 53 appearances for Mexico, good for third-best all-time goalscorer and he's only 25. Cuauhtemoc Blanco is four ahead and at this rate, he'll catch him in the next year. From there, he only needs another 11 to equal Jared Borgetti's mark of 46.

Work for El Tri to do: That said, if Chepo sticks around as coach of Mexico, he needs to find the best way to use him. Today's attempt -- with Gio dos Santos and Guardado wide and Raul Jimenez leading the line with him -- was just that: an experiment.

And as with all experiments, you have to take the good with the bad. Dos Santos had lots of license to come inside and influence play, which he did increasingly as the game wore on, but Mexico also showed a lack of fluidity and his forays infield sometimes led to clutter.

Furthermore, Raul Jimenez is not the finished article yet as a partner for Chicharito. Whether to stick with him and let him grow or to Aldo De Nigris -- when fit -- or move dos Santos back inside... these are big decisions coming up. Whatever he does, the priority for Chepo must be to put Mexico in a position where the best attacking players -- Guardado, dos Santos and Chicharito -- do the most damage. With that trio, there's no real excuse for the three home 0-0 draws.

One step forward, two back for Japan: Alberto Zaccheroni didn't mix things up too much against Mexico because he wanted his players to show to themselves (and to the world) that the stellar performance against Italy wasn't a fluke.

They were only able to do so to a point. Without the suspended Makoto Hasebe, it took longer to win back the ball. And at the back, the old bugbear -- set pieces -- reared his head again. That said, if Shinji Okazaki's first-half back-heeled finish off Yasuhito Endo's shot had stood -- instead of being incorrectly struck off for offside -- then the game might have taken a wholly different turn.

The history of the Confederations Cup is short, but Japan may well be going home as the best team ever to end up with zero points in the group stage.