Spain faced with striking issues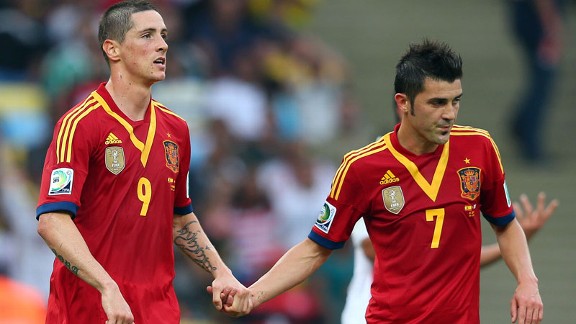 GettyImagesSpain strikers Fernando Torres and David Villa have fallen out of favour under Vicente del Bosque
SALVADOR, BRAZIL -- In the 77th minute of Spain's demolition of the proud Oceania Football Confederation champions, one of Tahiti's anonymous heroes touched the ball with his hand inside the penalty box; the ref immediately blew his whistle to award the world champions the corresponding penalty kick. In what probably was his fastest move during the match, Fernando Torres collected the ball and placed it on the spot.

A few puzzled faces appeared among members of the national team. At the end of the day, David Villa is the designed penalty-taker of the side, whereas Torres has always been below average from the spot. At that point the score was 8-0, the (for now) Chelsea player had already bagged his hat-trick, and it would have made sense to let someone else such as Santi Cazorla or Cesc Fábregas get onto the scoresheet. Torres thought differently.

You may wonder why. However, bearing in mind the general context of Spain's front line, Torres' and Villas' generally selfish behaviour during the match is hardly surprising.

"We don't have the striker that we want", declared Vicente del Bosque the day he announced his 23-man squad for the Confederations Cup. With this blunt statement, he recognised that none of the three strikers in the group -- David Villa, Fernando Torres and Roberto Soldado -- stood out to him as an obvious starter.

Although the Marquis had never made that point publicly in such emphatic fashion, his opinion was not new. In the past, whenever he could start a convincing forward, such as the 2010 version of David Villa, he played him up front in every match, even if that meant that the Barcelona player had the tough duty of tracking back and defending almost as a midfielder in specific situations.

When he wasn't too sure about the form of his two top choices, Del Bosque took a gamble with other strikers, such as Alvaro Negredo or Fernando Llorente. Neither quite convinced him. At some point last year he felt sure that, against top-level squads, Spain were better off applying the infamous false nine approach, with Cesc Fabregas or David Silva instead of a striker, just like we saw in the 2012 European Championship.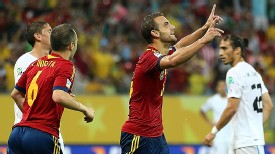 GettyImagesRoberto Soldado celebrates his Confederations Cup goal for Spain against Uruguay
But that's not his preferred tactical disposition. "Teams have to play with a real forward. It's a position that must be well covered in every side", he declared last week to El Diario de la Roja. "We haven't found that player that we really enjoy". And then proceeded to give names: "Negredo, Torres and Soldado were all given chances. Villa hasn't done anything out of the ordinary for us. If we only had a decent centre-forward..."

In Spain's first match against Uruguay, Soldado got the nod. Less talented than Villa and less physically explosive than Torres, he's leapfrogged both of them due to their slump in form and his own consistency. He understands well what Del Bosque wants from him, especially his constant movements all over the final third. He was out of the squad for some time due to his concerning tendency to lose his temper, which has led him to see more than his fair share of red cards. Even though Del Bosque is still not 100 percent convinced, the Valencia striker is now his first choice.

The Marquis' words obviously hurt Torres and Villa, and the fact that both look unsettled in their respective teams and see this tournament as a chance to find a new working place only enhanced their desire to shine as soon as they had an opportunity on the pitch, even if it was against lowly Tahiti.

In that context, few people related to the national team were surprised when, at the beginning of the match, Villa didn't play the sensible ball to Torres and decided to have a go himself, or when minutes later the Chelsea player exacted revenge over the Barcelonista with a terribly late pass that prevented Villa from scoring. In a team well known for always playing unselfishly, the excessive hunger of both strikers felt strangely out of place.

"I have done enough things in my career with Spain so I don't have to prove anything," Torres said, with more than a hint of vindication in his tone after the match. "I have played more than 100 caps and I have scored more than 25 goals. I am not a kid," he finished, almost repudiating his old nickname. Villa chose a lower-profile approach to the journalists: "Tahiti came to play and didn't kick us once. I'm glad because I could dedicate one goal to each one of my kids."

If with such harsh statements Del Bosque was playing some kind of motivational mind game with his three strikers, so far it has succeeded. After two matches, they have all scored and feel much better about themselves than they did when the tournament started. The only point of concern is that Del Bosque's incentive strategy may have gone a bit too far, especially with his most experienced duo. We'll see whether they recover the old collaborative approach when their time comes in the knockout stage ... assuming it does.