Dead rubber? Not for Japan and Mexico
BELO HORIZONTE, BRAZIL -- Dead rubber. That's what you call a game with nothing at stake. Like Saturday's clash between Mexico and Japan.

• Japan-Mexico preview

• Blog: Mexico left with Japan friendly

• Blog: El Tri must dodge Group A wooden spoon

Oh, you'll hear coaches throw out platitudes. Like this one from Jose Manuel de la Torre, the Mexican boss.

"For the sake of our pride, we really want to win this game," "Chepo," as he's known, said Friday. "We don't want to bow out without any points, since we came into this tournament expecting to do well."

But in a few months' time nobody will remember who won between Japan and Mexico. What they may remember -- if the game is used as a building block for what is to come -- is what happened and how it happened. In that sense, Mexico and Japan are two teams heading in different directions. Mexico were lackluster against Italy in the opener and showed few signs of improvement against Brazil. Despite boasting pacy attacking midfielders and forwards like Andres Guardado and Javier Hernandez, the build-up play is far too deliberate and predictable, and frankly does little to exploit the talents of the front men.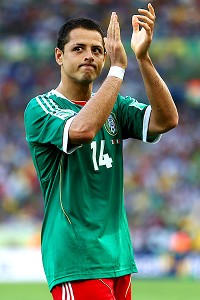 Ronald Martinez/Getty ImagesJavier Hernandez has not had much to applaud in this Confed.
Giovani Dos Santos, who did play well in both group games, is perhaps the only one who, on paper, who benefits from Chepo's style, dropping off to receive the ball and cutting across into space when the cogs in the Mexican machine finally activate and offer decent service. But given the lack of link-up play between him and "Chicharito" Hernandez, sometimes it seems as if the Manchester United frontman might as well not be there.

Contrast this with another Old Trafford denizen, Shinji Kagawa, who will square off against his club teammate on Saturday. After a quiet opener against Brazil, he was phenomenal against Italy, dipping in and out of pockets of space, finding teammates and being unafraid to shoot. There was a directness to Japan's play which seemed designed for Kagawa and Keisuke Honda, Japan's other outstanding player. The pair swapped positions, pressed in unison and tracked back when not in possession with a synchronicity of movement that was a pleasure to watch.

You can tell the different health of these two sides by tracking their progress in World Cup qualifying. Japan lost just one of their eight qualifying games in 2012-13, becoming the first nation to secure a place in the competition.

Mexico, on the other hand, have struggled mightily in the Hexagonal. Five draws and a single win is decidedly uninspiring. Especially when you consider that Mexico haven't scored in any of their three home games and, in fact, have notched just three goals overall. It would still take something extraordinary for them not to make it - even if they slip from third to fourth and go into the playoffs, they'll face New Zealand in November - but you can see why confidence was ebbing.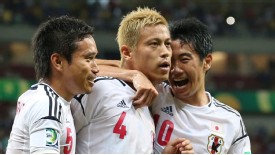 APKeisuke Honda celebrates his opening goal against Italy.
The Confederations Cup was a chance for Mexico to measure themselves in competitive games against three quality opponents, the kind they rarely face in CONCACAF. It was an opportunity to try something different, to develop a new dimension. Instead, we got more of the same and discovered that what barely works against Panama and Honduras simply doesn't against Brazil or Italy.

That's why the Japan game does matter. Not for the three points at stake, but as a chance for Mexico to show something different, something they can use throughout the rest of CONCACAF qualifying, something that can provide a platform for next summer. The well-worn stock defence -- that Mexico have to play this way because they are a CONCACAF superpower and it's the only way to be successful against their regional opponents, even if it does mean paying a price for it against the big boys - really doesn't hold. First and foremost there's the fact that, if this approach did work in CONCACAF, Mexico would have won more than one game out of six. But, even if it did, it won't get you far against the caliber of competition you face at the World Cup. Chepo needs to seize the opportunity against an opponent that is technical, fast and resilient.

As for Japan, much will depend on how much the Italy game took out of them. Alberto Zaccheroni's men played with such an intensity -- both physical and emotional -- that you almost expect them to pay a price. Yet if Mexico keep the pace down and, for Japan, it becomes merely a question of reacting and exploiting the space, then they can pass this test with flying colors and get the three points they really should have had against the Azzurri.