PSG, Ancelotti, the future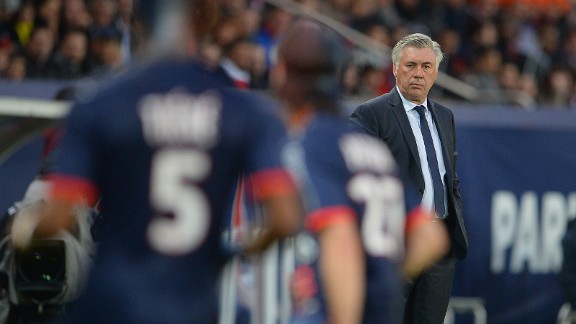 GettyImagesCarlo Ancelotti has had plenty of political issues to deal with at PSG
By the time you read this article, Laurent Blanc could well be the next coach of Paris Saint-German. He might also have become the latest person to turn them down this summer.

It's been over a month since Carlo Ancelotti revealed during the French PFA's end-of-season awards ceremony that he had asked for permission to leave. In that time, PSG have approached no fewer than 10 managers in hopes of replacing Ancelotti. So far, nine have rejected what they've had to offer.

- Brewin: Nouveau riche
- Dugarry tips Blanc for PSG job

Thursday's edition of "L'Equipe" took the trouble to post a classified ad on PSG's behalf within its pages. "Rich club seeks manager" was the headline. It has been a humiliating process for a club that has sought to gain credibility in the two years since the takeover by the Qatari Sport Investment fund.

So how has it come to this? Well, you could argue that it's a problem largely of their own making and one not without irony.

PSG were allegedly ready to fire Ancelotti in December if the result against Porto at the Parc des Princes wasn't to their satisfaction. Reports claimed that they had inquired about possible replacements. If they did, PSG needn't have gone to the trouble, for in hindsight, those inquiries were more trouble than they were worth. As it turned out, PSG beat Porto 2-1, a turning point in PSG's season. Ancelotti remained in charge and went on to end a 19-year wait for a league title.

That Ancelotti had been disillusioned by events in the winter was understandable. There was a clear lack of confidence and respect for his achievements of the past and present. Some might say that PSG displayed their true colours.

And what exactly did they want from him anyway? "I'd like to understand," Ancelotti said. "Am I here for a project or for a result? It's a question."

Throughout the spring, Ancelotti indicated that he felt insecure. In an interview with "L'Equipe," Ancelotti revealed that his future wasn't linked to that of Leonardo, the club's general manager. Leonardo appointed Ancelotti a year earlier and had worked with him before at Milan. However, the revelation was interpreted as another sign that shots at PSG are called from Qatar.

Ancelotti laid out the situation as follows, "I haven't spoken with [president] Nasser [al-Khelaifi]. It's simple. We will see how things stand at the end of the season and, if the club is happy, and me too, we will continue. Otherwise, there's no other choice. It's one or the other. I'm very happy here, but if the club is not happy, I will have no problem changing."

That statement was more believable given the growing certainty that Real Madrid -- a club that has long admired Ancelotti -- would be looking for a new coach. Did that factor into his considerations? Maybe. But Ancelotti is loyal when treated in kind. He was the coach of Milan for eight years, remember?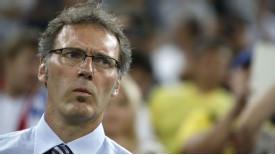 PA PhotosLaurent Blanc has been out of a job since leaving his post as France's boss
However, as the campaign drew to a close, Ancelotti's intentions became clearer. "I can't say that I'm staying," Ancelotti told reporters prior to PSG's match against Evian. Then came his comments at the French PFA's end-of-season awards ceremony. At first, PSG refuted his statements. "Yes, we had discussions," Khelaifi told Beinsport. "I said [leaving is] not possible because he has a contract for one year more, so that's our decision."

"The priority is still that he stays," Leonardo insisted to "L'Equipe." "We have not contacted any coaches."

And so, in the space of six months, PSG went from nearly sacking Ancelotti to desperately trying to persuade him to stay. Alas, it was to no avail. The search for a new coach began.

How PSG did not see this coming is a mystery? To be fair, it's thought that they did have a contingency plan in place: Leonardo could have returned to the bench after experiences coaching Milan and Inter. Ancelotti had even joked about it in the spring.

In response to the suggestion that Leonardo might quit the club -- the Brazilian had commented to "L'Equipe" that, "I would never be coach of PSG, but one day I'd like to become a manager in England" -- Ancelotti replied, "Perhaps... Or I leave and he stays."

The prophecy could have been fulfilled. But the nine-month ban Leonardo received for shoulder-barging referee Alexandre Castro after PSG's 1-1 draw with Valenciennes in May put an end to that.

That suspension complicated matters. An in-house fallback option ceased to exist -- unless Claude Makelele, a member of the club's technical staff, steps in -- while Leonardo awaits the verdict of an appeal. However, prospects of his suspension being shortened appear slim. As a result, PSG might be trying to find a coach for just a single season.

Why might they see it like that? Well, PSG has appeared to be waiting to hire Arsene Wenger, whose contract at Arsenal expires in 2014. Many of the potential coaches already considered have rejected PSG because they have only been offered one-year deals, implying that they would only be keeping the spot warm for someone else. Why would they give up the security of their current jobs for that?

But let's get back to Wenger.

He has strong values with regard to the financial regulation of the game and that clubs should only spend what they earn. With that in mind, would he really leave Arsenal for PSG? Wouldn't he have some concerns? Of course, PSG could sell Wenger on changing the nature of the club and building it in his image. But for now, it's in stark contradiction with what he represents. And besides, with Arsenal's era of austerity about to end, why would he leave the club he loves as it becomes financially competitive again [and organically so]?

In the meantime, "the waltz of nos", as "L'Equipe" has called it, looks to have come to an end. After rumors about Wenger, Rafa Benitez, Guus Hiddink, Michael Laudrup, Andre Villas-Boas, Fabio Capello and Frank Rijkaard, the music has apparently stopped with Blanc. If he has signed a two-year deal and were to see it out, then stealing Wenger is no longer a possibility. PSG supporters will just be relieved that the situation has been resolved. Because with only 10 days between now and the beginning of their preseason, time is of the essence.