Abramovich's Chelsea wrote the blueprint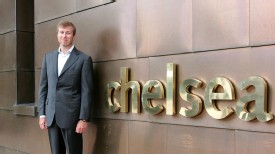 PA PhotosRussian billionaire Roman Abramovich bought Chelsea in 2003
Nine years ago or so, a story about an established star considering his next move in football made the rounds. He had played for some of the continent's biggest clubs but was reaching the age when a player looks for a last big contract.

At such a point, players often go where the money is. Back then was a time when the money was most definitely at Chelsea, and this was suggested as an option. It was swiftly rebuffed, and mockingly so. Elite players like him, stars of Champions League, Euros and World Cups, did not go to Chelsea. Of course there was money, but where was the cachet, the prestige? Going to Chelsea meant you had gone only for the money. You would be slumming it. The in-crowd did not join clubs like that.

The wandering star, who will remain anonymous, did not end up joining Chelsea, but the club is still very much around. So is he, in a capacity far removed from the aristocratic airs and graces that they now represent. This week marked a decade since Roman Abramovich's impulse purchase. Chelsea are hardly nouveau riche anymore. Plenty have followed the Abramovich blueprint. The publicly mute Russian became European football's quiet revolutionary.

On Sept. 1, 2008, bleary, sleep-deprived eyes awoke to realise it had not been a dream that Manchester City was now the richest club in world football. The previous night, deadline day had seen City binge on Robinho and fight United tooth and nail for Dimitar Berbatov, and the talk was now of them setting their sights on the true elite. Soon enough, Kaka would be accused of bottling a £100 million transfer by Garry Cook. City were openly derided for their filthy-rich vulgarity, including by those who support Chelsea. City have now become the highest-paying franchise in world sport, according to ESPN The Magazine, while the old order has been rather amused by their failings so far in the Champions League.

New money will always be treated with suspicion by the long established. "You ain't got no history," Liverpool fans mocked when they met Chelsea repeatedly in the early Abramovich era, although nowadays a cutting response might be that all Liverpool currently have is history.

Former giants like Ajax and Benfica are in similar positions and now have to hope that some of the loot might be thrown in their direction via player sales. G-14, the cartel of the continent's most storied clubs, never allowed Chelsea to darken its doors until it merged into the broader church of the European Club Association.

Europe's champions are Bayern Munich, the epitome of the self-funded mega-corporation that the modern club can be. Hardly widely loved in Germany, they are still not the country's most loathed team. Last month, much of the German footballing public were cheering on fallen champions Kaiserslautern in their promotion/relegation playoff with TSG Hoffenheim. The latter are seen as an artificial club in that Dietmar Hopp, the co-founder of business software company SAP, has solely funded development from village team to top-division club.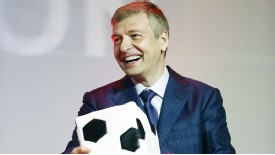 GettyImagesDmitri Rybolovlev's deep pockets have helped Monaco into Ligue 1
When the new Chelsea arrived, Manchester United and Arsenal were the Premier League's establishment clubs. They had divvied up the last seven titles between them. Perhaps the darkest night of the soul that Sir Alex Ferguson suffered came when his team lost 4-1 at Middlesbrough in October 2005. Chelsea were looking unstoppable, utterly dominant on their way to a second successive title, and United, debt-laden thanks to the Glazer family, were in danger of slipping down to the level to which they had confined Liverpool.

United have since adapted and lived with Chelsea, but Arsenal trail in the wake of their London rivals. The careful business plan they had set in place around their new stadium was inflexible, and years of barren trophylessness have ensued. City's billions poured salt in the wound. Ashley Cole and Samir Nasri were rudely taken from Arsene Wenger's bosom by the petrodollars on offer.

Chelsea forced others to change up. Even Real Madrid and Barcelona were made to sit and take notice. Their models of club presidents spending the lavish funds raised from members and friendly banks suddenly looked outmoded. It was these fears that led to the current attempts to pull down the drawbridge on cash injections that might unbalance the establishment's business models. New money has driven up wages and transfer fees, the operational costs of footballing success. Financial Fair Play's genesis lies in that realisation.

There are enemies at the gates. Paris Saint-Germain's Qatari millions won last season's Ligue 1, and attracted David Beckham, but their money-no-object plans are way outside FFP's admittedly vague parameters. Their unrequited wooing of a new coach to replace Carlo Ancelotti has resembled that of a lonely Lothario trying to buy every girl a drink as the disco closes. This was a club that removed Antoine Kombouare midseason to get in Ancelotti when the team was top of the league, a classic move of the freshly rich getting above their station.

Down in Monaco, Russian Dmitry Rybolovlev is throwing around money like it is out of fashion. The rest of Ligue 1 is appalled by developments in the Principality. They were happier when Monaco was funded by the Monegasque royal family, though they are not so allergic to money as to preclude them from asking Monaco for a 300 million euro tithe to play in their league.

Tax exiles Radamel Falcao, Joao Moutinho, Ricardo Carvalho and James Rodriguez will play in front of a half-empty stadium above a car park. Joining the nouveau riche does not quite have the stigma of 10 years ago, but were he to have his time now, our elite star might choose Chelsea. They have proved that the means to reach acceptance lies in the passing of time and a continuing achievement of success.