The trouble with being Fernando Torres
RIO DE JANEIRO, BRAZIL -- He used to be The Kid. Now, all too often, he's The Villain.

Time travel back five years or so and he was the Anfield hero, arguably the world's best center-forward, the grinning fresh face who could do no wrong.

Now, when his face pops up on the big screen at the Maracana - after a game in which he scored four goals and missed a penalty -- he's the guy who gets mercilessly booed, like some kind of Castillian Grinch.

What happened?

A British transfer record, some injuries, some ill-advised statements upon joining Chelsea, several seasons of underachievement and losing his place as an automatic choice up front for La Roja.

That's what happened. But does that justify the bile?

Speaking in the bowels of the Maracana, Torres minimized the crowd reaction.

"Look, the crowd were all for Tahiti. That's all it was," he said. "They are a likeable team, they enjoy themselves and they try to play well. Had I not been playing, I would have been a fan of Tahiti as well."

Possibly. But Andres Iniesta, who does not play for Tahiti, got a rousing ovation. Torres didn't.

"No, no, I tell you, everything is normal; we're in Brazil, after all, and we represent Spain," he adds. "Of course, there's a rivalry. The fans will back our opponents. If we were playing in Spain and it was Tahiti against Brazil then it would be the same thing."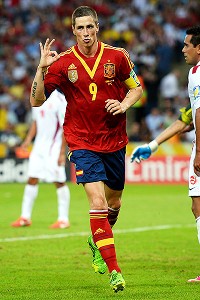 Laurence Griffiths/Getty ImagesFernando Torres scored four goals in a 10-0 victory, but was booed off the pitch.
Very few people enjoy playing the villain, so it's not surprising Torres doesn't, either. What you get speaking to him is a sense of discomfort, a sense of not quite fitting in: like the guy who mistakenly shows up in a tux at a cocktail party at which everyone is rocking the button down and sport jacket look.

His skill set is suited neither to Spain's short passing game nor Chelsea's attempts to emulate it (under Andre Villas-Boas and Roberto Di Matteo). Even when Rafa Benitez -- the man who could supposedly bring back the "old" Torres -- came on board, things didn't really improve, as evidenced by the four goals he scored in the 26 Premier League games he played in since Di Matteo was let go.

Ask him about it and, naturally, he bristles.

"I don't think I have anything to prove," he says. "I have more than 100 caps and more than 25 goals for Spain (actually, he's selling himself short: he has 35)."

Maybe so, but since the 2010 World Cup, he has started just six competitive games for La Roja, counting Thursday's pasting of Tahiti. True, there is a lot of competition for places. In this Confederations Cup alone, his manager, Vicente Del Bosque, can choose between a pure penalty box finisher like Roberto Soldado, a tricky elusive forward cutting all across the offensive front like David Villa, a pacy counter-attacker like Torres or, as he did for much of the Euros, no striker at all.

Yet there is no escaping fact: Times have changed for Torres. And, at 29, with two years remaining on his Chelsea contract, you wonder what the future holds.

And you reflect on the cruel irony of the game. Before 2008, when he was at the peak of his powers, he won nothing except for a second division title with Atletico Madrid way back in 2001-02, when he had just turned 18. In the past five seasons, since hitting upon tough times, he was won two European Championships, a Champions League, an FA Cup, a Europa League and, of course, the 2010 World Cup.

The unanswered question is whether Torres would trade his silverware-laden past five years for the five before that, when he won nothing but often carried his team.