Pivotal moment for proud Zaccheroni and Japan
RECIFE, BRAZIL -- Alberto Zaccheroni doesn't do revenge. It's just not in his nature. The man reeks humility from every pore. When you never made it as a footballer -- his career was cut short by injury, true, but that was in non-league -- and you still get to go on an manage the likes of Milan, Lazio, Inter and Juventus, gratitude is your defining quality to the point that there is very little room for bitterness -- and what room there is, you keep locked away deep inside you.

Yet on a hot and muggy night in Recife, his Japan team put a few Italian noses out of joint. And a few people -- they know who they are -- might be left wondering if maybe he wasn't treated a little too harshly and forgotten a little too quickly.

For you see, Zaccheroni was the toast of the town in Italy when he guided Milan to the Serie A title ... 15 years ago. Since then, he's managed big clubs -- like the aforementioned trio of Lazio, Inter and Juventus -- but never from the start of the season. He was always the "fireman," the guy brought in to put out the blaze and get the side back on track. Wolf from "Pulp Fiction," if you like. But, like Wolf, he was always gone as quickly as he came. Summer rolled around, mission accomplished and a new, more glamorous, boss brought in to replace him.

That's why he moved to Japan. And that's why he is now in his fourth year, having already delivered an Asian Cup and qualification to the 2014 World Cup. And, if ever there was such a thing as a moral victory in defeat, well, he delivered one of those as well.

Leave it to Italy goalkeeper Gigi Buffon to provide some context.

"What a game. ... I'm pretty sure I've never played a match for Italy in which I faced so many shots and so many dangerous situations."

Never? But Gigi, you've played for Italy 130 times...

"Well, maybe against Spain in the Euro 2012 final ... we did lose 4-0 ... but, no actually. I think my goal was battered worse today."

Some say results are all that matter. They lie. Performances count, especially in a tournament like this one. And so do memories. This one will live on for a long time.

"I watched the first 30 minutes with my mouth open, it was incredible," says Japan striker Mike Havenaar, who came on towards the end of the match. "And that stadium ... hearing our fans making so much noise, cheering us on. Absolutely fantastic."

Prandelli may be the kind-hearted visionary leading the Azzurri exodus away from the past and into some type of tiki-taka future. But on the night, he was methodically outcoached on an X's-and-O's level by Zaccheroni.

The weather report called for hot and muggy weather. Prandelli figured that by adding an extra passing specialist, Alberto Aquilani, into the mix he could boss possession, slow the tempo and allow the Azzurri to keep the ball and tire out a Japan team that faded badly in the opener against Brazil.

But Japan were tired against the hosts because of their long journey following their recent qualifier against Iraq in Qatar. Now they had four days to recuperate, one day more than than Italy. And Zaccheroni used it to his advantage. He reintroduced a genuine centerforward, Ryoichi Maeda, and moved Shinji Okazaki, who had struggled up front against the Selecao back to his natural wide position. Maeda is not a superstar, but at least he is a proper striker who makes proper striker runs and ties up defenders. Okazaki, starting from wide areas and free from center-forward responsibility, was at his creative best, forming a devastating trio with Keisuke Honda and Shinji Kagawa.

The first half hour Japan played as if God had pushed their personal fast-forward button.

"We were shell-shocked, they just took off at break-neck speed," says Italy centreback Giorgio Chiellini. "I mean, they dominated us. I could say the weather was an excuse, but it was muggy for them, too. And, besides, we did better in the middle third of the match, before being, again, overwhelmed by them at the end. They were just outstanding, that's all I can say."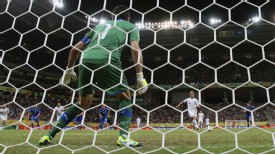 APKeisuke Honda and Japan were a constant threat to Italy's goal
Japan found themselves 2-0 up, thanks to a penalty and a Kagawa wonder-strike. It's true the penalty was highly dubious, but, on the run of play, it was no less than they deserved. Cesare Prandelli took his countermeasures, replacing Aquilani with Sebastian Giovinco. A change like that, after half an hour, is an admission of responsibility by a coach and a tip of the hat to his opposite number who outwitted him.

Italy pulled one back with Daniele De Rossi and then hit the post through Emanuele Giaccherini. Then, shortly after half-time, they went ahead through a combination of bad luck and officiating that was either incompetent or simply trying to even out the poor decision from the first half. Atsuto Uchida was unfortunate to deflect the ball into his own net after some improbable build-up from Giaccherini. And then Makoto Hasebe was adjudged to have handled Sebastian Giovincho's shot when, in fact, if his arm did touch it, it was a ricochet off his leg. Mario Balotelli converted the penalty and it looked as if that was that.

But no. Zaccheroni's Japan came storming back.

"Those last 30 minutes were like a replay of the first 30; we were absolutely flattened," says Chiellini. "Actually they were worse, because it was at the end."

Okazaki equalized. Buffon made two outrageous saves. Okazaki hit the post. Italy were left reeling and punch-drunk. What bailed them out in the end was Giovinco's late, late goal against the run of play.

For Japan it was heartbreak. For the Azzurri, a wake up call. For Zaccheroni -- even though he'll disagree -- some level of revenge.

"No, no, I'm just proud of what we showed," he said. "I asked them for a strong reaction after the Brazil game and they provided it. I'm disappointed by the result, of course, but it can serve as a springboard from which to study and improve. We conceded a goal in a set piece, we made a defensive error for another goal and then there was the penalty which was, perhaps, generous. But in terms of how we played we showed we were not inferior at all. Quite the opposite. I just feel bad for my players: they deserved more."

He's right. But maybe one day this game will be seen as a turning point. The night Japan took on one of the world's powers and dominated every single aspect of the match. Except for the final score.