Spain looking beyond records against Tahiti
RIO DE JANEIRO -- It's not arrogance. It's realism.

Tahiti and Spain have spent the past 48 hours essentially debating by how many goals the latter will beat the former. And whether it's right to go all out to try to break some FIFA record or other, or whether you should just secure the win and then take your foot off the gas.

"Spain are not here to give us a beating, they will be respectful toward a team of amateurs," Eddy Etaeta said after the 6-1 opening game defeat against Nigeria, a team that had only arrived on-site after a transatlantic journey 37 hours earlier.

Andres Iniesta had a somewhat different definition of respect.

"The best way to respect an opponent is to play as well as you possibly can and never let up or relax," he said. "So we won't be counting how many goals we score. We'll just be thinking of winning the game and improving our position in the table."

Iniesta says "we" when, in fact, he most likely won't be a part of it. Based on Tuesday's training session, the smart money was on Spain boss Vicente Del Bosque making no fewer than 10 changes from the team that beat Uruguay in the opener.

You ready? Deep breath. Victor Valdes for Iker Casillas, Cesar Azpilicueta for Alvaro Arbeloa, Raul Albiol for Gerard Pique, Nacho Monreal for Jordi Alba, Javi Martinez for Sergio Busquets, Santi Cazorla for Xavi, David Silva for Cesc Fabregas, Juan Mata for Andres Iniesta, David Villa for Pedro and … Fernando Torres for Roberto Soldado. Which leaves Sergio Ramos as the guy doing double duty.

Is that a sign of disrespect, sending out the B-team? Not according to Iniesta, who says, "We are all regulars, there are no starters and reserves."

Look closely and his nose gets a bit longer when he says that; still, you know where he's coming from. Besides, this Spain B-team, in terms of top-to-bottom talent, equals or surpasses every other side in the Confederations Cup.

You can't blame Del Bosque for giving his regulars a day off. If anything, it underscores just how seriously they are taking the Confederations Cup. A breather in the first week could prove to be crucial come the semifinal or final.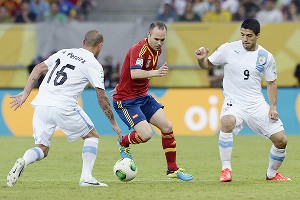 Lluis Gene/AFP/Getty ImagesAndres Iniesta has promised an unrelenting performance from Spain
Still, if you're Spain, what do you do? Three times in the history of major FIFA competition one nation has lost by nine goals. In 1954, the legendary Hungarian team of Ferenc Puskas, Zoltan Czibor, Sandor Kocsis and Jozsef Boszik beat South Korea 9-0. A few days later, Hungary whipped West Germany 8-3 to show it was no fluke. In 1974, Yugoslavia pounded Zaire 9-0. And in 1982, Hungary (what is it with those Magyars and big scorelines?) destroyed El Salvador 10-1.

We're in similar territory here. South Korea and Zaire (now Congo) weren't mature footballing nations at the time. The El Salvador result was "Twilight Zone" stuff. But Spain -- even this supposed B-team -- could easily score a dozen against Tahiti and nobody would be surprised.

The only real ethical question is whether they should. Or whether they should stop at a certain point.

As we touched upon earlier this tournament, there are real cultural differences here. In many U.S. sports, running up the score once your opponent is well and truly beaten is considered bad sportsmanship. It's the same in many southern European countries. But in Germany, England and elsewhere, the opposite is true. You honor your opponent and the paying fans by playing as hard as possible until the final whistle.

We had a crystal-clear example of this a few years back. In the 2008-09 Champions League round of 16, Bayern Munich traveled to Sporting Lisbon in the first leg and won 5-0. Did they relax in the return leg? Au contraire. Sporting were spanked 7-1.

Did they feel any less humiliated? Tough to tell.

Truth be told, short of playing football-tennis in the middle of the pitch, or having David Silva nutmeg a guy, stop, wait for him to recover and then nutmeg him again, there is very little Spain can do that would leave the Tahitians humiliated.

Many of these guys won't take their foot off the gas because, simply put, they're playing for a place in the side. Soldado is not bolted into the center forward role, which offers hope for Torres and Villa. Cazorla and Silva could play themselves into the Pedro role. Azpilicueta can challenge Arbeloa. And Javi Martinez, rightfully, must believe that he can force his way into this midfield, either at the expense of Busquets or maybe as part of the "double pivot," depending on the opponent.

Expect Spain to play hard and to score plenty of goals, but not to go out of their way to break any records. Del Bosque won't be judging based on stats or the number of times Torres and Villa can pounce on an errant pass and slot it past the keeper. He'll be looking for other qualities, of the kind that, he hopes, will help Spain win this tournament. And those are different from the ones needed to set records against Tahiti.