You never actually own a football club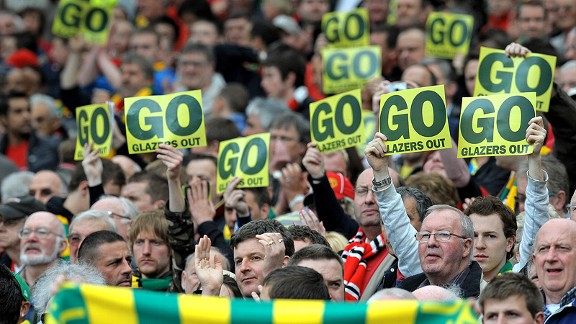 GettyImages / Andrew /AFP/Getty ImagesFans' support of a club is based on the "faith" of the club itself -- the badge, the colors, the ideas -- not the owner in charge at a particular time.
Patek Philippe is a company that makes and sells expensive Swiss watches. I don't own one and I probably never will. But they've long had a pretty remarkable advertising campaign. Beneath a photo of a rather WASPy looking father-son combo (the kid, in particular, looks rather annoying) is the tagline: "You never actually own a Patek Philippe. You merely look after it for the next generation."

Cheesy aspirational crap aside, try substituting "football club" for "Patek Philippe".

"You never actually own a football club. You merely look after it for the next generation."

Call me an idealist, but that should be the driving principle that guides the folks who own our clubs. Some may argue that they've "bought" the club and are free to do with it what they like. But a club is not an inanimate object. You can buy a Ferrari and play bumper cars with it. Your wheels; your choice. A club isn't like that -- and shouldn't be.

Nor should it be treated like any other company or brand or factory. When a company is poorly run, those who suffer are the employees and their families. Folks might get paid less, they might get laid off, but odds are the company's customers aren't really the ones who are going to suffer (OK, you might not be able to get your favorite brand of chocolate chip cookie anymore but, by and large, you're not the one who is truly affected).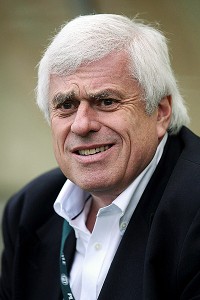 Allsport / Pete Norton/Getty ImagesPeter Ridsdale, the former chairman of Leeds United, famously "lived the dream," as he put it, borrowing enormous amounts against future gate receipts.
When you buy a club, you don't just acquire the stadium and the rights to the playing squad. Above all, you acquire stewardship of the fan base. It's a delicate relationship, because they're the guys who ultimately pay your bills. If your club is ever going to be viable it will depend on their support. Yet at the same time, it's a captive relationship. The brand loyalty meter is set at "eleven." Supporters who are badly treated by their club aren't -- with a few exceptions -- going to turn around and go root for somebody else. (Clubs, of course, figured it out a long time ago. Which is why they sell us branded club merchandise at ridiculously inflated prices and so many of us happily continue to whip out our credit cards.)

The "football as religion" trope has been well overused over the years. But, like most cliches, it is based on truth. The "faith" is the club itself, not in a physical sense, but as a concept: the badge, the colors, the idea. The players, managers and owners are the priests or rabbis or imams who look after it. Just as with religion, you hope they are guided by faith, though sometimes they are charlatans, incompetents, heretics or simply misguided. That's why we can love our club and hate our manager, our players and our owners. (How many times have you heard "Love United, hate Glazer!" ring out at Old Trafford?) We don't need to agree with or even support the people at our clubs, though as long as they show some degree of effort and ability, we tend to do so.

But the harsh reality is that, in most leagues, particularly the Premier League and Serie A, we're at their mercy. (It's a somewhat different story in Germany, where there are safeguards in place and no single individual can hold a majority share, and at a handful of Spanish clubs where the president is elected by the club members.) If the Glazers want to pile enormous quantities of debt onto Manchester United even if it could mean jeopardizing the club's future, they can't be stopped. If Massimo Cellino, the Cagliari owner, wants to make his team play 500 miles away, in Trieste because of a personal dispute with the local city council he can do it. In fact, that's exactly what he did last season.

Peter Ridsdale, the former chairman of Leeds United, famously "lived the dream," as he put it, borrowing enormous amounts against future gate receipts. What happened? The club reached a Champions League semifinal in 2001, was relegated three years later and by 2007 was in the third tier of the English game. Of course, by that point, Ridsdale was long gone. Since then, he has owned Barnsley, been chairman of Cardiff and is now chairman of Preston. Evidence that you can take somebody else's club to near-bankruptcy and then get a second, third and fourth chance to be in charge.

It's not all bad news. Dotted around Europe are supporters' trusts. Their aim is to pool fans' money together and buy shares in a club. In some case, they've actually gained control and things have worked out rather well; Swansea is a shining example of this. In others, they at least have enough of a stake that they have a seat on the board and can voice their concerns from the inside. In others, they exist as external advocates.

It's a start, and it's something the game ought to build on. Because a supporters' trust's main objective is the long-term stability of the club. There are no flights of fancy; the aim is to ensure that the club will be around and healthy so that your grandkids can one day support it, just as you had the privilege of doing.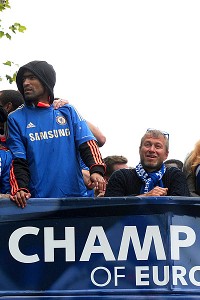 GettyImages / Carl Court/AFP/Getty ImagesRoman Abramovich finally captured his Holy Grail with Chelsea last season-- the Champions League trophy.
You would think the powers that be would welcome supporters' trusts. In fact, many don't. Officially it's because they discourage investment. If I'm a wealthy owner, particularly a foreign one, I want to be able to come in, buy the club outright and run it as I please. If I don't have that possibility because of a pesky supporters' trust busting my chops at every turn, well, I might not invest at all and pour my millions into another league or another sport altogether. Or maybe I'll just go and buy another yacht.

The counterargument to that is pretty straightforward. What does more investment actually mean? A new stadium? Better players who earn more money and make the team better? Great. But juxtapose that against the price of giving someone total control, with all the risks associated -- debt, cash being taken out of the club, incompetence, etc. -- and maybe it's not such a good thing.

Unofficially, the reason leagues aren't keen on supporters' trusts is that leagues are run by owners and these are rich folks who tend to be autocratic and simply don't like people telling them what they can and cannot do. They're not big fans of checks and balances, either.

There are good owners, guys who invest in clubs not because they can profit from it (though, to be fair, once you cut through the financial hoodoo and sleight of hand, the vast majority do profit in some way), but because they generally want to leave the club in a better state than when they took over. Guys who are passionate and care about the supporters and the long-term health of the game. Guys who don't see fans as just a bunch of cows to be milked.

But there are also plenty of bad ones. And those are the ones who need to hear the message loud and clear. In fact, the message ought to become law.

"You never actually own a football club. You merely look after it for the next generation."