Why Daniele De Rossi feels more at home playing for Italy than Roma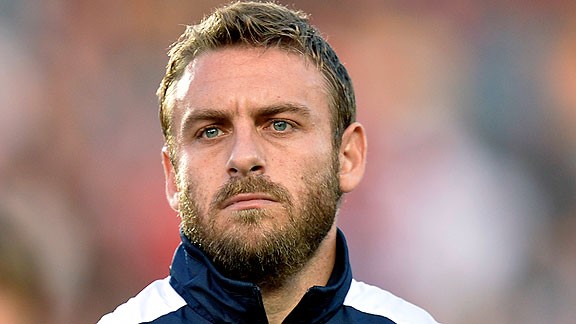 AP Photo/Martin MeissnerThe pressure for playing for the Italian national team is nothing compares to suiting up for Roma, De Rossi says.
RECIFE, Brazil -- There's an age-old question that separates most football fans the world over. "Would you rather see your country win the World Cup or your club win the Champions League?"

Obviously if you've seen your club achieve one goal and not the other, it's not really relevant. But for the vast majority of supporters, how they answer is a fundamental ideological issue which says a lot about them.

Daniele De Rossi isn't just a Roma player. He's a Roma fan. Always has been. And he's already won a World Cup, albeit one where -- because of his elbow on Brian McBride and the ensuing red card and suspension -- he only played 118 minutes. You can guess what his answer would be.

And yet, these days, he feels more at home with Italy, whose midfield he'll be leading Wednesday against Japan in the Confederations Cup.

To understand why, you need to look into his past. De Rossi became "Captain Future" shortly after making his debut for Roma as an 18-year-old. As nicknames go, it's loaded to begin with, but especially so in the Eternal City where, like Highlander, there can be only one captain: Francesco Totti.

For the past 12 years De Rossi has lived with the expectation of that moniker, a pressure compounded by the fact that he is a Native Son. Fabio Capello used to say that the Roma shirt weighed much more heavily on the backs of those who are actually Roman born, bred and buttered, like De Rossi. "It's like playing with a full suit of armour," he said. "You think it protects you, but it also weighs you down to the point where you can't move."

On Monday, it all came out in the wash – it was a bit like the "serious discussion" you might have with the love of your life when you fear the relationship is straddling the line between "intense" and "unhealthy." De Rossi, reflecting back on a tough season -- for the club and for him personally -- let it rip.

"I'm disappointed with the fact that we're out of Europe, but that's not what really hurts me," he said. "I hate the fact that, in Rome, you always have to defend yourself from the wildest rumors and accusations. When I play for Italy, I'm considered an important player, but in Rome I have to be careful because everything I do or say is under the microscope. And everything gets twisted and inflated and turned into lies. You have to live with the lies, the most shameful lies."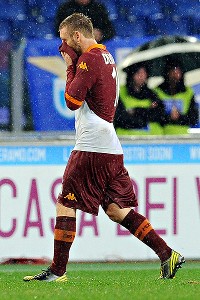 Giuseppe Bellini/Getty Images"I hate the fact that, in Rome, you always have to defend yourself from the wildest rumors and accusations," De Rossi says about playing for Roma.
Yes, there is such a thing as too much love, too much passion. Because passion turns to jealousy and jealousy becomes anger. Especially in a city like Rome, where the media coverage is outsized and often insular. Not only is there a long-established sports newspaper that devotes a minimum of four broadsheet pages to the club, there's another paper exclusively devoted to all things Roma … every single freaking day. Throw in local sports radio -- there are half a dozen, most of them talking Roma all day and all night -- and local TV stations and what you have is the type of all-enveloping blanket that exists nowhere else in the world, with the possible exception of Madrid and Barcelona (except those clubs, with due respect to the "giallorossi," are somewhat bigger and more successful).

De Rossi knows this because he grew up with it. He has been a Roma fan for as long as he can remember. His dad is a youth team coach at the club. Like Totti before him, he has carried this as both a blessing and a burden. But while Totti has been able to insulate himself to some degree -- his critics suggest it's because he's simply less analytical than his midfield colleague -- it's evidently wearing on De Rossi.

"I'm not saying it's affecting my performance," he said. "If I play badly it's my fault. If I play well, it's down to me. But I can't help but note that, with Italy, I often play well. Sometimes I'm man of the match. And if at Roma I'll have one good game and one that's not so good, there has to be some reason for it. Maybe it's the environment or maybe it's something in my head. Sunday at the Maracana the whole world was watching so I should have felt more pressure. But in a Roma shirt, I feel a different pressure, a more passionate one and sometimes that confuses me."

He didn't shy away from those comments on Tuesday.

"I have nothing to clarify, I stand by what I said," he stated. "But I don't want to distract myself by talking about Roma or the future. The future is right now, right here in Brazil."

Some 10 months ago he turned down a move to Manchester City.

"I'm staying here, I'm happy here, I never asked to be sold." he said. "I love this club. And I promise is that the day I want to go -- whether it's to win the Champions League or try something new or earn more money -- I will come right out and say it."


---
More Coverage from Brazil
- Tahiti find victory in loss
- Praising Pirlo
- Fernando Duarte on Brazil protests
---
That statement, in many ways, was a microcosm of life for him in the Roma fishbowl. Some didn't believe him and accused him of trying to curry favor because the move had collapsed. Some were angry with him because the reported fee was so big they wanted the money instead. They went so far -- in their twisted logic -- to suggest that if he really loved the club, he would have gone. Others still blamed him for speaking out in public when he could have kept his mouth shut.

It's a situation very few can relate to. Totti, of course. Xavi at Barcelona perhaps, Steven Gerrard and Jamie Carragher at Liverpool, Iker Casillas at Real Madrid. You play your entire life for your hometown club, the one you supported as a kid. It's a dream come true, but it's also a burden. Losing hurts more. Winning doesn't necessarily bring any more joy. You belong to the fans and to the city. And because the city is also your home, you have nowhere to escape.

Maybe that's why De Rossi seeks refuge with the national team. With the Azzurri, he's no longer "Captain Future," he's just a key player who keeps the midfield ticking over. Think of it as a "friend with benefits" offering a break from an intense, exhausting love affair.