Spanish desire for success remains intact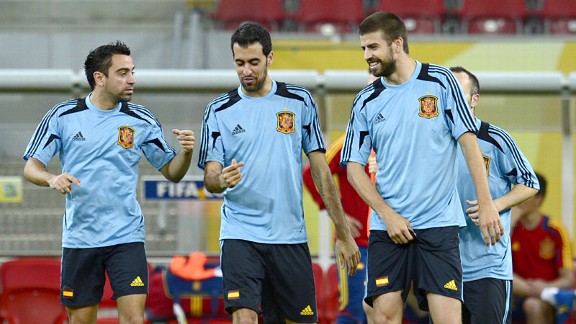 Lluis Gene/Getty ImagesSpain's won three majors in a row, yet they are still thirsty for more international glory.
RECIFE, BRAZIL -- Two months ago, in a relaxed chat with the press after a Champions League match, Sergio Ramos started to go on about the long, grueling season. "Most of us will have played 70 matches when all is said and done; it's crazy." "Will you skip the Confed Cup then?" asked a journalist. "What? No way. We HAVE to win that [expletive]," he answered laughing.

With that comment, Ramos summarised the very feeling that the rest of the Spanish squad now constantly voices about the increasingly prestigious FIFA tournament: This is no Brazilian vacation, and just like they showed on Sunday in their debut versus Uruguay, they are determined to win the title, tired or not.

Each player finds his own motivation. A sizeable part of the team clearly remembers their unexpected defeat against the United States in the semifinal match of the 2009 edition and indeed wants to win the title this time, as is the case with Ramos himself. His dismal display in that match still works as a driver to get things right now: "No assists to the opposition this time," he jokingly said on Saturday night when reminded of the play that led to the U.S.'s second goal. Fourteen players who made the squad four years ago in South Africa and finished in third position are also present in Brazil, and want to get that monkey off their backs. "We blew it last time and don't want that to happen again," said Andres Iniesta after his impressive performance on Sunday.

For others, especially for the two unanimous leaders of this dressing room, memories of that match only fuel a bigger motivation to win this title: The clock is ticking, and there's not much time left for them to win more silverware at the international level.

"It now takes my body three full days to recover after each 90-minute match," confessed the 33-year-old Xavi Hernandez last week. Since his 15-season senior career started in 1998, he's played almost 700 matches at the top level, muscular injuries becoming more and more frequent as games and kilometres mounted. "We want to win this thing, it's the only title left for this generation," he said right before the tournament started.

His reasons resonate strongly with his partner and friend Iker Casillas, both of them having maintained a deep bond even when the Classico tensions between Real Madrid and Barcelona went beyond their usual astronomical heights a couple of seasons ago.

Since the year started, the 32-year-old Casillas has realised how he's only an injury and/or an especially angry coach away from losing his starting spot with both club and country, therefore wants to make the most of the time he's got left. "After what happened this season, I see this tournament under a very different light," he said before the Confederations Cup kicked off. "Five months without a match taught me not to take certain things for granted, and want to win this title even more now."

When the icons from the two biggest clubs in the country show that level of motivation, it is not surprising that the rest simply follow suit.

"We asked every player about coming to play the tournament before making our final list public. All of them want to be here and are eager to participate. No one asked us not to come to have some rest. Our players are tired, yes, but so are the other teams'." said coach Vicente Del Bosque when he announced the final list.

Indeed, only the injured Xabi Alonso is missing from the core team, although probably the most convincing factor unmentioned by the Marquis of Del Bosque is the impressive array of talent this generation possesses.

Competition to get a place in the final 23-man squad was so high that no one felt they could afford to rest this one out. On Sunday, players such as Fernando Torres, David Villa, David Silva and Jesus Navas did not play a single minute, while Juan Mata, Santi Cazorla and Javi Martinez managed to run around for less than half an hour. They all want to take advantage of every chance to improve their chances of a call-up for the 2014 World Cup, and if they think of complaining about lack of playing time, they only have to remember that Isco, Thiago Alcantara, Michu or Iago Aspas would gladly give up their holidays just to sit on Spain's bench.

"Our motivation to play and win this tournament is intact. This is high-level competition, with every single champion present, and we want to live up to what is expected from us as world champions," said Del Bosque in the tournament's first news conference. After an impressive opening performance and one step closer to the semifinals, it indeed looks as though the Spaniards have come to Brazil determined to win, and to do it in convincing fashion.