Spain's reign is in gifted hands
At times against Uruguay in Recife, Brazil, on Sunday, Spain's senior team looked as good as ever. After Israel, the next generation's future looks brighter yet. Spain's under-21 team has emulated its big brother by being crowned European champions in consecutive tournaments.

For Kiev 2012, read Jerusalem 2013. At least the young Italians managed goals where their dumbfounded elders did not.

Perhaps Xavi and Iniesta are irreplaceable, but their golden generation's successors exhibit similar DNA. Isco is less succinct than Iniesta in his movement and Koke's passing is less perfect than Xavi's, but they are inheritors of what was once lacking in Spanish national teams. They know how to win, have become used to winning and continue to work devilishly hard to achieve victory.

Thiago Alcantara was the headline-maker, with a first-half hat-trick in a major final an enviable achievement to make him even more admired by potential suitors. However, the overall quality of his team was truly the difference. In international terms, no one has picked apart tiki-taka just yet. Even in the club game, it has taken years for its effectiveness to even slightly dim.

La Rojita swiftly rode out a minor reversal in fortune. When Alvaro Morata, at last trusted with a Spanish start, played provider to set up Thiago's nod into an empty net, the blueprint for the rest of the game seemed set. Spain would pass the Italians to slow death. But then came Ciro Immobile's smart finish. Italy could resume their game plan of defence in numbers and hitting on the break.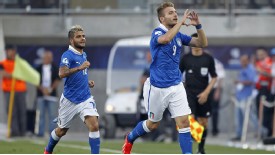 AssociatedCiro Immobile celebates his goal in the Under-21 European Championship final.
David de Gea, collecting the ball from the back of his net for the first time in this tournament, had been left exposed by a swift break. He soon saved rather unwittingly from Alessandro Florenzi before barking angrily at a defence where the Italians had clearly spotted a weakness; few Spanish teams play long-ball football.

Perhaps the impetuousness of youth made Spain initially play more frantically than they had all tournament. Chances for Morata and Tello came and went, but the calm passing moves that have delighted this tournament's devotees were not yet in evidence. Neither was their calm defending. They still had enough

The Spanish and Italian leagues have not achieved pre-eminence through the expensive importation of foreign stars. These are countries where imports serve as garnish to established systems of bringing through youthful talent. The percentage of homegrown players in La Liga and Serie A shames the Premier League, as does the standard of skills coaching, judging by the comparisons available at this tournament.

Youth football is of paramount importance for the finalist nations, a fact reflected by Spain winning both under-19 and under-21 in 2011 and that Italy stood to win their sixth title if they won in Jerusalem. The Italians' tournament mastery matched that of their senior equivalent in getting to this final. As at Euro 2012, they did not have the star power of their Spanish equivalent but had shown the tactical nous to see off strong Dutch opponents in the semi.

This time, a difference of quality and experience showed them up. Paris Saint-Germain's Marco Verratti rarely got time to prompt like Pirlo from midfield. His teammates, a mix of players loaned out by big clubs or from Serie B, could not stop Spaniards who are fully established at a high level of club football. One of the benefits of La Liga's cash crisis beyond the big two has been to grant younger players earlier chances. In Italian football, as in much of public life, an experienced head will always get the nod.

The hard-running Immobile did not live up to his name. Liverpool's Fabio Borini was an absentee until his late consolation goal. Once Thiago had scored from a Koke pass worthy of Xavi himself and then converted from the spot after a foul on Tello, the Italians were hanging on as Spain pushed for more. Regini's tired foul on Montoya for a second penalty converted by Isco was symbolic of an Azzurini whose journey looked done.

Credit must be offered for a late revival that included Borini's goal. A lack of concentration had let him in. As perhaps with Vicente del Bosque's team now that Carles Puyol nears his end, there are glimpses of a possible weakness in defence. The problem is that the ball is required to fully exploit it.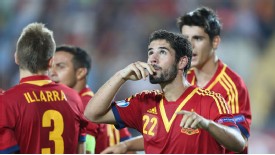 GettyImagesIsco celebrates his penalty for Spain in the Under-21 European Championship final.
Spain's stars in Israel face the most important season of their lives if they are to be at next summer's World Cup. De Gea might fancy his chances, and so too the confident Thiago. Could Isco displace the likes of Cesc Fabregas, Santi Cazorla or David Silva? Further injuries and loss of form to David Villa and Fernando Torres might even let in Alvaro Morata if he should get more starts for Real Madrid. Then again, there is no more difficult international squad to push into than Spain's, the reason being that they are simply the best.

The suggestion from Israel is that Spain's dominance could continue for many years to come.