The madness of Newcastle's Mike Ashley
Mike Ashley's voice has only ever been heard once in public.

It is the 2008 instalment of the BBC TV Comic Relief telethon. The nation is watching the Celebrity Apprentice, and Louise Redknapp is seeking charitable donations from pals.

- Duffy: Joe Kinnear? You're having a laugh

She puts a call in from the back of a London taxi. "So, Mike, could I tempt you into buying some tickets and giving us some money, please? There are some people who have given us £200 for a ticket and other people have given us over £30,000 for some tickets," she says over the speaker phone.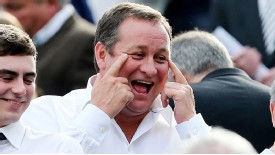 APMike Ashley took control of Newcastle in 2007
"Really? Right, three tickets, I'll give you £100,000," squeaks out a southern accent of the type that meets with disapproval in Tyneside streets. The voice might be unfamiliar, but the impetuousness of the snap decision is not.

"What an amazing man," Redknapp says as she hangs up. Others might voice amazement in describing Ashley, though perhaps not in the sense the fragrant former Eternal songstress meant.

Joe Kinnear's return to Newcastle United is the latest piece of Ashley astonishment. Even if it is a reprise of a previous routine, it has been no less effective in its achievement of shock and awe. Actions will always drown out words in Ashley's world.

The simplest formula to successfully owning Newcastle is to keep the Toon Army happy. In the early days, hundreds of Newcastle fans were treated to largesse when the Ashley credit card was placed behind city-centre bars. They all laughed with him, too, when he was caught illegally necking a pint in the stands at Arsenal.

It seemed he just wanted to be one of the lads, a status cemented when he returned Geordie Messiah Kevin Keegan to the manager's job. However, the unwinding of that regime was a prelude to a tenure in which the owner's decisions have almost always been inimical to popularity and sanity.

When you are a self-made billionaire, the angry complaints of 52,000 football fans would not seem to matter. "Hughton is a Geordie" was the ultimate accolade the Toon Army could bestow on Chris Hughton, but he was removed within weeks of a 5-1 thrashing of Sunderland, despite his newly-promoted team punching well above its weight.

United went into their penultimate match of the 2012-13 season with relegation a real prospect. Who better to turn the ship around than a 66-year-old whose management took them to the brink of their relegation of 2008-9?

The overriding suspicion is that Kinnear is a Trojan horse to smoke Alan Pardew out from his eight-year contract. Only at Ashley's Newcastle could a long-term deal be the source of such doubt.

Gustavo Poyet, looking for work after suspension and fall-outs at Brighton, is now being linked with Newcastle. Poyet is a friend and former team-mate of Dennis Wise, the member of the "Cockney Mafia" whose presence was the first indication of the Keegan revival going awry.

On the face of it, one of the keys to reviving Newcastle is to build a bridge to their sizeable Francophone clique. However, in the unlikely event of Kinnear ever saying "pardon my French", he will not be referring to his incorrect use of a participe passe.

We live in an era where the director of football is finally becoming acceptable in the English game. Andre Villas-Boas has requested one at Tottenham Hotspur, and is expected to work with Franco Baldini. Even Tony Pulis combined well with John Rudge at Stoke City. Sir Bobby Robson used to manage in tandem with Gordon Milne at St James' Park, but the three names mentioned are discreet operators who sought to take a back seat rather than making their voices loudly heard.

Kinnear is not that type of man. He quit such a role at Oxford United in 2001 because of frustration at a lack of day-to-day involvement, and exited calling fans "muppets" in a fashion similar to the now notorious talkSPORT interview on Monday night that almost crashed Twitter with its hilarity.

"Some are talking out of their backsides, a load of tosh," he said when asked to deliver his message to doubtful fans. "I'm not accepting it, as simple as that. I have certainly got more intelligence than them, that's a fact."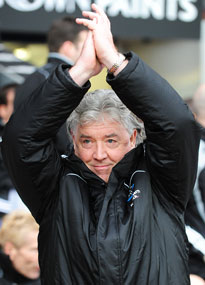 PA PhotosJoe Kinnear managed Newcastle during the 2008-09 season
X-rated press conferences, mangling of names, tall tales and angry settling of scores are hardly compelling indicators of suitability for a job that is presumably one of considerable responsibility. Neither is there evidence of any semblance of an embracing of football modernity, yet Kinnear returns as Ashley's man, and one whose football judgment the owner supposedly values above all others.

"What I'm saying is that I've got my finger in the pie halfway around the world," Kinnear said on Sunday, a sentence that makes as little sense as his return to Newcastle.

Then again, we are not Mike Ashley. Billionaires do not make their impossible fortunes by being nice or following the rules that others do. Popular does not necessarily mean profitable. Neither, seemingly, does sensible.

The fans at St James' may hate him for his seeming desire to make theirs the most mocked club in football but, as they walk to and from the stadium, they must head past a branch of SportsDirect, the flagship company that belches out pile-em-high-sell-it-cheap sportswear to the masses. Those who wear a replica shirt must do so with the legend 'Wonga' emblazoned across their chests. A city riven by unemployment and economic problems has its most famous asset serving as an advertising board for a loan company that offers an APR of 4214%.

Why must Ashley do things like employing Joe Kinnear? How does he get away with it? Because he can. He bought the club without due diligence and paid the price of front-loaded sponsorships. He messed around managers and bore the shame of relegation. The opportunity cost of Kinnear's return is likely to be Pardew's departure and yet more instability. And Newcastle fans must suffer yet another spate of theirs being a comedic crisis club.

Before he became involved in football, Ashley was personified in the business world as a recluse, Britain's answer to Howard Hughes. Perhaps the hasty purchase of Newcastle in 2007 was his way of showing that he does cut his fingernails and hair, and does not sleep on a bed of Kleenex tissues.

It is as plausible an explanation as any for his utterly bizarre stewardship of a football club. Louise Redknapp was right. She still is. Mike Ashley never ceases to amaze.