Tahiti find victory in Nigeria loss
"I was deeply moved, almost crying," Eddy Etaeta, coach of Tahiti, said after his team's 6-1 defeat at the hands of Nigeria. "We watch World Cups on TV. Today we were actors."

Nigeria beat plucky Tahiti
Tiny Tahiti have a big opportunity

It's hard to fully grasp the implication of Tahiti facing Nigeria in a major tournament. We've seen minnows slay giants in domestic cup competitions, we can sort of wrap our heads around that – but a bunch of mailmen, carpenters and bakers putting one over on top-flight teams, though, in reality, happens a lot less frequently than we think.

But this was different. Forget the scoreline, for a minute. Not that it doesn't matter, it does -- in fact it could be crucial to Nigeria. Think instead of the way Tahiti actually played the game.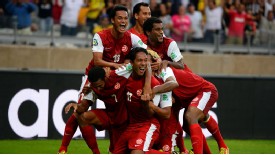 GettyImagesTahiti players celebrate their Confederations Cup goal against Nigeria
They were, as Etaeta put it, actors who showed they belong on the same stage as the Super Eagles. They showed respect, but not reverence, and they went for it. Those who predicted they would clam up defensively, congest their own penalty area and simply lump clearances in the general direction of Marama Vahirua, their lone professional, were dead wrong. So too were those who thought they would get nasty and physical, leave a few boots into a Nigeria team that arrived at the Mineirao jet-lagged and exhausted.

Instead, they tried to play. And they succeeded, willed on by a Belo Horizonte crowd that instantly adopted them as their own because, heck, we all love underdogs. Especially those who play like this.

Three men stood out, names which, after this month, we'll probably never again mention. The first is Teheivari Ludivion, a central defender who spread the ball and the play with calmness and confidence. Another was Steevy Chong Hue, who repeatedly took on Nigerian defenders with gusto. The third was Jonathan Tehau, who materialized at the far post to head Tahiti's historic goal.

Etaeta's choice of the word "actors" is appropriate on several levels. He probably meant that they were sharing the stage in the great drama that is world-class football. But his men were also "acting" in the sense that they ceased to be whatever they were in their day jobs and became international-caliber footballers. Maybe it was only for a few minutes in the ninety, but it happened, and it was real and we all witnessed it. Ludivion channeled Thiago Silva, Chong Hue became Cristiano Ronaldo and Tehau was Edinson Cavani.

Don't laugh.

It was an extension to the games we played when we were kids, when we became our heroes in the park, driveway or wherever we kicked the ball around. Except for the Tahitians, it was real. And they made it real because of the way they approached the game, determined to play it in the right way, single-mindedly daring Nigeria to beat them.

And Nigeria did. Not in an impressive way -- scoreline apart -- but given the near-surreal circumstances, that can be forgiven. The first goal was a double deflection, which suggested the football gods weren't going to be kind to the islanders. The next two were direct results of gross individual errors, of the sort that happen in these circumstances. And the final three came in the final third of the match, when Tahiti began to understandably flag. That's what happens when one group of men are professional athletes who spend their lives training, and the other are guys who focus first on eking out a living and have to keep fit in their spare time. Etaeta himself admitted that "the last 15 minutes were extremely difficult for us."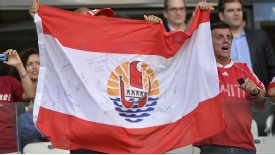 GettyImagesFans of Tahiti put on a brave face against Nigeria
Nigeria did what they needed to do, without patronizing the opposition. They move on to a pivotal game against Uruguay on Thursday, one that will likely determine who finishes behind Spain, a team that -- right now -- looks almost to be playing a different sport, such is their dominance.

It will be curious to see how La Roja approaches the clash with Tahiti. With one game under their belt, Etaeta's crew likely won't be as starstruck or emotional as they appeared before kickoff.

Do Spain go out, score a few goals and then ride out the rest of the game without running up the score?

Or would that show a lack of respect? Is the way to respect Tahiti to play as hard as possible and, therefore, score as much as possible?

This is where cultural differences come into play.

In some nations -- like England and Germany -- you respect your opponent by playing hard and scoring as many as you can.

In others, like southern Europe and the US, running up the score is frowned upon. Once you've done enough to win, you stop.

Etaeta seems to fall in the latter camp.

"Spain are not here to give us a beating," he said. "They will be respectful towards a team of amateurs."

He may be right. And if Tahiti play with the spirit, attitude and professionalism they showed against Nigeria, the final score may actually be closer than it was against Nigeria.

Whatever happens, one thing is sure: Tahiti won't be patronized.