Praised and pilloried, now Mangia has final say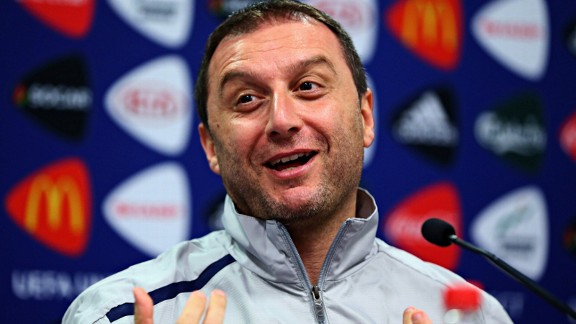 GettyImagesIt's been an interesting journey for Italy U21 coach Devis Mangia
"Very difficult time. Very difficult," Devis Mangia said about his spell at Palermo. However, the Italy Under-21 coach was all smiles after his team had won a closely fought semi-final against Netherlands in Petach Tikva. This was his best hour, and he was even willing to joke about his only job in Serie A; one that abruptly ended after less than four months in charge.

He shouldn't really complain about it. Palermo gave him the stage to announce himself to the world, and he took it with both hands. Now the 39-year-old wants to put those hands on the European Under-21 Championship trophy in Jerusalem on Tuesday.

- Italy edge past Netherlands
- Spain boss: Italy will push us to limit

Mangia's career is unusual, and somewhat reminiscent of Andre Villas-Boas, though the Italian was never lucky enough to have Bobby Robson as his neighbour. Although he played as a goalkeeper at amateur level for a few years, Mangia never hoped to become a professional footballer. He studied law in his young days, and also started coaching children at very small clubs.

That all changed when AS Varese, an important Italian team once graced by the likes of Giuseppe Meazza, Giovanni Trapattoni and Claudio Gentile, went bankrupt in 2004. It was relegated to the sixth division, as the Sogliano family took charge. Riccardo Sogliano, a former midfielder at the club, became an owner, while his son Sean, a little-known former footballer himself, was named a general manager.

Mangia happened to be a good friend of Sean Sogliano, and that's how he got to coach the lowly club at the age of 30. But this wasn't just a nice gesture to a pal by the general manager. Sogliano proved to have a very good eye for coaches and players, as Varese were quickly promoted back to Serie B in just six years.

While Mangia left to work at lesser sides in 2007, his connection with Sogliano remained very strong. He returned to Varese as a youth coach in 2010, and when the brilliant young general manager was persuaded to take charge at Palermo by the controversial president Maurizio Zamparini, both friends eventually made the switch to Sicily, each in his respective role.

Just a couple of months after Sogliano's arrival, following a disastrous Europa League fiasco at the hands of Swiss minnows FC Thun, Zamparini decided to fire Stefano Pioli, who had been named as the club's new coach that very summer. The trigger-happy president looked at well-known candidates to replace him, but Delio Rossi didn't want to return, Claudio Ranieri refused, and finally Sogliano suggested that Mangia be offered the post.

In the beginning, the results were quite positive. Having lost star players Javier Pastore, Antonio Nocerino and Salvatore Sirigu, Palermo were expected to struggle, but Mangia won his debut match in a dramatic fashion, 4-3 against Inter. Just a few days into the season, Zamparini began to compare his coach to the biggest names in the game.

"Mangia is a bit like Pep Guardiola" the president told Il Giornale di Sicilia. "I hope Palermo becomes the Arsenal of Italian football and that Mangia is our Wenger. I have already told the club's sporting director to extend his two-year contract by another two years", Zamparini claimed.

Italian journalists are used to hearing such quotes and don't take them seriously, as they know that Zamparini changes his mind extremely quickly. And things did indeed fall apart at lightning speed, as expected. Sogliano resigned in early November, having found it impossible to work under the president. Mangia's perfect home record may have continued against Cagliari, Siena, Lecce, Bologna and Fiorentina, but Palermo's away form was dreadful, and after losing the Sicilian derby at Catania in mid-December, Zamparini decided to sack the man who was neither Guardiola nor Wenger anymore.

During his time in the spotlight, though, Mangia managed to impress quite a lot of people with his professional know-how and good man-management skills. "When I worked at the youth teams, I only thought about tactics and trainings, but then I understood the importance of mental preparation. The most important thing for a coach is the ability to communicate with the players" he said during his time in Sicily.

Even more importantly for the development of his career, Mangia always mentioned Arrigo Sacchi as his idol, which is quite interesting, taking into account that Devis is a die-hard Inter fan. "Sacchi inspires me. He is the coach who changed the way of thinking in Italian football. Four-four-two is the best system for me" he told the Palermo media in September 2011.

Sacchi, who is nowadays a youth team co-ordinator for the Italian football federation, was impressed. He could probably even see himself in Mangia - the young attack-minded coach trying to make his mark without ever playing at the professional level.

For Sacchi, Mangia was the new Sacchi, not AVB or Guardiola. So when the time came to replace Ciro Ferrara at the Azzurrini last summer, the legendary coach's choice was very clear. He has not regretted it since, as the pair work together in perfect harmony, achieving all their goals. The young Italians play the classic 4-4-2 in Israel, with great results, and are expected to employ the same tactics against Spain in the U21 final.

In the meantime, following Mangia's departure in 2011, Palermo's fortunes went from bad to worse. They dropped to 16th place in Serie A in 2012 under Bortolo Mutti, and last season they were finally relegated after nine turbulent years in the top flight.

Zamparini, in his craziest year to date, named Giuseppe Sannino as a coach last summer, sacked him in September to bring in Gian Piero Gasperini, then displaced him in turn in favour of Alberto Malesani in February. Poor Malesani was fired after just three games without losing a single one of them, for Gasperini to get his job back, but the move backfired, and finally Sannino was called back as well to finish a bizarre season. It would have been a miracle had Palermo managed to avoid the drop in such circumstances.

"So now Palermo are down, and you are going to the final," I said to the jubilant Mangia on Saturday evening. The coach's smile became even bigger and he put both hands on his mouth, as if thinking: "I wish I could comment on that, but I really must not". He enjoyed the moment immensely, loving the irony of the situation and glad that others appreciated it as well.

Without Palermo and Zamparini, Mangia wouldn't have been where he is now, but he loves to take his revenge on them nevertheless, and he deserves his moment. That feeling will be so much sweeter if he and his young Italians beat the favourites Spain in the final in Jerusalem.

Sacchi knows all about beating Spain - memories of 1994 World Cup quarter-finals spring to mind. Now it is time for his protégé to do the same.