Bale trademark application makes financial sense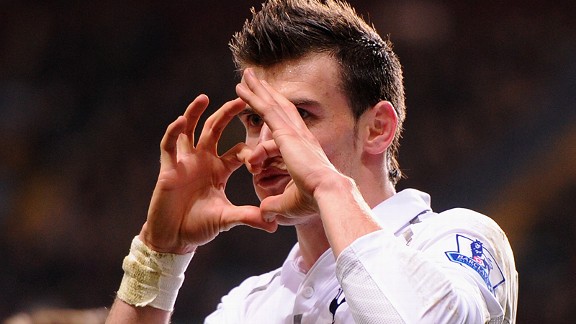 GettyImagesGareth Bale wants to make sure his logo stays his.
Gareth Bale applying to trademark his heart-shaped goal celebration - that's a bit silly isn't it? Well, not really, no.

It's important to say what he's not doing first. He's not stopping anyone from forming a heart-shape with their hands to celebrate something. So, if you score on a Sunday morning, go for your life. Bale's lawyers won't be interested.

- Bale to trademark heart-shaped logo

What he is doing is preparing the grounds for a marketing and merchandising push. He's creating a mark, like the Nike swoosh or the Adidas three-stripe, which he hopes will become internationally recognisable and saleable and that can appear on clothing and sports gear across the globe.

It's a simple step as part of the development of brand Bale.

The internationality of modern football, influenced by the internet and modern media, means that football draws its fans from worldwide and brand loyalty to players, rather than clubs, is now a crucial factor. In traditional football supporting hotbeds like Merseyside, Manchester and Madrid, fans primarily identify themselves as lifelong supporters of a club, but in new football territories such as the Far East and the United States, fan focus is far more on the players themselves.

Brands Lionel Messi and Cristiano Ronaldo compete alongside brands Barcelona and Real Madrid in this marketplace and, if Bale is to seriously challenge players of that ability on the pitch, he'll clearly try to do so off the pitch too.

At the moment, if someone prints a t-shirt with an image of Bale's heartshape and a clear reference to Bale, then the Welsh wizard does have some legal recourse. He can claim that the seller is holding itself out as an official Gareth Bale partner (in the law of England and Wales that's known as "passing off"). He'd have a legal claim and could likely obtain an injunction to prevent further sales and damages for any losses suffered. He could do the same in most other countries as well (remembering that each country has its own set of laws which can vary).

What he is doing, by applying for a trade mark, is making it easier to define and protect his brand. In this country, to succeed in a passing off claim, there are more hoops to jump through. You must prove that the mark is yours, that you have a reputation behind that mark and that you have suffered harm as a result of misuse of your mark. If you have already obtained a register trade mark then all you have to do is, well, wave your certificate around.

Any self-respecting company which relies on its brand will trade mark its logo, why should well-known individuals not do so? Cristiano Ronaldo registered his CR7 brand quite some time ago. By combining the Nike swoosh with the CR7 logo the boot retailer is able to increase consumer interest in its products and Ronaldo can command higher sponsorship fees. Bale is no different.

There is presumably a sales strategy driving this decision - Bale has an experienced sports agency behind him The Stellar Group, who act for a number of top Premier League players and has an international operation. Bale's team have protected three classes of product - essentially jewellery, footwear/bags and clothing. The footwear class is not so obvious when you read the application. Class 18 on his application refers to "goods made of ... animal skins; hides". Before anyone panics that we we'll soon be seeing a selection of Gareth Bale fur overcoats, relax - it's a legalistic way of covering all types of leather. He intends to stick the mark on football boots, I would guess.

Bale has to convince the Intellectual Property Office (the government's agency which deals with trade marks) that his is a logo which can distinguish his goods from those of competitors and which is distinctive. The IPO puts it this way - "[a] trade mark must be a unique brand that consumers will recognise and be content that the goods or services they are receiving come from one particular source. It will provide consumers with that essential guarantee as to the origin of the goods".

For Bale's heartshape with an 11 in the middle this shouldn't be difficult to show. Unless there is another left winger with a fondness for this goal celebration or perhaps a non-football brand where a hand making a heartshape around a number 11 is well-known, Bale should be fine.

His bigger challenge may be continuing his good form so that he can emulate Messi and Ronaldo on the pitch as well as off it.

Matt Himsworth is Principal and Founder of Himsworths Legal. you can follow him on twitter @MattHimsworth.