Pirlo reveling in new role
RIO DE JANEIRO -- Mario Balotelli claimed he didn't realize that, in the Confederations Cup, two yellow cards equals a one-game ban. Which may or may not explain why, after scoring Italy's winner in the 2-1 victory over Mexico at the Maracana, he celebrated shirtless.

- Marcotti: Italy's attacking flair too much for Mexico
- Balotelli: Italy can win Confed Cup

"Really? Nobody told me," he said immediately after the game. Andrea Pirlo, speaking to Italian television, remembers things differently.

"I want to congratulate him for his goal, but also give him a little smack," he said. "I did tell him before the game. I specifically told him not to get a silly booking because, with two, you're out. What are you going to do?"

A few years ago it would have been unthinkable for Pirlo to be so loose and jokey with the media, especially when talking about a teammate. He had a well-deserved reputation for being reserved. Not shy necessarily, just very buttoned up, particularly in situations like this, where words could get twisted and nuances lost.

But this is a different Pirlo. Maybe it's the Chuck Norris beard. Or maybe it's that, when you sense the top part of your hourglass is running out of sand, you become a lot more laid back and certain things matter less, because you want to make the most out of what matters more.

"I want to win this, I want to win everything I can, I never thought stuff like this could mean so much," said Pirlo, who turned 34 last month. "But I realize I don't have that long left, so everything becomes important. It's not as if I can tell myself that I'm working to win down the road. Seriously, I couldn't have dreamt of a better day."

When he curved his free kick inside Jose Corona's post in the 27th minute, he became the first Italian to score at the Maracana. And, of course, he did it on the same night that he celebrated his 100th appearance for Italy.

"I should tell you that these things don't matter, but they do," he said. "Professionally and personally, they make me very proud."

Again, the old Pirlo might have talked about how it was all irrelevant since it was all about the team performance and the three points and how there's no "I" in "team." But this is mature Pirlo. A guy who, lest we forget, was made to wait for the big time. One of the most absurd stats in the game is that he holds the all-time record for Italian Under-21 appearances: a whopping 37.

Why?

Not because he lacked ability -- after all, Pirlo made his Serie A debut two days after his 16th birthday -- but because he was always asked to wait and be patient. Someone was always ahead of him. It was like that with the national team, where he really became a regular only at 25, and it was like that at club-level, where his skill set was criminally underappreciated. It wasn't until 2002, when Carlo Ancelotti decided to make him Milan's deep-lying playmaker -- rather than the attacking midfielder he had been to that point -- that he finally was given a chance to blossom.

So you can see why, at 34, he's looking to savor games like the one against Mexico. Which, incidentally, once again underscored his importance to the Italy setup. Cesare Prandelli's attacking scheme created plenty of chances early on, but failed to convert. It was left to Pirlo and his trademark set-piece magic to break the ice.

This is Pirlo's role with Italy now. He's not the "point guard" through whom everything flows, to use a basketball analogy. He's the added-value guy. He sees less of the ball than he does with Juventus or, indeed, than he did with the Azzurri in years past, but in some ways it makes him more effective. He's able to pick his spots, like the outrageous no look, one-touch, north-south reverse pass straight into Ignazio Abate's path that was perhaps even more stunning than his free kick.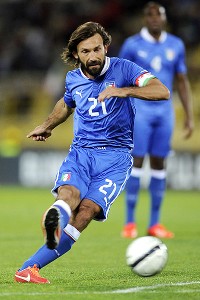 Claudio Villa/Getty ImagesAndrea Pirlo has become more effective because Italy are less dependent on him.
He can do this because he's surrounded by midfielders who are comfortable on the ball and share the playmaking duties: Riccardo Montolivo, Claudio Marchisio and Daniele De Rossi. Compared to 2006, when he had Simone Perrotta and Rino Gattuso alongside him, it's a seminal change, in keeping with Prandelli's possesion-oriented philosophy. And it has undoubtedly prolonged his career as a game-changer (time passes for everyone, his 34-year-old legs aren't what they were a decade ago). Opponents can no longer key on him and press him. Or, rather, if they do he simply scampers wide and draws his man out of position, opening up a lane for somebody else.

Then there are the set pieces. Pirlo has scored 13 goals for Italy. Three penalties, two from open play and an outrageous eight from free kicks. In typical Pirlo fashion, he has never made a secret of how he got so good: "I used to watch Juninho Pernambucano when he was at Lyon and the way he struck the ball. I wondered if I could copy him, so I tried it in training. It worked. So I think some credit must go to him."

If you can marry humility and confidence while still enjoying every moment on the pitch, you're bound to be one happy footballer. And that's what Pirlo is right now.

Which is exactly how Prandelli wants him.