Italy's attacking flair too much for Mexico
RIO DE JANEIRO -- Three quick talking points from the Azzurri's 2-1 win over El Tri:

1. If you play possession-based football, you really need to convert your chances. Italy had two or three in the first 10 minutes but could easily have gone a goal down when Andres Guardado slapped the ball off Gigi Buffon's crossbar. Equally, after taking the lead through Andrea Pirlo's free kick, a single mistake -- Andrea Barzagli losing Gio Dos Santos and then bringing him down -- leveled things up, as Chicharito converted from the spot.

The Azzurri are still getting used to playing this way -- for a start, they're creating chances -- but if the finishing doesn't improve, they'll be prone to "smash and grabs." Like the kind they used to inflict on others.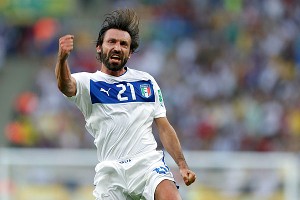 AP Photo/Felipe DanaAndrea Pirlo scored Italy's first goal, a sublime free kick that beat Jose Corona between the sticks.
2. Does Mexico need to defend so deep? Both Francisco Rodriguez and Hector Moreno paid way too much respect to Mario Balotelli's pace, keeping a very low defensive line. You can see the logic in doing so -- you won't get beaten by balls over the top -- but it's not as if Balotelli is Usain Bolt.

At the same time, Mexico didn't press high when Italy came out from the back, which was somewhat surprising given that in Guardado, Gio, Chicharito and Javier Aquino they have quick guys who seem suited to doing just that. Not to mention the fact that, apart from Mattia De Sciglio, three members of Italy's back four aren't exactly Franz Beckenbauer on the ball.

3. Throughout the Italy v Mexico game -- unlike Saturday's opener in Brasilia -- the stadium video screens kept showing slow-motion replays of controversial incidents. Evidently someone at the Maracana didn't get the memo. FIFA decided, and with good reason, not to show replays of any incident that could be deemed contentious on the stadium big screen.

The reason is obvious -- and it's not just about inflaming the crowd or the players. FIFA doesn't allow video replay, and if you're replaying an incident, it's not as if the referee can just look away (especially not at the Maracana, where there are four screens). If he does catch a glimpse and realizes he made a mistake, he can't "unsee" what he's just seen. The risk (and temptation) for makeup calls is huge, not least because -- as we've been told so many times -- referees are only human.

The good news is that this is the Confederations Cup, basically a dry run for the real thing. There are some 11 months to get it right.