Odds stacked against Nigeria in the Confederations Cup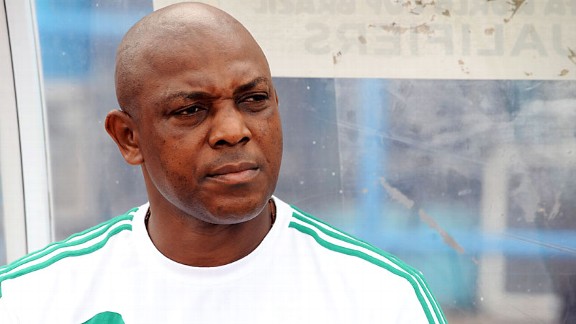 Pius Utomi Ekpei/AFP/Getty ImagesStephen Keshi will have to work hard if his Super Eagles are to soar at the Confed Cup.
RIO DE JANEIRO -- The fact that they play Tahiti in the opener is probably the last piece of good news Nigeria boss Stephen Keshi received -- and that was a while back. Since then, the Super Eagles have hit road bump after road bump, most of them not of his making.

It began April 2, when Emmanuel Emenike was injured playing for Spartak Moscow against Anzhi Makhachkala. Two weeks later, Ruben Gabriel announced he was withdrawing from the Confederations Cup. A week after that, Kalu Uche and Victor Moses also raised the white flag. And on Friday, Ogenyi Onazi, who had suffered a knee injury during Nigeria's World Cup qualifier against Namibia the previous week, was also ruled out.

To recap what this all means: Keshi is without his top goal scorer from the Cup of Nations in February (Emenike), an oversized midfield enforcer who was arguably the player of the year in Nigeria last season (Gabriel), a forward who notched 20 goals last season in the Turkish league and who would have been especially important given Emenike's absence (Uche), a winger who was a mainstay at the Cup of Nations (Moses) and his midfield general (Onazi).

Not exactly ideal for a squad that looked somewhat thin even before the Cup of Nations and shocked the world with its drive and cohesion in becoming African champions.

But the woes don't end there. A dispute between the players and the Nigeria Football Federation meant the squad delayed its departure for the Confederations Cup. Nigeria left Saturday, which meant they eventually arrived at their hotel in Belo Horizonte at 3 a.m. Sunday, giving them 25 hours to acclimate and prepare for the Tahiti game.

The good news? They play Tahiti.

The bad news? They play Tahiti.

Yep, it works both ways.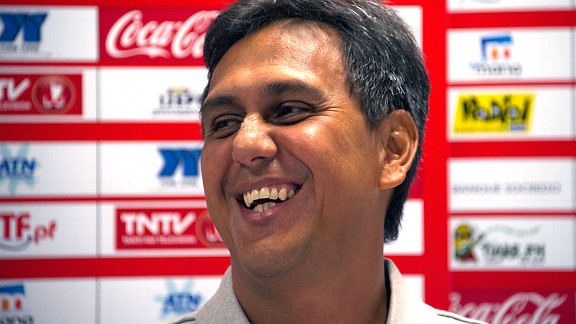 Eitan Abramovich/AFP/Getty ImagesEddy Etaeta's Tahiti side isn't very good, but it could benefit from the lack of relative pressure and the struggles befalling Nigeria.

It's true that, on paper, Tahiti -- with their one professional player, 33-year-old Marama Vahirua -- aren't very good. This is true even compared to past Tahitian sides. They are here because, after strolling through their group stage at the OFC Nations Cup and edging the Solomon Islands in the semifinals, they got to play New Caledonia rather than New Zealand in the final. That was because the Kiwis somehow contrived to lose their semifinal, a feat made possible -- it has been alleged -- by some rather festive behavior the night before.

That said, this is exactly the kind of scenario bigger teams hate, as they have little to gain apart from the three points. You see it every time a big European nation plays San Marino or Andorra. The opposition puts nine men behind the ball (expect Vahirua to be rather lonely up front), the neutrals all rally behind the underdog, and unless the favorite scores straight away, it finds itself frustrated and desperate as the minutes tick by. It's difficult to even play well when the disparity between the two teams is so huge. Nor does the assumed winner learn much about itself because it never quite knows if it got to the ball first simply because the other guys are slower or weaker or if it actually hit a pass or completed a movement well.

Keshi made history as one of only two men to win the Cup of Nations as both player and coach. He proved many naysayers wrong, showing that Nigeria didn't need a fancy foreign boss and that a former Super Eagle could rally the players and maintain discipline. In fact, on talent alone, Keshi's Nigeria rank well behind other Super Eagles teams, but what they lack in ability they more than make up for in the qualities some say Nigeria traditionally lack: cohesion, organization and spirit.

Yet you feel that this Confederations Cup comes at the wrong time and with the wrong preamble for Nigeria. Few expect them to get out of the group; the bookies suggest they'll battle it out with Uruguay for second place and a chance to face Brazil in the semis.

It would be a shame, though, if Keshi were judged on results in this competition and, if things don't go to plan, it costs him his job. He has built a real team and has already delivered one piece of silverware. Simply getting to grips with Brazil ahead of the World Cup and allowing some of his crew to gain experience should be the real objective. When the A-listers return and he once again has his big guns on board, that's when you can judge him.