An unexpected relationship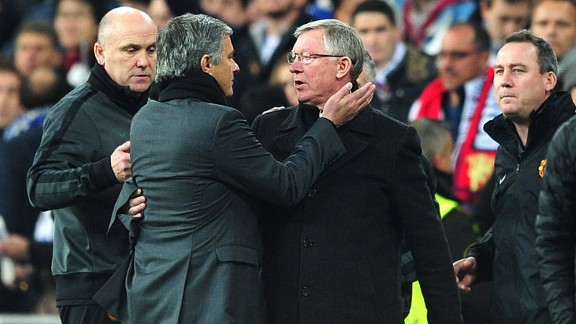 APJose Mourinho insists he and Sir Alex Ferguson are good friends despite their footballing rivalry
Only a select few in Sir Alex Ferguson's inner circle knew that he was preparing to bring down the curtain on his historic managerial career last month, so many will be surprised to learn that Jose Mourinho was among that elite number.

The confirmation from the newly reinstalled Chelsea manager that Ferguson informed him of his decision to retire long before his ultimate replacement, David Moyes, was aware of the plans may suggest United's greatest manager of them all sounded out the game's most colourful coach as he considered his options to anoint a successor.

Mourinho's suggestion that he would have jumped at the chance to take over at United if Chelsea had not come calling for him first will be viewed by many as evidence that Mourinho was approached by Old Trafford chiefs before they turned their attention to Moyes, but the truth of that story may not be told for some time to come now.

As it is, Mourinho's typically charismatic return to English football will come in the familiar surroundings of Stamford Bridge and not Old Trafford in August, with his desire to fill the gaping void left by Ferguson's exit clearly high on his agenda.

He may not be Ferguson's successor, but Mourinho is eager to establish himself as the new father figure of Premier League managers, with the calm, composed character who sat before the world's media at a frantic Stamford Bridge news conference Monday very different to the firebrand who caused havoc for most of his stint as Real Madrid boss.

It remains to be seen whether his new mature demeanour will hold when the heat of battle gets his blood boiling, but those of us who were fortunate enough to spend time in his company as he returned to Chelsea could only be impressed by his honesty, openness and charm as he answered questions from broadcast and print media for more than two hours.

Much of the more intriguing information was gleaned by the always inquisitive Sunday newspaper journalists, who raised several questions in a series of contrasting articles that were published in unison.

His comments about Ferguson's retirement are likely to attract the most attention, and while he does not confirm he was offered the chance to sit on the Old Trafford throne, these words suggest he certainly had a discussion with the outgoing United boss about the club's future plans.

"I knew that Ferguson was retiring many months ago," Mourinho stated. "I'm so happy with this trust because it's big news for the world. I can imagine just a very close circle around him knew that and it was a big responsibility for me to know. I was always afraid that the news came out from me because I knew that I'm one of the guys that knows.

"Why do I know that? I know because we are friends. So if I am his friend to know he is going to retire, he is also my friend to know that the club I want to coach in England is Chelsea if possible.

"Of course, when this became a possibility, I told him I want to come to Chelsea. The fact I wanted to manage Chelsea again was not a secret, I always told. I never hide my passion for Chelsea or England. I said that so many times.

"But I am a professional and when I decide to leave Real Madrid, if Chelsea has a manager for the long term and they are very happy, of course I wouldn't be at Chelsea today. I have to be happy in another place."

While we may never know for sure whether that "other place" could have been Old Trafford, Mourinho's inside knowledge on Ferguson's plans suggests he was surprisingly very close to the biggest story in world football this year.

In the end, his desire to live in London, his loyalty to Chelsea and the comfort of knowing he is returning to the club in a far stronger position than he had in his first stint all proved irresistible to a captivating celebrity who is a welcome returnee to the Premier League landscape.

Attending Mourinho's grand unveiling at Stamford Bridge was akin to being on the guest list for a major rock gig, with his stage-managed entrance only lacking a burst of Robbie Williams' "Let Me Entertain You" to complete the drama.

Simon Cowell may like to believe he is the modern-day inventor of the X factor, but Mourinho has that quality in abundance, and while his desire to succeed Ferguson at United may have burned brightly, he has confirmed that his return to Chelsea had been discussed for many a month.

"We always had good communication, sometimes with Mr. Abramovich or other people on the Chelsea board close to him," he said, when I asked him to respond to suggestions that he came close to sealing his Stamford Bridge comeback last summer.

"It was clear in my heart it would happen and it was clear for them, too, but we were always very calm and waiting for the right moment to do it. If I had a choice to come back to England, I think now it comes at a good time.

"Everything feels like home for me here. It's my dugout, the dugout where I never lost a match, it's my stadium, it's my dressing room, it's my office, it's the same desk. Emotionally, I get it."

The perception that Mourinho and Chelsea owner Roman Abramovich are simply too combustible for their relationship to work for too long a second time around were also addressed by the new Blues boss, as he painted a glowing picture of life under the Russian billionaire and those who work for him.

"I tell you that never, never during my time did the owner try to interfere in the basic things of the manager," Mourinho stressed. "The basic things are training sessions, team selection, profile of the player you want to bring. He never interfered.

"Like everybody who doesn't belong to the football world and doesn't have a football background, you cannot expect that after two clicks he knows everything when he buys the club in 2003.

"Ten years is a long time, he goes through a lot of experiences and like every intelligent person does, he uses the experiences in his favour and not the experience against him."

Mourinho went on to insist he is already forging a strong working relationship with controversial Abramovich aide Michael Emenalo, and when asked about the football theory that says you should never return to a former club, he has a typically smart answer up his sleeve.

"Don't say this to Jupp Heynckes because he went three times to Bayern Munich and the third time he won the treble," Mourinho said. "Unless you want to say to me I have to leave again and come back again for the third time to have success? Ha ha, I hope not.

"I want to think we know each other very, very well. The club knows me, I know the club. I don't think this should work negatively. This should be a plus, not a minus."

Mourinho was every inch the charmer on his return to Chelsea, and while many of us still believe he should have been the special successor to Ferguson at United, all who follow English football can be glad to have this superstar back in our midst.