John Terry's curious England career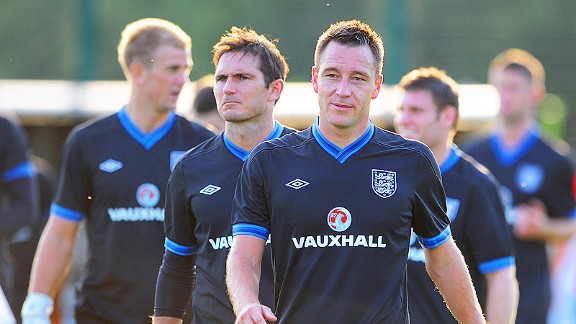 GettyImages / Michael Regan/Getty ImagesTerry's retirement from international football on Sunday ends a career that will live in the memory more for its turbulence than for any particular on-field excellence.
It's June 3, 2003, and England is playing Serbia & Montenegro (as it was then known). This being a friendly under Sven-Goran Eriksson, the game itself is simply an excuse for the real business of making substitutions, and sure enough at halftime, off come Ashley Cole, Steven Gerrard, Paul Scholes, Michael Owen and Gareth Southgate. In their place come five of the bright young hopes of English football. Jermaine Jenas receives his third cap, Wayne Rooney his fourth. Owen Hargreaves and Wayne Bridge both pick up their twelfth. Finally, making the first of an eventual 78 appearances for his country, John Terry.

Terry's retirement from international football Sunday ends one of the most curious England careers of recent years, and one that will live in the memory more for its turbulence than for any particular on-field excellence.

In some ways, of course, this will be true of any memorable England footballer of this generation, simply because the football, in itself, has been somewhere between largely forgettable, dysfunctional and unremarkable. Terry's record in tournaments, starting with Euro 2004, reads: quarterfinal, quarterfinal, did not qualify, second round, quarterfinal. So if he were going to distinguish himself -- in a literal sense -- it was always going to be for something extracurricular.

At which, it has to be said, he has excelled. Alleged adulterer; ex-captain; failed coup leader; alleged racial abuser; ex-captain again, this time with added managerial resignation; now, finally, retirement, and not for the usual reasons of extending a club career or soothing a wounded ego.

His statement: "I feel the FA, in pursuing charges against me where I have already been cleared in a court of law, have made my position with the national team untenable." It reads like the resignation of an unapologetic chief executive, forced into stepping aside due to circumstances both malign and unfair.

Yet Terry's statement is a touch disingenuous. It is true that the vast majority of FA disciplinary hearings result in the accused individual being found culpable of whatever they are alleged to have committed. The high proportion of guilty verdicts, though, is probably mostly due to the fact that the FA acts as its own charging body (meaning that weak cases don't even get to a hearing) and tends to consider fairly straightforward disciplinary matters (did Joey Barton hit that person? Yes, here is the video).

But the implication from Terry is that he thinks he's been pre-emptively kippered by an illegitimate Star Chamber. As such, a man who as recently as May was vowing never to turn his back on the England team was left with no choice but to tear the lions from his own chest.

He cites his acquittal in support of this, yet the key reason that the FA weren't simply able to agree lies in the details of the very verdict he's appealing to. Chief magistrate Howard Riddle found that the evidence against Terry did not meet the standard of proof required for a criminal conviction and so acquitted him, noting at the same time that Terry was a credible witness. But he also concluded that Terry's explanation was "unlikely." As was made clear in the report into the allegations against Luis Suarez, the FA conducts its disciplinary proceedings using a lesser standard of proof -- civil, rather than criminal or, translated, "balance of probabilities," not "beyond reasonable doubt" -- so the question for the FA remains.

(See this piece by Daniel Geey for a more detailed overview of the legal situation.)

Ultimately, it would have been unthinkable for the FA not to review the matter in terms of its own disciplinary procedures, simply because it's standard practice, albeit peculiar and desperately self-important. An individual accused, for example, of stealing from their workplace would expect to be not only tried at court but then to go through the disciplinary procedures that their employer has in place.

Even if the FA had been tempted to just let the thing slide, to do so would have been politically toxic in the extreme. According to Piara Powar, director of the UEFA-affiliated pressure group Football Against Racism in Europe, even the delay between the end of the trial and the beginning of the disciplinary process has been "a concern for a number of black footballers."

For a player often derided as a throwback to cartoonish, simple football, Terry has had a remarkable capacity for making things very complicated; hovering around everything else is the intense personal animosity he inspires in an awful lot of football fans. Those who despise him do so because he is, in their eyes, an egoist, a self-publicist, a thug, a symbol of English football's Neanderthal tendencies, an adulterer, a buffoon, a hypocrite and now, finally, a bigot. Those who don't really loathe him take pleasure in mocking the excesses of his "captain, leader, legend" shtick.

Yet a succession of England managers have, without fail, rated him. Eriksson made him first-choice center back within a year of his debut; Steve McClaren made him captain. Fabio Capello forgave him for the "Bloemfontein putsch," and Roy Hodgson was so keen to include him in recent squads that he didn't mind alienating Rio Ferdinand in the process. (It will also be interesting to see whether those "footballing reasons" have resolved themselves by the time the next squad announcement comes round.)

They could all have been wrong, of course -- managing England does funny things to your judgement -- but in the end, it doesn't matter. Looking back at John Terry's international career, the football's the last thing you notice.