Brazil opens the Confed Cup with convincing win over Japan
BRASILIA, Brazil -- Here are three quick thoughts after Brazil opened up the Confederations Cup with a 3-0 win over Japan.

1. Thus far, this feels right ... mostly
The Mane Garrincha has that "new stadium" smell, but in a good sense -- like a new car. Surrounded by red soil and crabby grass with Brasilia's urban planning utopia as a backdrop, its hulking roundness will work nicely in a year's time. So, too, the Brazilian fans who lived up to their billing, even during that brief spell in the first half when things got rocky for the Selecao. So why the "mostly"? The wave. The freaking wave. It's 2013, folks. Please. No mais.

2. If Japan had a center forward ...
... they'd be a far more serious proposition. It's not a knock on Shinji Okazaki, necessarily -- he is what he is, a guy who scored a single league goal last season for Stuttgart -- it's just that you can only imagine what they would do with a legitimate threat up front. Shinji Kagawa and Keisuke Honda break so well, they're crying out for someone who can either finish reliably or drag defenders out of position. And, in fact, with a different sort of front man, they might actually be able to mix it up a bit more, rather than being forced to perennially play on the break or with quick one-twos.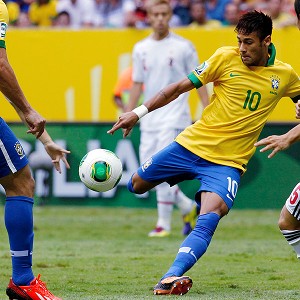 AP Photo/Eugene HoshikoNeymar's goal was a testament to both his confidence and sublime technique.
3. Over the hump
Win No. 3 of Luiz Felipe Scolari's eight-game regime was just convincing enough to ensure the Selecao keep the critics at bay, but without becoming too complacent. Neymar popped up only at times, but when he did, he was devastating. It wasn't just his highlight-reel volley to open the scoring, it was also the chance he set up for Fred at the end of the first half. David Luiz went walkabout only once, and the midfield destroyers seemed to get better as the game wore on after getting blitzed by a couple of Kagawa counters.

This puts Scolari in the kind of position coaches love to be in. His approach has been proved right, Brazil got the big win, the nerves are settled, yet he can still point out plenty that can be improved. In many ways, it's better to win this way than with an all-guns-blazing blowout. His guys will -- he can hope -- remain on their toes.