Can Neymar get out of his dry spell?
BRASILIA -- For almost 40 minutes, Neymar talked about a series of subjects that ranged from the obvious developments of his move to Barcelona to player preferences when having a go at soccer video games. Nothing he had never talked about before. But unlike previous occasions, Neymar's news conference Thursday was not business as usual. Unlike the player who is seen smiling in countless ads in the Brazilian media (even in his undies, one might add), it was a very grumpy Neymar who faced the hacks.

Wouldn't you if you were in a dry spell?

Not that kind of dry spell. Neymar is adored by legions of young ladies in Brazil -- something attested to by the Beatles-esque scenes of fans screaming hysterically at him -- and he dates Bruna Marquezine, one the current belles of the ever popular Brazilian TV soaps.

Rather, Neymar´s dry spell is with the ball at his feet. On the eve of the Confederations Cup, the new Barca boy has failed to score for club or country in nine matches or 842 minutes. The clock will be ticking when Brazil open up their campaign against Japan in Brasilia.

You could say it's the merit of good marking or good goalkeeping. But the stats suggest otherwise. Neymar has taken 42 shots in these nine games, but only 16 were on target. What makes the dry spell even more interesting is that, in national team games, Neymar had hit 21 goals in 34 before Luiz Felipe Scolari took over.

No surprise, then, that the former Santos striker looked so annoyed in front of cameras, especially when his accuracy was the theme of questions. At 21, he has been bestowed with the title of New Messiah of Brazilian football. For the first two years since showing up with a mohawk for Santos FC games in 2009, he actually looked the part. Now, though, his powers seem to be failing him when the Selecao need them the most, in their only competition before next year's World Cup.

And boy, Neymar does not like it.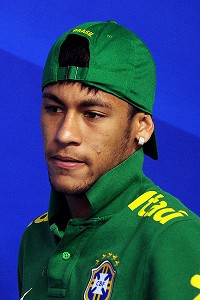 Evaristo Sa/Getty ImagesNeymar clearly showed signs of stress during his press conference, but it's nothing a few goals won't cure.
"The dry spell means nothing to me," he said. "That will not change the way I behave or perform on the pitch. It's not only by scoring goals that I will be able to help Brazil. My duties involve moving to open up spaces for my teammates, for example. You guys [the press] are never happy."

Not strictly true. Firstly, the Brazil team stats show Neymar has had the most shots amongst Selecao players in the past few games. Second, the last thing any Brazilian journalist needs is more reasons to write about Neymar.

But the bad publicity might be just what Neymar needed to finally hit the spot.

Then add Big Phil to the mix. The manager knows Brazil's chances to finally win the World Cup on home soil are linked to Neymar emulating at least 50 percent of his best for the Selecao.

Which is why Scolari is trying to show the boy some love, just as he did with a certain Cristiano Ronaldo in his days as Portugal manager. When it was time to assign the Confederations Cup shirt numbers, Neymar asked for the number 10, then worn by Oscar. Neymar got it. In all his statements, Scolari refers to Neymar as a "craque" (Brazilian slang for fantasista) and refuses to criticise him.

One can also remember that while Big Phil banged his fist on the table and demanded that Luiz Gustavo and Dante miss the German Cup final with Bayern Munich so that they could be available for the England friendly at the Maracana two weeks ago, Neymar was allowed to leave camp and jump on a private jet to Barcelona to be paraded in front of 50,000 Barca fans at the Camp Nou. The manager even tried to find different ways to fit the striker in a side where other players are feeling much more comfortable.

- Video: Brazil expecting title
- Video: Three things to watch

"I am baffled that the media in Brazil seems to execrate Neymar. He should be protected as the great icon he is," Scolari said. "We have a guy who manages to take 50,000 people to stadium just to see him wave and you guys still complain about him. Neymar on his own will not win games -- I need to take the pressure of him -- but he has been great for the team and never complained about tracking back, for example."

The fact is that Neymar symbolises a generation that in Brasilia will start showing what they are made of. Their icon is faltering. Deep down, even Big Phil must be really hoping the boy can hit it really good. In this game, holding on ain't good at all.