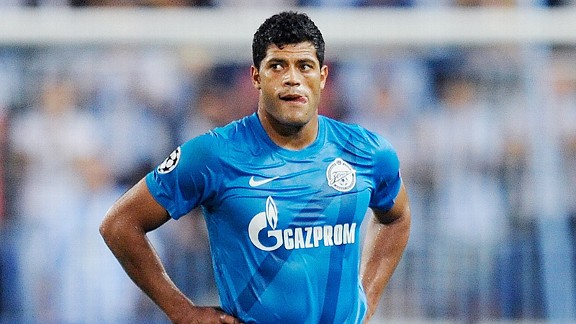 GettyImages / Denis Doyle/Getty ImagesHulk's arrival at Zenit has unsettled the squad, an unintended consequence.
Is spending $130 million in a single day ever a bad idea for a football club?

If that wasn't a question crossing the minds of Zenit St. Petersburg supporters on Sept. 3 -- the day they spent that amount to bring in midfielder Axel Witsel from Benfica and forward Hulk from FC Porto -- they're certainly asking it now.

Big-money transfers often have a habit of producing unintended consequences. Fernando Torres' $80 million move to Chelsea in 2010 served only to highlight how important Didier Drogba was to the Blues. Manchester City's $52 million signing of Robinho in 2008 highlighted just how fragile a thing team discipline is -- only weeks into his tenure at Eastlands, Robinho was jetting home to Brazil for "holidays" and his fellow Brazilian Elano, once a reliable squad member, went public with his dissatisfaction at manager Mark Hughes' methods. Even now, Real Madrid is finding that Cristiano Ronaldo, one of the greatest footballers in history (and certainly the most expensive), can be a drag on team morale.

Similarly, while Russian football indulged in collective euphoria at two more world-class talents joining the country's burgeoning league, things have taken a surprising turn for the worse less than three weeks later.

Most notably, Zenit's performances on the field have been, frankly, appalling. Last Saturday, in Zenit's first game since spending big, it lost 2-0 at home to Terek Grozny in the Russian Premier League. Hulk and Witsel started on the bench, but with the score tied at 0-0, both were sent on by coach Luciano Spalletti to inject their high-priced invention into the game. Instead, Zenit was embarrassed by Terek's own new signing, $2.85 million forward Ailton, who scored a wonderful late goal to lead his side to victory.

Then this past Tuesday, Zenit was comprehensively outplayed in its opening Champions League group stage match against Malaga in La Rosaleda, a 3-0 defeat that Spalletti described as "a disaster." Zenit had not lost two matches in a row for more than a year, but most troubling was the lack of overall quality shown by the reigning Russian champions. Hulk started up front, bustling about in his part-clumsy, part-maniacal style, smashed a long-range effort against the crossbar in the first half but otherwise failed to inspire. To compound matters, Witsel was absent, having picked up a hamstring injury in training.

Zenit's insipid run of form continued Saturday away to Krylya Sovetov, conceding two first-half goals to a side that finished last season just one place above the relegation playoffs. Spalletti's team fought back after the interval -- Hulk scored his first goal for his new club with a trademark blast in off the crossbar from outside the box -- and once Krylya had been reduced to ten men, Zenit eventually grabbed the equaliser. The match ended 2-2 but the comeback was mere papering over the cracks; Zenit now trails league leaders CSKA Moscow by four points after just nine games of the new season.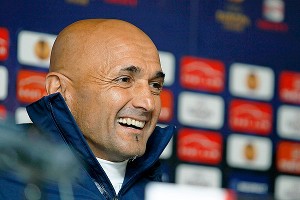 GettyImages / Bruno Fahy/AFP/Getty ImagesCoach Luciano Spalletti is trying gamely to keep the squad in harmony, though Zenit has yet to win with Hulk or Axel Witsel in the mix.

New signings often take time to bed in and results can go awry in the process. But in this case something more fundamental is at work, though it was only revealed in the small hours of Sunday morning as Zenit traveled back to St Petersburg.

One notable absentee from the side that drew with Krylya was midfielder Igor Denisov, ordinarily one of the first names on Spalletti's team sheet, and currently -- with Fabio Capello overlooking Andrey Arshavin -- captain of the Russian national team. It soon emerged that 28-year-old Denisov had been dropped and ordered to train with the youth team by Spalletti over an apparent dispute with the coach concerning Hulk.

Since then, the Russian media has been ablaze with rumors about Denisov's issues, which continued to spread until Zenit finally got round to issuing an official statement Sunday evening. "The decision to send Igor Denisov to the youth team for an indefinite period ... is connected to the fact that the player issued an ultimatum, refusing to take to the field against Krylya Sovetov after demanding a renegotiation of his contract," the statement read. Angry at the personal terms offered to Hulk, so the story went, Denisov took the opportunity to try to get himself a better deal.

Zenit's full statement ran to four nasty paragraphs; by the end, there was no doubt as to the club's anger at Denisov. "His salary is one of the highest not just at Zenit but in the whole of Russia," it continued. "Zenit believe that in breaking his agreement with the club, Denisov is behaving in an unprofessional manner, discrediting himself as a player for both club and country and causing serious harm to his reputation."

Most outside the club seem to agree. "Denisov thought he could grab the club by the balls," TV presenter Nikita Belogolovtsev commented on Twitter. "I wonder though, if Zenit had signed Messi whether Denisov would have demanded a higher salary."

German Zonin, a Zenit coach in the 1970s, was even more blunt. "He earns more in a day than many of his compatriots earn in a year!" he told Sovetsky Sport. "It would have been better had he drunk a bottle of vodka. We'd at least forgive him for that."

The truth is that Denisov has established himself as one of the more controversial characters in the Russian game. Just in the last two years alone he has broken the nose of teammate Viktor Fayzulin in training, come to blows with first-team coach Vladislav Radimov, broken the nose of his driving instructor and, most famously, abused Spartak Moscow coach Valery Karpin during a league fixture, sparking an incident that ended in a mass brawl involving both sets of players and staff. Whatever benefit of the doubt Denisov might have enjoyed has been wiped out by his ill-disciplined track record.

In similar situations over the years, Zenit's long-serving players have often stepped in to arbitrate. Last season Aleksey Ionov, a promising young midfielder on the verge of international honors, was discovered by several teammates to have been spending his evenings out drinking. A delegation of players reported him to Spalletti; soon, Ionov was dropped and ordered to live under curfew at the club's training base.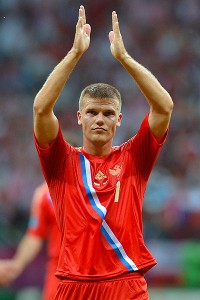 GettyImages / Gabriel Bouys/AFP/GettyImagesIgor Denisov has gained a reputation for poor behavior in recent seasons, but his latest stunt -- an alleged contract dispute given Hulk's massive salary -- has the Russian media upset.

Similarly, during the summer, Georgian midfielder Levan Kenia arrived at Zenit on trial after being released by Schalke. After an impressive two-month spell during which a deal looked certain, he was mysteriously released. Kenia later reported that a delegation of Zenit first-teamers had approached the management ordering them not to sign the Georgian.

However, with such vast sums spent on Hulk and Witsel, player power has not proven forceful enough in recent weeks. On Sunday, Denisov was joined in the youth team doghouse by forward Aleksandr Kerzhakov. A separate explanation was released indicating only that Kerzhakov had been disciplined for "incorrect behavior," interpreted in most quarters as the striker being too supportive of his teammate. Several news sources in Russia have also printed the names of three more players -- Aleksandr Anyukov, Vladimir Bystrov and Vyacheslav Malafeev -- who are said to sympathize with Denisov's position. Still, the club has stood firm.

It is rapidly becoming apparent that, for many of Zenit's older heads, the new players' arrival constitutes an existential threat. Yes, the money involved in bringing them to Russia was bound to turn heads, but Hulk and Witsel have also stirred things up in the starting lineup.

After several years of being undroppable, several players, notably both Denisov (who plays in Witsel's holding midfield position) and Kerzhakov (a frontman like Hulk), suddenly find their positions under threat. That's not a bad thing -- for all the domestic honors Zenit has won under Spalletti, the club continues to stutter in the Champions League, and the Italian has a clear vision of what must be improved.

But adjustments may also involve a radical alteration of the way Zenit plays -- how could it be otherwise, with the 5-foot-11, 200-pound striker Hulk playing the game with such a distinctive (some might say selfish) style? Once you tinker with a team's approach, every position is up for grabs, which may well explain the deep unrest currently spreading through the squad.

Indeed, late on Sunday night, Sport Express published an interview with Denisov that confirmed such suspicions. Asked what demands he had made which had caused the standoff with the club's management, Denisov said: "The proper organisation of the team. And respect for the Russian players which Zenit has always relied upon." Clearly, these words are the product of a conservative mindset.

All of which puts Zenit's decision-makers in a delicate position. Having paid top dollar to improve the team, they are not about indulge the old guard too much, despite having the makings of a mutiny on their hands. It will be fascinating to see how it plays out over the coming days, but one thing is for sure -- right now, that $130 million doesn't necessarily look like money well-spent.