Rudi Garcia the right call at Roma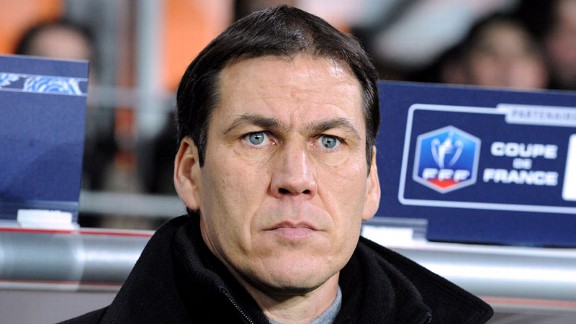 Fred Tanneau/Getty ImagesRudi Garcia takes the reins at AS Roma after a successful spell with Ligue 1 side Lille.
Behind the New York offices of Roma president James Pallotta's Raptor hedge fund is a space to play basketball. Printed inside the 'D' is the Boston Celtics logo, the team in which he holds a stake. After introducing Roma's new coach Rudi Garcia to the world via YouTube, a further example of just how much this once provincial club has become global under his ownership, he invited him to shoot some hoops.

Supporters had (rather agitatedly, to put it lightly) been awaiting an announcement on this matter since the end of May. Interim manager Aurelio Andreazzoli stood aside following a bitter defeat to Lazio in the Coppa Italia final. A week or so later their rivals' fans would hold a mock funeral for them on the Ponte Milvio, one of the bridges leading to the Stadio Olimpico.

Contrary to the image they wanted to project, life goes on at Roma, though the mood around the club at the time was distressed. A season that began with high hopes had ended in disappointment. Roma finished sixth, admittedly one place and six points better off than the previous year. They managed to win two more games, lost two fewer and concluded the campaign ahead of Lazio, although unfortunately for them, the result in the Cup final meant that this was quickly forgotten.

Despite investing over 115 million euros in new players, a net spend of minus-69 million euros, Roma had missed out on qualifying for European competition altogether for a second straight season. Not for the first time, the project -- as presented by general manager Franco Baldini on returning to the club in July 2011 -- came into question.

His ambition for Roma to do things differently -- to win but also convince by playing good football while preaching respect for opponents and match officials alike -- was lofty. He set out to challenge conventions and perhaps in hindsight was too utopian.

Rather than retain Vincenzo Montella, who after performing a caretaker role for Roma following the resignation of Claudio Ranieri during the takeover has since established himself at Catania and Fiorentina as a top manager, Baldini chose instead to appoint the Barcelona B coach Luis Enrique, someone who'd never worked outside of Spain or in a first division, on the basis that he was "uncontaminated" by Italian football.

Though the fans heeded calls to get behind him after initial resistance, famously unfurling a banner in the Curva Sud that read, "Never slaves to the result" -- a small victory for Baldini -- Enrique walked at the end of the campaign, feeling that it wasn't for him.

Pleas to bring Montella back went unheard. But there were few complaints when they announced the return of Zdenek Zeman 13 years after he'd been forced out of the club. Here again, the heart had perhaps been allowed to rule the head. And soon romance gave way to realism. Zeman wasn't about to change either his outspokenness or his uber-attacking style of football at the neglect of the defence. He was fired at the beginning of February, the handling of which left an awful lot to be desired.

With Andreazzoli as a stopgap, Roma had three months to draw up a shortlist, sound out the candidates, reach an agreement with one of them and make an announcement at the end of the season. Walter Mazzarri and Massimiliano Allegri were the favourites. Both represented a clear break in policy from the idealism that had influenced previous hires. They're more disciplinarians than dreamers, substance-over-style guys capable of bringing order to an unruly and not overly mature group of players.

And yet, Mazzarrie went to Inter, supposedly because Roma were courting the other, who then proceeded to hold them on standby while his future was decided at Milan where, ultimately, Allegri would stay. After the fake sheikh and the good intentioned but not universally well-received change of logo, it was perceived as another bungle and brought further criticism. "Roma humiliated, another unforgivable poor show" insisted the Rome edition of Il Corriere dello Sport.

Baldini resigned a couple of days later before a new coach had been announced. The whole thing felt like a mess, even though Roma had a structure in place to cope without him, which is kind of why he left -- a case of too many chiefs.

Fans were perhaps justified in their scepticism of whatever decision the club went on to make. When the news began to emerge that Garcia would be the one to get the job, Il Corriere dello Sport polled its readers on whether they thought he was the right man for the post: 46.6% replied Yes and 53.4% No. That perhaps reflects the aforementioned lack of confidence in the shot-callers at Roma. It also tells of how unaware many of them may be of what Garcia has achieved in France.

- De Martinis: Introducing Rudi Garcia

At face value, he looks like another hip and out of left-field appointment. The video of him playing the guitar and singing 'El Porompompero' in the Lille dressing room did nothing to discourage this impression, nor did reports of how he has an interior design boutique in the old part of the town and socialises with theatre producers, musicians, restauranteurs and believes "a coach is an actor."

The first French coach in Roma's history, Garcia's family is from Spain. His grandparents swapped Andalusia for the Ardennes during the Civil War. They'd frequently take him back to Garrucha on the coast. The journey took three days in a Citroen 2CV. But it was worth it for "the sun and the prawns," the 49-year-old told Le Journal de Dimanche.

Following in his father Jose's footsteps, he became a footballer but was forced to retire at age 28 on account of injury. One of Garcia's career highlights was scoring a winning goal for Lille against PSG in 1984. Why? Because he almost never scored. Years later, as a coach he'd lead his former club to the greatest period of success since the '40s and '50s. In the meantime, though, Garcia had to learn his craft and to do so he did a bit of everything.

At Saint-Etienne, he worked as the club's fitness coach, their tactical coach and then, for six months in 2001, their head coach, a role he shared with Jean-Guy Wallemme. Replaced in the summer and out of the game for a while to complete his full coaching badges, Garcia called his former Lille teammate Jocelyn Angloma who was then at Valencia to see if the club would allow him to come and observe the work of their coach Rafael Benitez. They did and it was a formative experience.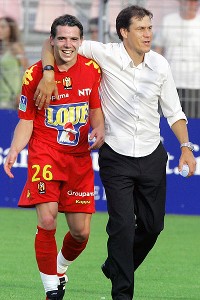 Jean Francois Monier/AFP/Getty ImagesOne of Garcia's previous stops included Le Mans, where he led Martin Douillard and company to a semifinal appearance in the Coupe de la Ligue.
Garcia then got the job at Dijon. He guided them to promotion to Ligue 2 and went on a cup run to the semi-finals of the Coupe de France. Next came a season at Le Mans in Ligue 1 where he achieved a mid-table finish and reached the last four of the Coupe de la Ligue before Lille, looking for a new manager after Claude Puel decamped to Lyon, asked him back two decades after he last played for the club.

It was the beginning of something special, even though it so very nearly turned sour. Unable to see eye-to-eye with one of Lille's directors, he was dismissed at the end of his first season but brought back a fortnight later by the president and majority shareholder, Michel Seydoux. Two years later Garcia gave his film producer boss the Hollywood ending he craved. Lille won the league for the first time since 1954 and by beating a pre-QSI backed PSG in the Coupe de France final they made it a double too, the club's first since 1946.

They did it playing some wonderful football. The system was 4-3-3, the ball was on the floor, one-touch, two-touch, Lille were an orchestra. Garcia was named Coach of the Year. He'd improved a number of players. Take his centre-back pairing. Adil Rami went from amateur football to playing for France. Aurelien Chedjou was told he was like Carles Puyol. Newspaper cuttings of interviews with Pep Guardiola and Vincente Del Bosque were handed out. Yohan Cabaye took inspiration from Xavi. Then there was Eden Hazard, whose talent Garcia carefully nurtured.

Bit by bit, though, the team was broken up. Rami, Cabaye and Gervinho left in the summer; Top scorer Moussa Sow in the winter. Lille relinquished their title, finishing third in no small thanks to Hazard who then went to Chelsea. This season just past they let Mathieu Debuchy go in the winter and, after ending in sixth place and out of Europe, Chedjou was sold to Galatasaray.

Lille should perhaps have done better. Some of Garcia's man-management decisions, his Conseil des Sages in particular, came into question. But on balance staying competitive after waving goodbye to so many important players in a league where the playing field has been so radically altered by a super riche PSG, was always going to be difficult, particularly considering the financial constraints Lille were under as they completed their new stadium. Roma recognise that.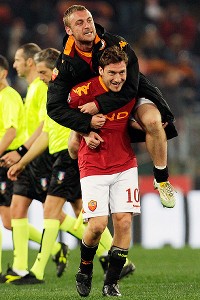 AP Photo/Andrew MedichiniHow well Garcia interacts with stalwarts Francesco Totti and Daniele De Rossi will be critical to his success at Roma.
The challenges he faces with them are comparable to those he encountered at Lille -- an ambitious success-starved club with plans for a new ground. He inherits a very good squad, arguably the second best in Serie A, built to play 4-3-3 with a similar profile to his 2010-11 Ligue 1 title winning side -- mostly young, talented players from which the best is yet to come. The difference is the presence of people like Francesco Totti and Daniele De Rossi, footballers of a stature he has never worked with before, though they might respond well to his Conseil des Sages, a consultative approach whereby he invites a select number of players to share their views, although it divided the dressing room at Lille.

At his unveiling, Roma director of sport Walter Sabatini described Garcia as "a synthesis of the coaches we have had [Enrique and Zeman] and those that could have been [Mazzarri and Allegri]." What he meant by that was a romantic and a realist, a dreamer and a disciplinarian. The right balance.

"My objectives and football philosophy," Garcia said, "are without doubt offensive, but I am well aware that in order to win a game you also need an excellent defensive base." In the last two years, his Lille scored the same number of goals as Roma [131] but only conceded 79 compared with 110. That's 31 goals fewer, a huge difference, the sort that, if replicated, could give Roma the edge they need to qualify for the Champions League again and even make them contenders for the Scudetto.

Sure, it's a big 'if' alright. A little like Arsenal, Roma have been more successful off the pitch under their new ownership, securing great commercial deals with Disney among others, kit deals with Nike while also finding a site for a privately owned new ground. All that's been missing are results on it. Garcia, though, has what it takes to change that.