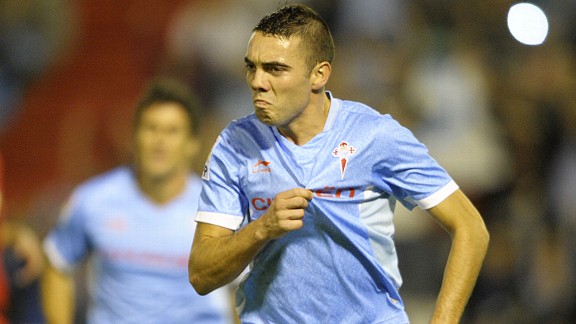 GettyImagesIago Aspas is expected to complete his move to Anfield shortly
When he was first revealed as an imminent signing, Iago Aspas' name surely conjured up Shakespearean thoughts among Liverpool fans. Their midsummer night's dream is that his winter's tale will be as they like it and, rather than a comedy of errors, all's well that ends well.

- Walsh: Rodgers can learn from past deals

As a lesser-known Spanish player of burgeoning reputation, his purchase comes from the Michu school of dealing. Aspas and Michu were teammates at Celta Vigo, and both have now been signed by a Premier League club after a single season in Spain's top division. The financial plight of La Liga's lesser lights makes rising stars easier to pick off, though £7.7 million is rather more than the £2 million Swansea landed Michu for.

The scouting reports suggest Aspas can be a tempestuous character -- rather like Luis Suarez -- but for those who need a rather more technical description, he is a forward who is happy to play across any of the front positions. This seems awfully familiar.

Suarez himself, future unclear, is such a player, as is the lesser-spotted £11 million flank-forward Fabio Borini. Daniel Sturridge, too, though far more comfortable centrally, has been employed across the front three during his peripatetic career. Philippe Coutinho, surely the No. 10 of the future, is a fine wide player. Blackpool's Tom Ince, a long-term target whose move back to Liverpool stalled over a buy-back clause, is another whose goal threat comes from a wide position.

No wonder Andy Carroll has been allowed so readily to leave -- it seems the Brendan Rodgers project requires an attacking player to be able to play on the wings. The roles known in Brendan-speak as the "seven-and-a-half" or "eleven-and-a-half" positions are lavishly stocked.

Last season's embryonic weeks saw Suso, another No. 10, played out wide, while Raheem Sterling manned the other flank with licence to cut in. Luis Alberto, of Sevilla via Barcelona B, is described as a Xavi/Iniesta type of player. Should he arrive, it would be no surprise to see him begin his time in red on the wing. There is also Stewart Downing, and even Jonjo Shelvey, while another target, Henrikh Mkhitaryan of Shakhtar Donetsk, plays in a position that looked meant for Coutinho.

Rodgers' apparent desire to repeatedly buy the same sort of player is by no means unique. Many a manager has had a particular type. Arsene Wenger has bought several diminutive and tricksy midfield ballplayers who can drift to the flanks. The lineage extends from Freddie Ljungberg to Robert Pires then on to Alexandr Hleb and Tomas Rosicky. Santi Cazorla fulfills that function nowadays, after the deflating balloon that was Andrei Arshavin's Arsenal career.

Sir Alex Ferguson always liked his wingers, regularly chopping and changing them. Central midfielders often found themselves out wide, too. The sight of Liam Miller and Kleberson chugging down the wings was not a pretty one, nor was it effective.

Prior to that, in an era when the position was less tactically important, Ferguson used to introduce new players to the team by playing them at full back. Paul Ince played the 1990 FA Cup final at right back. Lee Sharpe began his United career at left back before moving forward to become Ryan Giggs' prototype. Gary Neville was always supposed to be a centre half, but rarely played there. The same went for John O'Shea, who hardly played in central defence until being sold to Sunderland.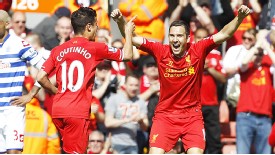 GettyImagesStewart Downing and Philippe Coutinho were both deployed in wide positions last season
George Graham lionised centre backs to the point of overindulgence -- 'Stroller' rarely left home without at least four in his Arsenal team. Martin Keown in central midfield was a regular selection, and Steve Bould played there on occasion. Sam Allardyce repeated this pattern at Bolton Wanderers. Fernando Hierro and Ivan Campo were a regular late-'90s defensive partnership for Real Madrid, but played the 2004-05 season as a central midfield pair for the Trotters.

There have been odder managerial fetishes. At Leeds United, Howard Wilkinson held a similar devotion to centre backs to those of Graham and Allardyce, but there was a twist. "Sgt. Wilko" seemingly decided he could only sign players from his Sheffield heartlands. Thus, the Elland Road faithful exasperated over the likes of Carlton Palmer, Jon Newsome, John Pemberton and Paul Beasley in Wilkinson's final seasons. His replacement -- which says much about the mid-1990s -- was none other than Graham.

Stuart Pearce, this summer's public enemy No. 1, was equally loathed last year when omitting Sir David of Beckham to pick three left backs in Team GB's London 2012 squad of 18. Pearce's position as a player was, by sheer coincidence, left back.

The above, with one exception, were all rather successful, but the conclusion to draw is that a certain type of manager finds it easier to work with a certain type of player. Rodgers' pressing need, however, is of far wider refreshment across many departments.

Jose Enrique and Glen Johnson hardly embody consistency at full back while, in the centre of defence, few can be convinced that Kolo Toure can replace Jamie Carragher when there are also doubts about Martin Skrtel. Sebastian Coates looks a sellable misfit too. Hopes for Andre Wisdom may have risen after his Under-21 showings, but he and Tiago Illori, another potential signing, are decidedly inexperienced. Apart from Daniel Agger, there are significant doubts about the department Graham, Allardyce and Wilkinson would never sell short.

Rodgers has numbers in central midfield and seems to want his trio to rotate their roles, yet continues to struggle to piece three of Steven Gerrard, Lucas, Jordan Henderson and Joe Allen together, having previously failed to assimilate Nuri Sahin.

Liverpool's defined aim is a return to the Champions League. Rodgers might want to think about a different kind of player if he is to get there. Measure for measure, an ever-expanding group of forward players who can drift from the wing to get into scoring positions will not be enough.