Confed Cup Preview: 5 storylines to watch


The Confederations Cup (June 15-30) is the ritual eight-team dry run designed to give the World Cup hosts the chance to iron out any kinks in their stadia and transport systems a year before the big show begins. The tournament pitches the hosts, reigning World Cup holders and six confederation champions (with Italy qualifying as Euro runners-up to World Cup holders Spain) into battle.

Neymar, Luis Suarez, Mario Balotelli, Xavi and Iniesta will be among those clashing in six Brazilian cities.

This is a competition best understood as the opportunity to see a movie's prequel a year before the blockbuster on which it is based is even released. The 15 days promise to be stuffed full of foreshadowing and subtle backstory-ing. Here are five storylines that make me salivate like a hungry hound:

1. Will Brazil flatline?

To be cheered by 70,000 home fans packed into Brasilia's Estadio Nacional Mane Garrincha would typically be perceived as an advantage for the home team ahead of its tournament opener. But for this Brazil team whose recent form has been distinctly lackluster, the weight of expectation may prove crushing. The Selecao have won just two of their past nine games, and Luiz Felipe Scolari, the coach who led the team to its last World Cup triumph in 2002, has been rehired with no discernible effect. Brazilian fans have let their voice be known, booing the team off the field without mercy.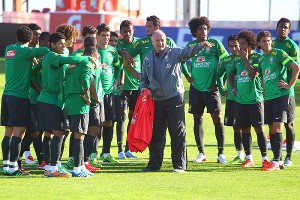 Lucas Uebel/AFP/Getty ImagesBrazil hasn't responded to Luiz Felipe Scolari, meaning home fans could grow restless at the Confederations Cup.
The Brazilians have landed in a robust opening-round group alongside Italy, Mexico and Japan. Regional rivals Uruguay and world champions Spain may await if they reach the elimination stages. Scolari has picked a squad which veers young and homegrown, ignoring the respective claims of aging legends Ronaldinho and Kaka. Brazil's success or failure will be one of the major footballing storylines of the tournament.

While a slump to No. 22 in FIFA's rankings can be explained away by the lack of competitive matches the team has played since 2011's Copa America quarterfinal, there will be no place to hide if it wilts now. To avoid recriminations both immediate and brutal, it is critical the team offers a nation reasons for optimism.

2. Can Europeans conquer the New World?

No European team has won the World Cup on South American soil. In an attempt to rewrite history, both Spain and Italy are bringing first-choice squads in the hope they can acclimate their stars to the idiosyncratic Brazilian terrain.

Spain's Vicente del Bosque has called up every diminutive Barcelona midfielder at his disposal, adding Arsenal's Santi Cazorla, Chelsea's Juan Mata and Manchester City's David Silva to Xavi, Iniesta and Fabregas. Xabi Alonso will be missing through injury, but if the reigning World Cup and Euro champions qualify early from a group containing Tahiti, Nigeria and Uruguay, expect to see del Bosque experiment with his striking options by testing Valencia's Roberto Soldado, as well as David Villa and Fernando Torres.

The Italians hope to learn from a dismal 2009 Confederations Cup experience in which they were shocked by Egypt and crushed by Brazil. Those losses foreshadowed their flaccid 2010 World Cup opening-round demise, but as Euro 2012 suggested, new coach Cesare Prandelli has re-engineered his squad and will hope cunning veteran Andrea Pirlo can pluck the best out of young, emotional attacking talents Mario Balotelli and Stephan El Shaarawy.

3. Can Mexico and Japan prove their dark-horse threat is real?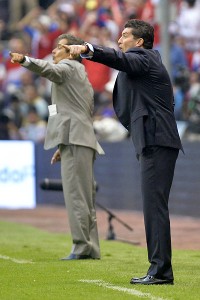 Omar Torres/AFP/Getty ImagesBehind a gold medal and an aggressive style, Jose Manuel de la Torre's Mexico hopes to make waves at the Confederations Cup.
The Mexicans qualified by sauntering through the 2011 Gold Cup. At the time, they appeared to be one of the football world's vaunted powers on the rise. The grind of CONCACAF World Cup qualifying has since proved humbling. Coach Jose Manuel De La Torre will look for his side to make a statement by summoning the aggressive footballing style he favors and build on the nation's gold medal at the London Olympics.

The Japanese became the first team to qualify for World Cup 2014, after last week's 1-1 draw with Australia. Keisuke Honda's penalty in the dying seconds made him the hero, and with rumors surrounding a possible move away from CSKA Moscow for the playmaker, he should be eager to impress. With Manchester United's Shinji Kagawa alongside him, the Japanese will be interested in gauging just how far their bold brand of pass-and-move football places them behind the world's elite.

4. Can Tahiti score a goal?

Oceania Confederation representatives, tiny Tahiti, will hope to provide the tournament's Bad News Bears moments. Ranked 138th in the world, the Warriors of Steel have only one full-time professional on their squad and will send out a team consisting of salesmen, office workers and school teachers to face Africa Cup of Nations champions Nigeria, World Cup and Euro winners Spain and Copa America holders Uruguay.

Coach Eddy Etaeta harbors no illusions about the magnitude of the task that awaits his team, telling me, "Our wildest dream as a team is to score a goal."

5. A taste of things to come

The mire of politics, corruption and chaos ensnaring tournament preparations has been a rubbernecker's delight as construction has been sensationally off schedule and over budget. The few stadia that actually have been built appear to be public safety hazards tarnished by collapsing roofs and judicial closures.

As soon as the Confederations Cup kicks off, all of this should change. Though transport and telecommunications networks may still remain unreliable, in-stadia, early ticket sales indicate this should be the most popular Confederations Cup of all time. The passion of Brazilian soccer fans packed into refurbished stadia, including Rio's legendary Maracana, should be contagious.

In addition to Rio, prepare to be dazzled by the beauty of such venues as Salvador, the city of the Holy Savior of the Bay of All Saints, and Fortaleza's Castelao Stadium, which has been compared to a "a giant sea anemone" when glimpsed from the air.