Suddenly, El Shaarawy becomes expendable for Milan
Opening up his jacket, Milan chief executive Adriano Galliani withdrew a pen from an inside pocket and handed it to Stephan El Shaarawy, who was to use it to sign his name on a contract that would run through 2018.

It was the last day of February this year. Four days earlier, the 20-year-old had scored in a 1-1 draw against rival Inter in the Derby della Madonnina. It was his 21st goal of the season for club and country in all competitions. He had scored 16 in Serie A alone. At the time, only Napoli striker Edinson Cavani had more league goals.

There was absolutely no doubt about it. The first half of the season in Italy belonged to El Shaarawy. Without him, where would Milan have been? Outside the relegation zone on goal difference in October with only seven points from eight games, Milan was placed on his young shoulders, and he led them into the Champions League places.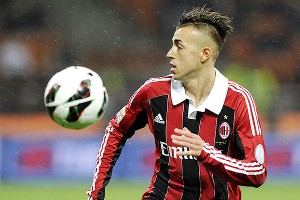 Claudio Villa/Getty ImagesStephan El Shaarawy was on top of the world in February, but a weak second half and possible change of formation has Milan open to dealing him.
It was only fair that the club offered to nearly double his wages. El Shaarawy had earned it. Remember, many were skeptical about Milan's new direction, their Year Zero, after the painful but necessary cuts they had made the previous summer, selling their best players, Zlatan Ibrahimovic and Thiago Silva, and allowing several veterans who'd made history at San Siro to leave. This was an age of austerity unheard of in Silvio Berlusconi's 26 years at the helm.

Could Milan really live within their means and remain competitive with a younger, less experienced team? El Shaarawy had shown that, yes, they could. Together with coach Max Allegri, he had validated this monumental shift in policy and managed to get the fans behind in it, too. Milan had reason to be grateful. They could push ahead with it.

Before El Shaarawy's renewal, Berlusconi announced on Radio Kiss Kiss: "We're monitoring the 100 best young players in the world. Our scouts have been given the brief of examining athletes between the ages of 18 and 21."

Linked with Didier Drogba at the time, he dismissed the speculation on the basis that the then-Shanghai Shenhua striker fell "outside this policy we've set ourselves." Mario Balotelli didn't. He fit the profile and was signed instead. Milan were establishing a new identity.

So it comes as something as a shock then that only 3½ months after describing El Shaarawy as "ultra tied-down" and that "Milan, having cut the payroll, will no longer need to sell its champions," Galliani was telling reporters Tuesday not entirely the contrary, but close enough to it.

"The player we've received the most requests for," he revealed, "is El Shaarawy. I don't want to say that he is unsellable because this word is difficult to pronounce in modern football. Many years at Milan have taught me that anything can happen."

Supporters have learned as much. In the past they've been told Andriy Shevchenko, Kaka, Ibrahimovic, Silva and even Alexander Pato wouldn't be sold, only for precisely that to occur a year, six months or just a few weeks down the line. With each of those cases still a recent memory, perhaps this shouldn't be too much of a surprise.

It is, though, when only in May, one of the reasons Berlusconi thought Allegri didn't "understand s---" about football -- at least according to a phone call that Giorgio Squinzi, the Sassuolo owner and Confindustria chairman claimed to have had with him -- was his occasional benching of El Shaarawy toward the end of the season.

What a turn of events then that Allegri, whose future was so uncertain for months, is staying and El Shaarawy might not be. One could be an unanticipated byproduct of the other. Here's why.

At the beginning of June, a summit was held at Berlusconi's Arcore estate. It was over dinner there that Allegri was told he'd still be in charge of Milan next season. "We reached an agreement over the rights and obligations of the club to the coach and of the coach to the club," Berlusconi announced in a statement. "We also talked about the type of game that Milan will have to play next season and drew up the guidelines for the transfer market."

Although Galliani has denied speculation that Berlusconi made it a condition to which Allegri has to adhere in order to keep his post -- "it's not a diktat from the president," he said -- it was decided Milan will go back to playing with a trequartista next season, a flair player between the lines of midfield and attack. An agreement has been in place since the spring for Empoli's promising Italy under-21 international Ricky Saponara to fill this role.

What this means is a move away from 4-3-3 and the return of the 4-3-1-2 Milan used in Allegri's first two seasons, albeit with a different nuance. That will be provided by Saponara, a player likened to Kaka, who is closer to a classic No. 10 than the unorthodox interpretation of the role taken by Kevin-Prince Boateng -- an incursore, someone adept at timing late runs into the box from deep.

And why exactly might this be an issue for El Shaarawy? Well, perhaps because it doesn't suit his characteristics.

Allegri settled on a 4-3-3 last season after experimenting with a number of systems because it seemed to be the one that balanced the team best, and by the same token allowed El Shaarawy to express the broad range of his talent. Deployed on the left of the front three, he could cut inside and get a shot away when in possession, then track back to act as an auxiliary full back when out of it.

In a 4-3-1-2, there's a sense El Shaarawy would have to play more in the middle. As he's neither a No. 9 or, some would argue, even a second striker, but more of an outside forward, that well could prove problematic for him. But is this really the case?

Milan signed El Shaarawy when they played this formation and he did OK within it. He didn't start or score often (though when he did, his goals were important), but that was more because it was his first season in Serie A, and Robinho or Pato were ahead of him in the hierarchy to partner with Ibra.

"I can play in more positions," he told La Repubblica earlier this week, "at the limit also behind a centre forward."

Couldn't Milan play 4-2-3-1 instead of a 4-3-1-2 with a fit-again Nigel De Jong holding alongside Riccardo Montolivo; El Shaarawy out left; Saponara in the middle; and, say, Torino's Alessio Cerci on the right, with Balotelli up top?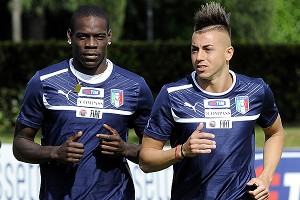 Claudio Villa/Getty ImagesMario Balotelli and Stephan El Shaarawy clicked on the national team, but the former took over most of the scoring when he joined Milan.
Another point of inquiry with El Shaarawy is whether the disappointing second half of the season he endured has anything to do with Milan's preparedness to listen to offers. As it turned out, the goal against Inter that preceded his contract renewal also was his last of the season. He had scored only once in eight games prior, and is 13 without another one now.

Some have noted that the arrival of Balotelli in the spring coincided with El Shaarawy's downturn in form. One of the reasons Milan signed him was the promise his partnership with El Shaarawy had shown in a friendly between Italy and France. Balotelli set him up to score that November night in Parma. "Faraone + Balo: Italy lose [2-1] but they have a future," was La Gazzetta's headline the following day.

Balotelli, though, has done nearly all of the scoring since they started playing together at club level. Is that because they don't mesh as a pairing? There's an element of that, but more perhaps should be made of how opponents began to wise up and double up on El Shaarawy, too. That came at a time when the physical and mental grind of a first full season as a regular in Serie A -- one in which he'd dragged not just any old team but Milan by himself -- really started to catch up with him.

El Shaarawy described San Siro as "like a buffalo breathing on you for 90 minutes. You feel it a lot on the pitch. So you know what I do? Simple: I put my foot down. I go a thousand miles an hour. I chase every ball because at the end of the day this is what the fans want."

Tendinitis in his knee meant El Shaarawy couldn't do that as much as he had at the beginning of the season, when there were few or no expectations. Now there were many to shoulder. He'd raised the bar.

There was also the suggestion that, satisfied with what he'd done up until the spring, El Shaarawy eased off, rested on his laurels a bit, and passed the baton to Balotelli. Whether that's true is beside the point. He's young and has shown great potential. Milan must recognise that. And rest assured they do. But they also see an opportunity. El Shaarawy's value has more than doubled since Milan paid Genoa 15 million euro for him. Interest, according to Galliani, is high. La Gazzetta claims Manchester City are particularly keen.

Perhaps unwilling to spend 63 million euro on Cavani or whatever figure it'd take, plus, say, Edin Dzeko to get a deal done after already splurging more than £50 million on Fernandinho and Jesus Navas, City's interest in El Shaarawy, at least according to those who give credence to the talk, explain it in terms of him being a cheaper and younger alternative to the Napoli striker. He does, after all, play in a similar area on the pitch, has scored prolifically and offers the same work-rate down the left.

Milan's rationale here is just as interesting. Unlike a year ago -- when after posting losses of 70 million euro in 2010 and 67 million euro in 2011 they needed to sell players to balance the books and more or less did so -- their most recent set of accounts show the club is now quite remarkably only 6.9 million euro in the red, and they are no longer required to make the same sacrifices.

However, with Berlusconi supposedly unwilling to loosen his purse strings, Milan will have to sell to buy. As El Shaarawy is the player capable of fetching the most money -- even as much as 40 million euro, according to La Gazzetta -- parting with him would in theory allow Galliani the room to maneuver to bring in three or four new players and rework the team ahead of the system change.

Amid all of this, the name of Carlos Tevez has re-emerged. Galliani laid a lot of the groundwork for this, famously meeting the player and his agent, Kia Joorabcian, in Rio and in London, through winter 2011 and into spring 2012. The deal then was contingent upon Pato joining Paris Saint-Germain. Berlusconi vetoed it, and that, it seemed, was the end of that.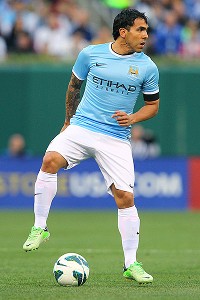 Dilip Vishwanat/Getty ImagesMilan might be better off sticking with Stephan El Shaarawy rather than waste time courting Carlos Tevez.
That is, until Juventus apparently started thinking of him recently as an alternative to Stevan Jovetic and Gonzalo Higuain. Reacting to those reports, Galliani showed journalists a text message from Joorabcian, which in turn made the Milan chief exec confident enough to say: "Tevez won't betray me."

Ever since, Italy's papers have discussed the merits of exchanging El Shaarawy for Tevez and 25 million euro in cash, which then might be spent on a midfielder such as Andrea Poli and either Alessandro Diamanti or Keisuke Honda.

Wouldn't it be better, though, to keep El Shaarawy and instead work harder on getting Santos to push some of the Neymar money Robinho's way and, if a trequartista with fantasia is what Milan need and they want a mentor for Saponara like Diamanti, then offload Boateng, too? Tevez is 29, and though he doesn't quite fall outside Milan's policy as Drogba did, he's not far off. Even if, as expected, he were to take a paycut from 8 million euro a year to 5 million, he'd still earn far in excess of what El Shaarawy does now.

This isn't to dispute Tevez's quality as a player. Rather, it is to question how serious Milan are about investing in and developing youth. To be fair, they can point to Balotelli and to how Mattia De Sciglio has broken through. Bryan Cristante, a kid they're really excited about, will replace the outgoing captain Massimo Ambrosini in midfield. Then there's Andrea Petagna, another academy graduate, who will stand in for Giampaolo Pazzini while he's out injured.

Still, it'd be a shame if El Shaarawy were to be sold so soon after being proclaimed the new symbol of Milan. He doesn't believe he will. "I really don't think that I'll leave," El Shaarawy told La Repubblica. "If it's true City want me, it's flattering. But I want to stay at Milan."

The question is: Will he get his wish?