Confed Cup Team Preview: Spain
Xavi Hernandez and Andres Iniesta have, separately, given their interviewer what's called an "old-fashioned look" -- as if to say, "Are you off your head?" -- when asked whether it's a bit of a pain to be in Brazil on FIFA duty this summer. Iker Casillas is immensely hungry to be back in action after 136 days either injured or on the bench, and David Villa needs, craves and lusts after the kind of goal-scoring form that has made him an all-time legend. This, far from the tough times he's had at the Camp Nou, might be just the opportunity he requires.

Frankly, if this Confederations Cup didn't exist, Spain would have to invent it.

Raul Albiol has revealed that the friendship between Casillas and Alvaro Arbeloa (league winners in the same back four last season, World Cup winners together, stalwarts in the Euro 2012 victory) "has cooled off quite a bit" because of Jose Mourinho's behaviour toward the Real Madrid goalkeeper.

Two years ago, at the height of the Clasico nastiness, Spain set sail for summer games in the United States, and I predicted that being reunited in the red jersey of their international team would be an immense palliative. Madrid and Barcelona players would stop seeing "enemies" and unite behind one cause. They did.

Now here we are, a year on after they successfully did so again to win the European Championship in Ukraine and Poland, even with Mourinho's poisonous effect still polluting things in Vicente del Bosque's dressing room.

"There was once a critical moment when I was worried for the harmony in the group, but we knew how to get over it," Iniesta said this week. "Mourinho has damaged Spanish football, done more bad than good."

So, far from tribal rivalries and joined at the hip for the next few weeks in the United States and Brazil, this is the time when fractious relationships will heal -- or fester. The Confederations Cup could be the making or breaking of Spain's final push to qualify for the World Cup. You know which way I think it will go.

Spain already defeated Uruguay with some flair earlier this year in Doha, Qatar, but recent games against rivals from this side of the globe -- Argentina, Mexico, Chile, Costa Rica -- have proved stern examinations for the world champions. The fact that their first Confederations Cup group game is against a potentially threatening rival (rather than, say, Tahiti) means they have a proper test of mentality.

Should Spain go through their group, there is the tantalizing prospect that they might face Italy, still a bête noire team despite the 4-0 scoreline in the final of Euro 2012, or, better still, Brazil -- the one major team La Roja hasn't faced during this seven-year cycle of greatness.

"I don't understand how anyone could ask whether we can be bothered with what some call a 'minor' tournament" Iniesta said. "I think that's a crazy idea. Personally, I'm filled with enormous pride to be playing for my country in Brazil, one of the world's football-obsessed nations.

"What's more, this is a trophy which we didn't win last time we were in it, have never owned, and I think all of us will be giving everything to try and get our hands on it."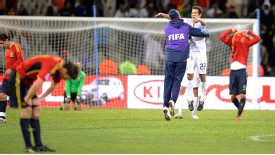 GettyImagesA 2-0 defeat to the U.S. in the last Confederations Cup is a big motivation for Spain.
Another point is that during the last Confed Cup, when the United States comprehensively caught Spain out with a well-constructed, if robust and one-dimensional, style of play, Del Bosque and his staff learned a great deal. It hurt them, badly, to be eliminated in Bloemfontein, South Africa, to goals from Clint Dempsey and Jozy Altidore. But they also learned that they didn't like life in Rustenburg, abandoned it for the following summer and adored their training camp in the little university town of Potchefstroom while winning the World Cup.

Brazil is equally as huge and diverse as South Africa, and this summer will be a dry run for how Spain wish to live and travel should they qualify to defend their world crown in a year. Don't think that's important? I spoke with the players on the subject. They most certainly do.

A couple of months ago, interviewing him for my next book, I asked Del Bosque what his feelings were toward having yet another tournament summer -- by next year they will have competed year-round in six of the last seven seasons -- and he made things quite clear. "We didn't enjoy the experience of being beaten last time," he said. "We want to put that right this year, and we want to lay down a marker for the World Cup."

Whatever baggage they are carrying, however weary some limbs might be, Spain are here to win.

Tactics
There will always be subtle variations, and when so many of the pack are trying to haul you down, there has to be the odd surprise up Del Bosque's sleeve. But not one player on this squad would vote for any significant change in tactics. Front foot, play to win, keep the ball, defend via possession, look to be fresher than the opponent in the key minutes just before the break and the end of the match -- it's worked quite well so far.

As far as the details are concerned, Spain have largely opted for a 4-3-3 under Del Bosque, but if Torres and Villa are fully restored, reverting to a 4-2-3-1 is a serious option, particularly given the rise of Javi Martinez.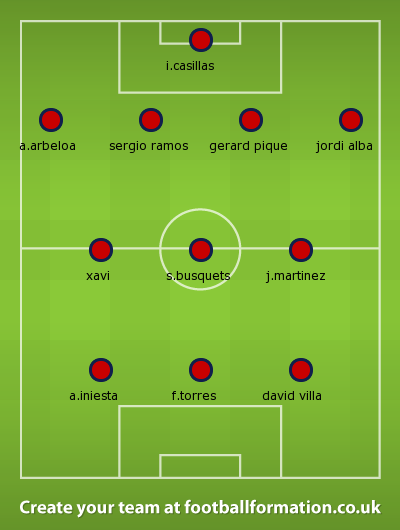 Other / footballformation.co.uk


Alternatively - Casillas; Arbeloa, Ramos, Pique, Alba; Xavi, Busquets, Martinez; Iniesta, Torres, Villa (4-3-3).

Measure of success
Just to repeat, this isn't a toy tournament. Part of the secret to their dominance since 2006 is the squad's winning mentality. They remain hungry. If you ask Casillas, Del Bosque, Iniesta, Xavi, Fernando Torres or Sergio Ramos what his measure of success is, he'll say "lifting the trophy." But there are others.

They will want to get out of the group and tilt at Brazil or Italy. Beating Brazil, in Brazil, would send out an important message to the rest of the chasing pack in world football.

Del Bosque will want to see to what degree he has his two front-line strikers, Torres and Villa, back in harness. He'll check harmony, hunger and football health. He'll watch closely how Nacho Monreal, Cesar Azpilicueta and Roberto Soldado, all at their first major senior tournament, react to the test -- on and off the pitch.