The stark reality of preparations in Brazil

RIO DE JANEIRO -- There will come a point Saturday when the whistle will be blown, the ball will be kicked, and Brazil will take its place as the yearlong epicenter of the soccer world.

The opening of the men's Confederations Cup will officially launch the one-year countdown to the World Cup. Politicians will smile, shake hands and pat themselves on the back. Fans will cheer. All around the world, images of samba, sunny beaches and postcard-perfect sunsets will sell the idea that, for the next year, Brazil is soccer heaven.

But beneath the surface, many Brazilians are plagued by frustration and worry. It has little to do with the plodding six-year struggle to get the World Cup stadiums built or the seemingly endless stream of headlines about this missed deadline or that security fear. Instead, it has to do with a lack of belief.

In 2007, when FIFA awarded Brazil South America's first World Cup since 1978, there was a sense of hope. The people of this country, long slowed by alleged corruption and bureaucracy, believed in the talk of new roads, subways and sports facilities that would strengthen their infrastructure and better their future. They believed that becoming the center of the sports world for three summers -- hosting the Confederations Cup, World Cup and 2016 Olympics -- could boost their burgeoning economy.

But now, it seems, Brazil has gotten in its own way once again. Many of the civil projects that once were promised, including plans for new subways, monorails and highways, have been scrapped or altered. Instead, much of the focus has shifted to the stadiums. Refurbishing of Rio's Maracana Stadium alone will cost taxpayers close to $600 million, nearly double what was originally budgeted.


---
More Coverage
- Drehs: Spotlight on Neymar
- Vickery: The countdown begins
- Exclusive: Duarte interviews Carlos Alberto
- Stark realities of preparation in Brazil
- Pele interview, video
- ESPN Brazil's Paulo Coelho on Confed Cup
- State of the Selecao
- Rafa Ramos on El Tri
- ESPN Argentina: Dreaming of Messi
- Macintosh: Brazucas, Belgians, and Brazilians at Barca
---
Throughout Brazil, World Cup preparations have become a punch line. When locals find themselves trapped in snarling traffic, slowed by airport delays or soaked by flooded streets, they look at each other, throw up their hands and say, "Imagina na Copa." Translation: "Imagine the World Cup." There's even a beer commercial using the popular phrase.

"We have the opportunity to grow our country, not only inside the field but more importantly outside the field," said Pele, the Brazilian soccer legend. "Soccer and football will always be Brazil. But the administration, the economy, the government, this is something that we could change for the better. But like many other people, I worry that we won't take advantage of this opportunity."

Many in Brazil have been particularly critical of FIFA, including Rio Mayor Eduardo Paes. While discussing plans for an expanded bus system, a subway system and four new highways with the Guardian this week, he insisted, "The World Cup has nothing to do with legacy. FIFA don't care what happens to a city, but the IOC do. For FIFA it is just, 'How is the pitch?'"

In February, former Brazilian star Romario, who helped his country win the World Cup in 1994 and now serves as a congressman and member of Brazil's tourism and sports commission, wrote a guest editorial for Folha de Sao Paulo, one of the top newspapers in Brazil. Romario opined: "After traveling around the world and participating in so many international championships, I can assure that a country is only good for tourists if it is good for its own people first. Today, I can't imagine a problem that will make the World Cup unfeasible, but I'm sure Brazilians will be disappointed as they see that a great opportunity to make the country a better place to live passed by."

Ana Paula Shalders shares these frustrations. She's three years away from the biggest challenge of her life. As one of the country's top diving coaches, she is pushing young girls morning and night in an effort to give her country a performance it can be proud of for the Rio Olympics. Yet in April, her training ground was ripped away from her when it was announced that the Olympic-sized pool and diving well attached to the Maracana would be leveled to accommodate a parking lot and entertainment center as part of a controversial plan to modernize and privatize the area surrounding the legendary stadium.

The announcement left her scrambling to find a pool where her divers could train. Though a recent lawsuit has temporarily stopped plans for demolition and the fate of the pool is still unknown, the fight has been grueling.

"It shows the leaders don't truly care about sport," she said through a translator. "They don't care about the legacy for our country. They just care about the politics involved and the money they are going to put in their pockets. It's about business, not about sports."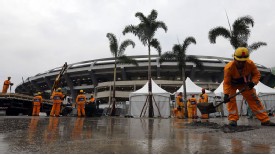 GettyImagesCertain facilities at the Maracana Stadium are reportedly not yet finished.
One can't help but wonder what sort of message this sends to Olympic hopefuls such as 16-year-old Dayiane Couto, who for the past two years has woken up at 4:30 nearly every morning to take a 90-minute train to Rio so she can train at the Julio Delamare Aquatics Park next to Maracana. Now, she said, she feels as though her country is telling her it has all been a waste.

"I feel like I am nothing," she said. "Like, 'OK, we don't need you.' They are choosing one event over another instead of making it work for both of us. They didn't need to do that. I don't understand. They could have built another facility, found another parking lot, tried another solution. We are having the Olympics here, and they don't want to invest in us."

A few days after the April closing of the pool, Shalders wasn't surprised to see Brazilian President Dilma Rousseff on television raving about her country's preparation for the Confederations and World Cups while proclaiming that this is a critical moment in her country's history. When she flipped the channel, she saw news reports from Sao Paulo, where the mayor of the city, the governor of Sao Paulo state and the Brazilian sports minister all stood in front of the new Itaquera sports complex that will host the World Cup opener and similarly boasted that everything will be amazing.

"When I see the president on TV, I feel she is selling an image for people outside of the country," Shalders said. "People in the country don't believe in this anymore. They are just trying to sell something that we know is not true. Maybe they don't know the reality. Maybe she doesn't understand what it's like on the ground. But it seems they are trying to sell something for the people who are not here because the people who are here don't believe this anymore."

That's because it's all too familiar. In 2007, when Brazil hosted the Pan Am Games, there also was talk of legacy and bettering the country. But little changed. Rio's Engenhao Stadium, built for the Pan Am Games just six years ago, was closed last month amid fears that the roof could blow down in heavy winds. Officials have said it will need 15 to 18 months of repair to be ready for the Olympic Games. And the Maria Lenk Aquatic Center also has been closed for repairs and preparations for Rio.

"It was a beautiful place, and then it started cracking," Shalders said. "I've never trained there, but I've been there to shoot a commercial. Three commercials, in fact. Like I said, it's about business. Not sports."

Only two of the six Confederations Cup stadiums were ready by the December deadline originally established by FIFA. A warm-up friendly against England at the Maracana last month was temporarily canceled when a Brazilian judge ordered the match couldn't take place because it was still in a "construction phase." That ruling was later reversed after government officials submitted a technical report that had been missing. They categorized the temporary cancellation as a bureaucratic error.

On the night of the first match at the refurbished Maracana, Rousseff raved. Brazilian star Ronaldo, a member of the organizing committee management board, grabbed the microphone and said to the construction workers: "You've been heroes. This stadium is beautiful and marvelous. Congratulations to you all." But the local media noted uneven floors, broken elevators and walls that were still under construction.

A spring poll by Folha revealed that 70 percent of Brazilians were excited about the World Cup and thought hosting the tournament was a good idea. In the same poll, 70 percent of Brazilians also believed corruption would plague the tournament's legacy. Such is life in this soccer-crazed country. The locals might no longer believe the tournament will help their future, but that doesn't mean they wish it would go away.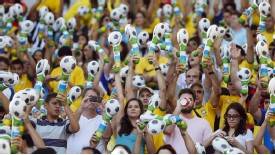 APThe mood among the Brazilian population is mixed in regard to the developments being made ahead of the Confederations Cup and World Cup.
"I love soccer," Shalders said. "I'm so excited about the World Cup coming here. But for my professional life, soccer is a nightmare. We keep saying we're going to use sport to improve the country, but all I see is us walking backward."

Even those who are paid to say and do the right thing hint that they are unsure how this will all end up. Carlos Pepa has worked on the construction site at Itaquera since its inception. He has appeared in commercials and proudly gives tours of the stadium that will soon feature the largest outdoor television screen in the world, bigger than even Cowboys Stadium. He smiles when he talks about the classroom his construction company has built to teach math, language and cooking skills to the stadium's workers and their families. But when pressed if Brazilians will look back on the World Cup in 10 years and believe that this was all a good idea, he shakes his head and holds up both hands. He doesn't want to go there. He can't go there. Instead, he changes the topic and talks about what the project means personally.

"It's something I will have with me forever," Pepa said through a translator. "I'm very proud of this. I will tell all my children that I helped build this stadium."

Seemingly every day, there is another story about a deadline missed or a project that must be altered. According to multiple Brazilian media reports, plans to add bus lanes, trams and monorails in several Brazilian cities -- including Brasilia, Sao Paulo and Salvador -- have been postponed until after the World Cup, leaving many to wonder if they will ever happen at all.

It all has many Brazilians pondering not what will be but instead what might have been.

"When you have problems in the political administration, then you have problems with the people," Pele said. "When you have problems in the school to give a good education to people, then in the future you have a problem because you've grown bad people. This is the problem in Brazil.

"I ask God. I say, 'Listen, please, everybody says for a long time that Brazil is the country of the future. Always. Brazil is rich. Brazil is big. Brazil is the future.' After this tournament and these events, I want to hear, 'Oh, Brazil is not the country of the future.' I want to hear, 'Brazil is now.' But I have some concern. I don't know if this is going to happen. I hope we will get this right."