Italian semifinalists owe much to Zdenek Zeman
Memories of the breathtaking 1990 World Cup debut for Italy's Salvatore "Toto" Schillaci are still fresh for many, even though more than 23 years have passed since he took to the pitch at the Stadio Olimpico as a goalless stalemate against Austria drew to a close. Two minutes later, he headed home the stunning winner and went on to become the tournament's top scorer. What an astonishing story that was!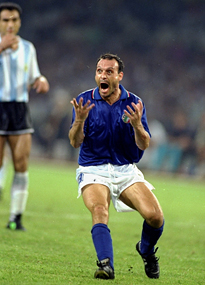 GettyImagesSalvatore "Toto" Schillaci celebrates one of his six goals at the 1990 World Cup in Italy.
Largely unknown outside Italy before achieving that feat, Toto was also totally anonymous in his own country just two years prior to the World Cup. When the 1988-89 season started, he was just another below-average striker in Serie B and had spent his entire career to that point at tiny Messina. At the age of 23, his future didn't seem to be promising. Then Zdenek Zeman came along, and suddenly Schillaci understood his real potential and began to fulfill it. Toto couldn't change his Sicilian accent, but in football aspects his transformation was surreal. He bagged 23 goals that season, half of Messina's total in a very defensively minded league, and Juventus were quick to sign him.

The rest is history -- as Toto's six goals in the '90 World Cup helped the Azzurri finish third on home soil -- and the whole of Italy should be thankful to Zeman for his gift, probably the first big one by the charismatic Czech-Italian specialist, but most certainly not the last.

- Scout's Notebook: Sarabia to the fore

Much has been written about his attacking tactics and unorthodox training methods, with emphasis on exhausting physical preparation, but Zeman's best talent is spotting talent in his players. You can see the results of his work this month, too, as no less than four stars of manager Devis Mangia's Azzurrini semifinalists at the European Under-21 Championship in Israel are flourishing thanks to Zeman.

Lorenzo Insigne, who scored the sublime free-kick winner against England, owes his whole career to Zeman. Insigne hopes to be fit for the semifinal clash with Netherlands on Saturday after taking a knock in the game versus host Israel last week.

At the age of 18, Insigne achieved nothing during a loan spell from Napoli at third-division Cavese. At 19 years old, the Partenopei loaned him to Zeman's Foggia, then also in Lega Pro Prima Divisione, and suddenly the small forward burst into life, scoring 19 goals and setting up an incredible number of chances for his teammates. One of those colleagues, incidentally, was Marco Sau, who netted 20 times and never stopped scoring, earning his national team debut during an outstanding season for Cagliari last term. Another Zeman pupil to add to the long list.

The Czechoslovakia-born coach joined Pescara in the summer of 2011. Insigne happily joined him there and teamed up with Marco Verratti, a local lad and deep-lying Pirlo-style playmaker, and Ciro Immobile, a burly centre forward loaned from Juventus. None of them were known to the Italian fans before, but the trio went on to produce some the best football Serie B has ever witnessed. Pescara topped Serie B and secured promotion while scoring a stunning 90 goals in 42 matches.

Insigne was unstoppable, netting 18 times and assisting a similar amount. Immobile was crowned the league's top scorer with 28 goals to his name -- not bad for a guy who found the net just twice in the previous season. Verratti was so outstanding that Juventus and Paris Saint Germain fought for his signature for a long period, before the youngster chose to work with Carlo Ancelotti in Paris instead of learning at the side of the star whose place in the national team he is supposed to inherit, Pirlo.

Zeman turned them into legitimate stars. All three are now part of the Italy U21 squad, while Verratti and Insigne have already made their debuts for Cesare Prandelli's senior side. It must be said, though, that none of them managed to produce the kind of form they experienced under Zeman's guidance a year ago.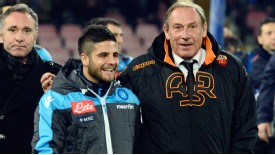 GettyImagesItaly Under-21 forward Lorenzo Insigne smiles with his mentor Zdenek Zeman.
In the meantime, the great mentor fulfilled a cherished dream of his own in the summer of 2012 and rejoined Roma, writing "Back to the future" on his Facebook page.

Quite tragically, the veteran coach was never given the full backing of the Giallorossi board and was sacked in February, but until then he was still able to polish another rough diamond, Alessandro Florenzi, into national-team form. The Roman-born midfielder impressed Zeman during his loan spell at Serie B Crotone during 2011-12, so the coach immediately requested the player be returned to the club and promoted the youngster directly into the starting lineup, partly at the expense of Daniele De Rossi.

Florenzi scored in his second game for Roma, a 3-1 win over Inter at San Siro, and never looked back. By November, he had already earned a first call-up from Prandelli. Florenzi's form suffered a bit after Zeman was sacked, and there is little doubt Florenzi never wanted to be parted from his mentor, but the future still looks very bright for him.

When looking back, the number of Italian stars brought up by Zeman is sensational. During his first, very famous, spell at Foggia in the early '90s, he turned Giuseppe "Beppe" Signori into one of the best natural goal scorers in Europe, and the redheaded striker topped the Serie A scoring charts three times at Lazio while playing an instrumental part in Arrigo Sacchi's Italy team that reached the 1994 World Cup final.

That summer, Signori was glad to be reunited with Zeman at Stadio Olimpico, where the Czech-Italian guided a local kid by the name of Alessandro Nesta as he took his first steps in the league. After moving to Roma in 1997, Zeman helped Francesco Totti to become a superstar. Er Pupone scored 13 Serie A goals in his first five Serie A seasons combined. Under Zeman, he matched this total in a single season, and shortly afterward received his first cap for Italy.

Marco Delvecchio never had a season with more than 10 goals until he met Zeman, then netted 18 times in 1998-99 while also getting a call to the national team, where his goal against France during the Euro 2000 final so nearly proved to be a winner.

When working with lowly clubs during the past decade, Zeman continued to influence young talents. AC Milan and Italy midfielder Antonio Nocerino, for example, said that the coach played an extremely important part in his career development when they worked together at Avellino. This list can go on and on, especially if we mention non-Italians who took advantage of Zeman's advice, such as Mirko Vucinic at Lecce.

Zeman is now 66 years old and out of work after negotiations regarding a possible return to Pescara fell through. His knowledge is wasted, and it is high time for someone to take a gamble on the chain-smoking genius, whose tenure would invariably include stunning attacking moves and bizarre goals conceded at the other end.

And it's not just the fans who need the entertainment that Zeman's teams always produce. Italian football needs him to unearth another Schillaci, Signori, Totti or Verratti. While watching the Azzurrini have a great time in Israel, think about Zeman. His contribution has been massive, and if Italy win the title, it will partly belong to one of the most important coaches of our time.