Confed Cup Team Preview: Mexico
Mexico has always been a bit of an international wild card. The squad has often been inconsistently brilliant, tending to be inspired by its opposition. Right now, in CONCACAF qualifying, Mexico is in full Mr. Hyde mode and not looking at all like a team that can mount a credible challenge for the Confederations Cup trophy.

Why they'll win

Yet it wouldn't be shocking to see them flip a switch and morph into a Dr. Jekyll with clinical finishing. After all, the squad boasts Manchester United's own Javier "Chicharito" Hernandez at forward. When he's clicking, he can score goals in bunches. In his own way, fellow striker Aldo de Nigris can also be very effective, especially if given good service for header goals.

Other key contributors, such as winger Andres Guardado and Giovani dos Santos, also have European experience and are unlikely to be intimidated by the prestigious competition at the Confederations Cup. Dos Santos doesn't have the midfield creativity to match Italy, but he's capable of some good play, though he's often kept under wraps by the team's coaching staff.

One particular bright spot for the team of late is its defense, which has been so organized and effective that Mexico is unbeaten in 2013 in all friendlies and qualifying matches. Jesus Corona has emerged as the first-choice keeper and has been stellar.

Why they won't

However, a team needs to score goals to be victorious, and that's where Mexico has stumbled recently. Service to the forwards has been lacking. Perhaps that is why, given their paltry chances, the strikers have seemed desperate and consequently off-target.

Fans in Mexico have focused their displeasure on head coach Jose Manuel "Chepo" de la Torre. He hasn't revealed himself to be a great tactician or an effective motivator. Both skills will be crucial in a high-level tournament.

Measures of success

Mexico has won the Confederations Cup once, but to do so again would be the pinnacle of success. In fact, a trip to the final might be the only thing to save de la Torre from getting the axe upon the team's return from Brazil.

However, it would also be considered respectable for the team to represent well and at least advance out of group play. That's generally always the goal for the team at the World Cup and Copa America. Anything less will be thought of as shameful failure.

Tactics

De la Torre has occasionally used Hernandez as a lone striker, so the team could present a defensive-minded 4-4-1-1 that still allows for offensive creativity. In a classic 4-4-2, Mexico tends to fall into a rut of advancing on the wings and trying to send in passes from outside. It's easy enough for opponents to clog up the middle and close down crossing lanes.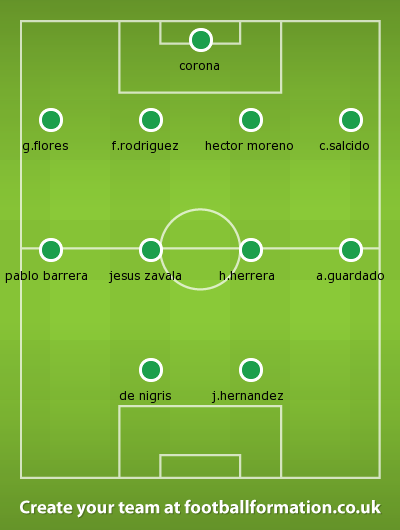 Other / footballformation.co.uk
In the 4-4-2 formation, Mexico is likely to line up with Corona in goal, Carlos Salcido, Hector Moreno, 'Maza' Francisco Rodriguez, Gerardo Flores as defenders, and Andres Guardado, Hector Herrera, Jesus Zavala and Pablo Barrera in the midfield. De Nigris and Hernandez will share the attack duties. If the 4-4-1-1 is used, Dos Santos is likely to slot in for De Nigris and drop further into the midfield, behind Hernandez.

Though the current team is playing in such a way as to make them virtually unrecognizable from the Mexico teams of old, the players do have talent. Perhaps this slump is just a variation on the team's flair for the dramatic. They could well use the Confederations Cup as a wake-up call and respond with an amazing turnaround.