Ecuador's national team transforms through inclusion in face of racism
Christian "Chucho" Benitez, the forward from Ecuador, finished Liga MX as the top goal-scorer and picked up the Clausura tournament trophy with current club America this season. Earlier in the month he had been featured prominently in the media for quite different reasons. It was during a match against Pumas when the Ecuadorian was subjected to monkey chants every time he touched the ball.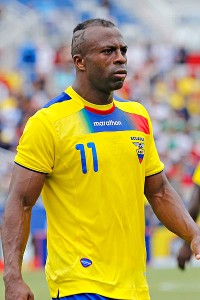 Joel Auerbach/Getty Images"Chucho" Benitez's accomplishments in Mexico are followed fervently in his native Ecuador -- as are his experiences with racism.
What might have been written off as an isolated incident, or a Mexican issue, was picked up by media further afield, perhaps because it coincided with an incident the previous week in Italy's Serie A when Mario Balotelli was the target of racial abuse.

In Mexico, journalist Martin Alves published a summary of the most high-profile incidents of racism in recent years. In Ecuador, the sports pages reprinted and aired in outrage.

On the pitch, Chucho embodies Ecuador's hope of reaching the World Cup. His prowess in Liga MX is followed with devotion, although many feel he has yet to show what he can do when wearing the national strip. The national squad meets Argentina in a qualifying match Tuesday.

This is Benitez's third tournament in a row as the top goal-scorer in Mexico, where he has tallied more than 100 goals. The 27-year-old, who won the 2010 league title with Santos Laguna, is the only America player to be both top goal-scorer and trichampion since 1973. He is currently the second highest-paid player in Mexico.

So it stands to reason that the spectacle of crowds hoarding monkey chants at him should both shock and repel. In Ecuador, where soccer -- or futbol -- is much loved with a history and tradition that has yet to yield rewards in the international arena, Benitez and his teammates are heroes in waiting.

The country reached a long-awaited dream of qualifying for the World Cup for the first time in 2001, under venerated Colombian manager Francisco Maturana. But it is widely acknowledged that this step was the result of the work carried out by a previous national manager, a man from Montenegro who revolutionized Ecuador's approach to the national squad.

Dusan Draskovic was known to highlight the fact that 19 of Ecuador's 22 players in the 2002 World Cup emerged from his youth training program. "I spent six years driving around the 22 provinces of Ecuador in a small battered car I drove myself, with the aim of discovering new talents in every corner of the country; kids without clubs, playing on the streets, who had never stepped on a proper pitch with goalposts and referees," Draskovik said.

Over time, he organized matches among the best from each province, "and from those trials around 25 high-performing professional players emerged" he added.

That first generation of international-calibre players included Ivan Hurtado, Agustin Delgado and Ulises De La Cruz, "youngsters eager to learn and for the most part motivated by the need to leave behind their conditions of extreme poverty. They understood football was an opportunity and knew how to make the most of it."

Specifically, Draskovic's revolution opened the gates to players from more remote provinces. Until his time, players tended to be recruited from the main cities, whether the hills or the coast (the country's "serranos versus costenos" rivalry runs deep, and football is no exception), but the Montenegran coach laughed off this regional distinction, claiming he came from a land where true regionalism is deeply rooted (he was a Yugoslavian at the time) and thus managed to groom a generation of players who excelled, including several from the predominantly African Valle del Chota.

For some years, the presence of these Afro-Ecuadorians, as they're referred to locally, made it's impact on the national squad -- although often discussed in terms of their physical attributes in ways that perhaps modern Europe or North America might deem politically incorrect.

It is a matter of record that the work Draskovic conducted with the youth divisions between 1988 and 1993 is his biggest pride.

The Valle del Chota inclusion was a phenomenon. "It is a handful of villages which one can only call villages at a stretch" a local explained to me. "They are mainly groups of houses, often lacking infrastructure which we consider basic."

Not many generations ago, people who grew up nearby recall learning African words before Spanish, and as Ecuador's football united the nation in joy, the players who succeeded abroad took every opportunity to bring back the rewards they reaped and make sure their communities benefited.

Veronica Ortiz Villalba from Simon Bolivar University observed in her thesis on social inclusion and the Valle del Chota: "Football has been bestowed with various social values and senses: game, sport, ritual, opium, show, business, etc. (...) In this sense we can say football also means socioeconomic mobility, real and symbolic inclusion, recognition and visibility, at least for the Valle del Chota. Known as the seeding source of the best footballers in the country, it is an afroecuadorian population who has invested all expectations in football. For this region, historically underserved by the State and with scarce social mobility, football is projected as the best, or even the only, real possibility of protagonic insertion in the social process. Football, one of the greatest cultural industries circulating in the market, has managed to integrate the best exponents of ecuatorian football, the 'afrochoteno' players, into the social system. These footballers are proposed as a new social model (...) exemplary during the 2006 World Cup in Germany. This fact permitted other factors to come into play, such as identity, discourse and representation. In each of these areas the afrochoteño players and the Valle del Chota were placed, transitorily, at the centre of the nation and our society."

The international press took an interest in Chota generally, and some of the characters specifically. Delgado is a case in point. Having successfully collected wages in Europe's high-paying leagues, he returned to Chota to invest in the infrastructure of the place, creating first a little football school, and now directing a fully fledged club. He is so revered in his local community that when he was suspended some years ago for spitting at someone during a match, pickets closed off the main access on the motorways blocking trade trasnport as a protest until "Tin" was reinstated.

Although Delgado has acquired a prominence which turns him into a controversial character locally (recently the club of Chota which he presides has received a five-year ban, and many believe this is especially harsh because of who he is), he embodies a transformation in the fabric of Ecuador's football elite, which has not gone unnoticed.

Football writer Esteban Michelena, author of the book "Pase al Vacio," wrote for Reuters in 2006: "When the international press asks why Ecuador is present in two consecutive World Cups it is just and necessary to acknowledge the merit is due to the systematic and heroic growth of the hundreds of afroecuatorians who -- since the mid 80s -- overcame the recent history of failures in order to consolidate themselves as professionals able of great performances in changing, extreme, and hostile environments".

Michelena referes to the notion of a "tropical black power," erected on top of the madness and the pain of the pioneers.

It is not only Chota that has provided the national squad with athletes of African descent. Esmeralda, a province with the highest concentration of black people in Ecuador, also played it's part. Whatever the past circumstances of how these Africans came to settle in the region, the reality today is that the 10 percent or so of Ecuador's population of African origin reflects the hardships of blacks in many places around the world.

Some years after completing an acclaimed documentary looking at Delgado and race issues in the Valle del Chota, "Red Card," filmmaker Rodolfo Munoz, who had concluded that in Ecuador "there remain racist practices in spite of the contribution afroecuatorians have made to the national identity," gave a lecture in which he highlighted with anecdotal evidence aberrations such as the black player who was arrested when entering an elegant restaurant, as the other diners feared he might be a thief.

Munoz had set out to see whether "Ecuador having qualified for two World Cups with a majority participation of black players, we believed these performances might have helped towards this ethnic minority being better valued by society at large," but alas, he concluded "the euphoria produced by football, we all vibrated joyful for what was going on, we thought there would fewer chances of rejection. We discovered it was merely a short-lived honeymoon."

Today, the make-up of Ecuador's national team spans the width an breadth of the entire country, as the linked map published when they clashed with Paraguay illustrates.

Ecuador hopes to retain its undefeated run on home ground against visiting Argentina in the 2014 qualifying rounds. The home team have a distinct advantage playing in Quito, at over 2,800 metres above sea level, but although their away track record recently has not been so good -- they lost 1-0 to Peru and did poorly in a friendly against Germany last week, losing 4-2 -- they can and often do impress. As BBC South America football correspondent Tim Vickery pointed out recently: "It is much more than an altitude specialist. The team has now started picking up points on its travels, and last month it even won away to Portugal -- Cristiano Ronaldo and all."

Benitez will be sorely missed, as he has to sit the game because of suspension. But Ecuador has plenty of talent to plough away at the chance of a place in the 2014 World Cup, and should they achieve this, it will no doubt be in spite of the "heavy heritage of racism that in Ecuador, as in all the Americas, continues mutilating reality and memory," as Eduardo Galeano stated: "They belong to the whole country, and the entire world, these voices from the past that help us guess another possible future."