United beat Liverpool amid controversial calls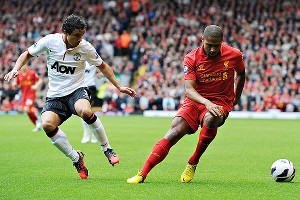 GettyImages / Andrew Powell/Getty ImagesThere was no lack of talking points in United's controversial 2-1 win over Liverpool.
Emotional, controversial, nerve-shredding – that sums up the derby between United and Liverpool at Anfield, a match United won 2-1 versus a 10-man Reds side. Brought to you by Maalox, the contest had United supporters squirming in their seats, as the Red Devils put in a poor performance despite having a man advantage for slightly more than half the game. And it was a contest that had Liverpool supporters red with rage due to some dubious referring decisions.

Suffice it to say, there was no lack of talking points in this one. Here are a few that stand out.

1. Reputation matters
In the 58th minute, Jonny Evans made slight contact with Luis Suarez's boot inside the United penalty area, causing the Uruguayan to hit the pitch. But referee Mark Halsey waved play on. About 10 minutes later, Antonio Valencia -- pretty much missing in action with his teammates up to this point -- finally turned on the afterburners, mugging the ball away from Daniel Agger and Glen Johnson. The winger then flew into the penalty area, with Johnson charging after him. Slight contact was made, perhaps a foul, perhaps not, but Halsey awarded the penalty.

The lesson here? Suarez -- who clearly has burnished his reputation for diving since arriving at Anfield -- needs to start proving that he won't go to the ground with the slightest breeze. It's not to excuse the seemingly incongruous decisions by Halsey, but for the benefit of his team, Suarez has some PR work to do.

2. Decisions, decisions
Halsey was at the center of another controversial decision toward the end of the first half when he sent off Jonjo Shelvey. The long lost relative of Kojak, Shelvey tried to get the ball off Ryan Giggs, and then ran full steam toward a 50-50 ball with Evans. Yes, Shelvey led with studs up, but Evans was also going into the tackle full-bore, feet off the ground. Two reds? But Halsey sent only Shelvey to the showers. Shelvey could have composed himself a bit better instead of having a go at Sir Alex Ferguson at the touchline -- unless United's manager told him to go with the challenge a bit recklessly, then fair enough. "He was blaming me I suppose," Ferguson told Sky Sports, arguing that it was a clear read. But in the end, a yellow would have sufficed, too ... for both players. Or let the two tackles cancel them out. It was a derby, after all.

And was David Luiz's reckless tackle, which earned him only a yellow in yesterday's match against Stoke, any different? And Robin van Persie went in quite hard for a studs-up challenge on Suso on Sunday. Result: yellow.

Liverpool supporters will no doubt feel outraged over these decisions, claiming that the only thing consistent about Halsey's decisions were that that were utter garbage. United will feel lucky to have won this match. Speaking of ...

3. Luck and poor performances for United
Ferguson likes to say that United don't get the benefit of the calls at Anfield, where the Red Devils had failed to win in four previous Premier League visits coming into this match. United also had the rub of the green this past week in their 1-0 Champions League victory over Galatasaray, in which not only was SAF's side outplayed in large stretches, but also avoided calls on two penalties (Nemanja Vidic clipped Umut Bulut at the start of the match, and an Evans tackle on Aydin Yilmaz).


But more concerning for Ferguson was the fact that United were outplayed by Liverpool in this match. Indeed, even down 10 men (nine, after Martin Kelly was taken out in stoppage time), the Reds were the superior side. Shinji Kagawa lacked his usual incisive passing; Valencia saw little of the ball; and Nani, oh Nani. He must still be dreaming of his move to Zenit and forgot to wake up to play a football match. RvP did shine when he finally showed that United can score from the spot with a penalty that Pepe Reina almost saved.

Rafael had arguably his best game on both sides of the ball for United, as the right back scored a key goal -- a brilliant curling effort to the far post after Kagawa, in one of his few memorable moments, chested down a Valencia cross -- and played well on defense, not usually his strong suit.

4. Hope, hope and more hope
Liverpool will rue this match, and no amount of spin can change the fact that the Reds were in the relegation zone at the final whistle. They won't remain there by season's end, of course, but "Being: Liverpool" is going to get uglier before it gets better.

Brendan Rodgers can at least take solice in the fact that Steven Gerrard's death has been exaggerated (at least for now); Raheem Sterling is a rock star, someone who consistently made Patrice Evra look like, well, Patrice Evra, a man whose best defense is behind him; and Suso looks to be a real handful, too, a player who, like Sterling, was not intimidated by the occasion.